Thank you to everyone who made this cafe possible!
Please watch the video below to hear Mel Duncan's and Rosemary Kabaki's reflections as they set the stage for small group discussions.
Please see the reflection questions and responses below. And, for resources to take action and to learn more, click here.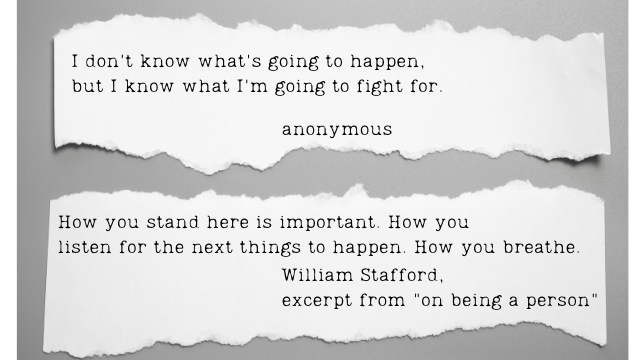 Question #1: What have you noticed in your community that has concerned you?
Themes from the small group discussions
Fear mongering, aggression increasing

Concerns from my group - Polarization, encouragement for folks to go with fire arms to the election polls, division in groups that considered themselves allies, Concern about Proud Boys, Qanon,

Themes that we discussed - increased violence by police, Covid and related issues, structural racism that exist in community, lack of togetherness. Election related tension

anguish and lack of communication, polarization

In a small town, a couple of pro-BLM stand on the curbside, sometimes approved, sometimes not But fear by liberals of 'the other' is a surprising problem.

inciting violence in Darfur.

increased intolerance

Another theme was increased aggression among people on the street. People are stressed from the pandemic and the unrest.

Less Communication, More disinformation, More extremism, Environmental precariousness, Racial division, public safety oversight, Different set of truths for different people, Social media dystopia, Worries about what actions are taken when people do not get their way, General tension.

In Afghanistan, a father of three daughters fears to speak his mind about religious domination.

Themes from our Group: violence accompanying elections, increased polarization, poverty and homelessness, disorganization at protests, increases in gun sales, vandalizing of election signs

Increase in personal violence (erratic and dangerous driving), COVID lasting so long that people are distancing now from close communities, hyper vigilance, real vandalism esp. to election signs etc., concerns by 501C groups about what they can do post-election to ensure all votes are counted

Elections in 2022, concerns about the US elections, build up of tensions, violence in people's minds, under currents, people saying hateful things to each other, hatred towards certain communities

Violence rising; concern about state violence against citizens; concern about social problems rising: CV19 effects on teens and young males, homelessness, slow response from security forces; lack of civility in our political and citizen discourse hate speech and closing of communication in community.

law enforcement vs. the people; violent tactics in protests; greater divide between peoples; nasty campaign ads; neighbors more fearful of each other; not honoring covid practices; personal rights vs. wellbeing of others; urban violence; election related violence; uncertainty and fear; young native American women disappearing; attempted abduction of governor.

In a small town in the USA where there is a Confederate statue and one of Frederick Douglass, there is conflict about presence of the Confederate statue.

Darfur is one of the most conflicted areas in world with violence/guns all around, people being displaced and world isn't paying attention. Worries about U.S. elections being disrupted by violent groups - in Minneapolis, armed people being recruited from Tennessee to come and intimidate voters also by White supremacist groups, signs & license plates being stolen there, armed people patrolling businesses. In Boulder, CO, the violence is from out-of-state developers coming in tax-free to build condos in an Opportunity zone against the residents' will

People not taking to each other, people being suspicious of each other, not smiling to each other us before

Virus separating folks makes it better or worse, you decide.

Noticing; peaceful to violent protest and disappointment of that. People existing for themselves, disrespect, and concern with need for change without just a Band-Aid of enforcement. Notice Public space openings for people and concern with disrespect from the youth for the property. Noticed surveillance after protest by citizens without structure and concern around vigilantes and attitude of police force protecting affluent rather than underserved communities.

Minneapolis; disunity, anger both in police and community from police firing; Election, hate speech; Geneva: COVID-19 Impact on international community, misinformation, fact misinformation,; Economy of me first is a failure and spirit of Gandhi, Jesus and religious leaders has been lost

In Rochester, New York, USA, there have been protests about the killing of a black man who was suffering from mental delusions. The economic problems feed into the tension. It is a bigger problem than only a militarized police.

-Polarization based on politics, sides calling each other "evil"

-Armed militias, increasing police presence, our own unwitting biases emerging·-that nonviolent options and solutions are being offered, but not to all sides

-polarization based on religion, increased sexual and gender based violence

concern about police violence and overreaction

Fear in community of people in regard to others and leadership is noticed and concern about how to bring openness

concerning actions from certain individuals supporting one party in different parts of the US; hatred towards certain communities who are different than others and who may look different

'violent sign language'

Darfur region, Sudan. is the most violent area in the world it represents real tragedy. It's collective violence, Violence between tribes, between central gov and rebels, between rebels. It's the extreme manifestation of horizontal and vertical.
Question #2: What do you want to remember from the conversation today? What is an action you might want to take?
Individual takeaways from the small group discussions
Training in workshops, more meditation time

Remember how important it is to share my feelings in my groups, not just my practical ideas.

I'd like to practice being more civil with everyone. Especially, those who share my home and expanding out to everyone I see and spend time with every day.

My take-away: how universal these issues are.

Read two book suggestions from my group

I'll be sending in an LTE here in Minneapolis affirming our city leaders' emphasis on not being provoked to additional violence during the uprising. I invite others in my area to do so as well!

When speaking across divisions: "I want to be safe and I want you to be safe."

Keep praying and meditating... And look for little ways to add to community civility every day

Extend Radical Hospitality to ALL

I was reminded that the Truth & Reconciliation Commission in South Africa did not require 'forgiveness' … Listening truthfully was the key (not agreed by all, but it seems to have gotten the country by a dangerous place).

Speaking to others on the " other side" and make them feeling welcomed and valued. Listening actively to their concerns

I am going to be more intentional about staying connected with family and friends, especially before the election.

connect with people who think differently than I do

Seek ways to build relationships with - if you are white, for example - with non-white folks. One relationship at a time……..

Finding groundedness in my own body when encountering others in high anxiety situations.

Community concerns box anonymously..

Idea to take away: Modeling nonviolence and offering nonviolent techniques to those with whom we disagree.

Keep weekly hope strong with the DC Peace Team zoom training; facebook or website: DC Peace Team. Keep building relationships and chatting everywhere I go and build Radical Relationships like the Pastor and the Immam.

Bringing the message. teachings and experience of nonviolence to more young people in our schools and communities.

Join an online Network Neighborhood website to connect with your neighbors. They are monitored to keep any inappropriate conversations or messages.

I will ask my neighbors, including and maybe especially, those I …disagree" with, "What do you need to feel secure in your neighborhood?"

Take away the need to talk with otherminded people. Actions: in CV19 time we need to find ways to mix thru the technology we have.... with creativity!

In the words of Tiffany Easthom: 'While chasing down hate speech [is] interesting and, in many cases, impactful, the one thing that remains consistently true is that there is nothing more important than human relationships. Trust, credible messengers, and consistent contact are essential to breaking down rumors and hate'.

1. Lack of communication leads to divisiveness and violence. 2. Practical: Remember video on cell phone when in any tense environments to create an unbiased record. Spiritual: Look for and recognize the Inner Light in all people, whether they share your views or not.

To do: learn more about local resources and also those of Nonviolent Peaceforce.

1) Non Violent Communication by Marshall Rosenberg and 2) My Grandmother's Hands. Try to truly listen to others and start by paraphrasing THEIR thoughts before sharing my own.

Virtual coffee with those we disagree with...

I would like to be more observant about 'violent sign language' I will also make an effort to have to have conversations with people whom I am uncomfortable with to better understand their actions/words

I am preparing to help train others in de-escalation skills, keeping the inevitable protests nonviolent is critical

My action might be : I'm living in Afghanistan and I a peace and dialogue practitioner and as well as member Afghan youth movement for peace - todays session gives me more energy and inspired me to talk further to share the peace and nonviolence message across my community,

I am happy to see community conversations starting in San Diego and La Mesa about concerns over police violence and how that can be monitored and changed by community oversight groups. San Diego even has a measure on the ballot to form a totally new Commission on Police Practices which will have power to subpoena, investigate and recommend changes.

the importance of listening before speaking and connecting to something that has just been said

Take away: Diversity of ideas, concerns and complexity of issues. Action, Now that I am retired, make NP my primary focus of volunteer time; learn from NP and try not to get in their way.

As a Marine veteran, to work with Veterans for Peace for a more peaceful community and world.

1)Before election prevention: Local officials take the pledge not to declare a winner until all votes are counted. 2) Reach out to someone with whom I disagree, build community with differing sections of community.. 3)I took the What to do if there's aCoup training, review, remind myself of the principles of NV Civil resistance. Thanks, all.

Be and think positive

Take away, connections, embrace diversity, recognitions and respect values

centering; lowering anxiety levels before acting; intentional rebuilding of community by reaching out; commonality of problems, building community takes time and patience =strength of community, using the tools of nonviolence; breathe and reach out that we use in other countries, in our own country,

Be very transparent as to why I am feeling/doing and why are others wanting something different.

Start the hard conversations. Utilize this model for small group connection and discussion that takes big steps in overcoming the barriers of virtual engagement. Thank you, everyone.

Engage in community, listen, meditate, trust, and act in small and other ways. Thanks for this opportunity and connection. Peace with dialogue.