Testimony by Mel Duncan
Founding Director, Nonviolent Peaceforce
House Progressive Caucus
17 March 2015
This email address is being protected from spambots. You need JavaScript enabled to view it.
I thank you for the opportunity to share some thoughts and experiences with you as you consider whether or not our nation will take steps to further entrench us in a state of permanent war.
No matter what we do or not do, it is important to remember that we are talking about long-term approaches. No short-term solutions exist. Thus, we need to apply a standard as to whether or not our proposed actions are moving toward deeper militarization of a conflict and longer-term war or are our actions supporting peaceful initiatives that can lead to a long-term peace with justice.
One approach that I urge you to support is unarmed civilian protection.
For the past 12 years through Nonviolent Peaceforce, I have been involved with directing, training and deploying unarmed civilian protectors to areas of violent conflict throughout the world. Our civilian protectors only go at the invitation of local civil society. They employ nonviolent methods that effectively protect civilians and deter violence. Our civilian protection officers come from 25 countries. Our largest project is currently in South Sudan where 150 people work in 11 locations. With the support of the European Union we will start a civilian protection project in Syria in June.
Unarmed civilian protection (UCP) is an emerging methodology practiced by about 10 non-governmental organizations in various parts of the world. It has grown in practice and recognition in the last few decades, with over 50 civil society organizations applying UCP methods in 35 conflict areas since 1990.[1]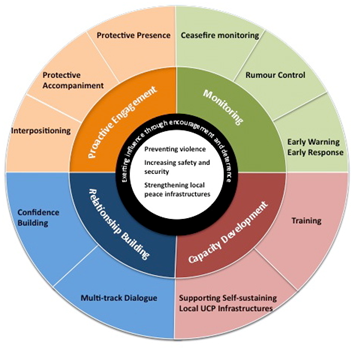 Unarmed Civilian Protection practitioners (UCPs) engage with affected communities at the grassroots level for varying periods of time, usually ranging from a few months to a few years. The four main methods of UCP are (1) proactive engagement, (2) monitoring, (3) relationship building, and (4) capacity development. Each of these methods has a number of applications, which are: protective presence, protective accompaniment and inter-positioning; ceasefire monitoring, rumour control, and early warning/early response; confidence building, multi-track dialogue and local-level mediation; and training and supporting local peace infrastructure.
The UN High Level Peace Operations Review Panel has been examining UN peace operations throughout the world. They too are finding that civilians can and do play major roles in the direct protection of civilians. Please pay attention to their report that is due on May 22.
Secondly, I urge you to support Syrian civil society working for peaceful transition in Syria. Let me assure you that courageous women and men are working for peace and reconciliation inside of Syria at this very moment. They are working on peacebuilding projects and localized ceasefires. One group, led by young women has set up peace ambassadors and peace bridges throughout the country with a network of 6,000 people. In Aleppo a peace-building project focuses young men on constructive programs like building local libraries for children out of the rubble.
Syrian civil society needs to be supported across the political, religious and geographic divides whether they be opposed to the government, neutral or supportive of the government. They will be an essential element in securing a foundation for a sustainable future Syria. Violent extremists have more difficulty taking hold in communities where there is strong civil society with respected local leadership.
(Published March 25, 2015)
The US should re-examine its laws and policies that lead to the required vetting of all participants who might take part in nonviolent training supported by US government funds. Such procedures make it unduly difficult to convene groups across political and religious divides at a time when bridges need to be built and strengthened among civil society actors.
Localized, bottom up efforts have been shown to reduce levels of violence, provide safe havens and offer access to humanitarian assistance. But they cannot survive alone. There needs to be a combined model that strengthens and supports this local role and integrates it into track one negotiating processes.[2] International mediators and advisors for civilian protection and violence interruption and reduction need to be provided. Syrian-composed civilian protection projects, women's peacekeeping teams and mediators need to be trained and supported.
Localized ceasefires need to be supported by international monitors similar to the work Nonviolent Peaceforce did in Mindanao. During the chemical weapons inspections, the need for access precipitated local ceasefires in places like Kafarzita and rural Hama. Thus, the international community has demonstrated the ability and political will for such ceasefires and should once again do so for humanitarian purposes.[3]
By proposing and supporting:
• Syrian civil society working on peace and reconciliation,
• Localized ceasefires, civilian protection programs, violence deterrence and peacebuilding efforts especially those led by women,
• Initiatives to integrate these local efforts into track 1 diplomatic efforts, and
• The introduction of unarmed civilian protectors, monitors and mediators,
you can proactively avoid endless Authorizations of the Use of Military Force.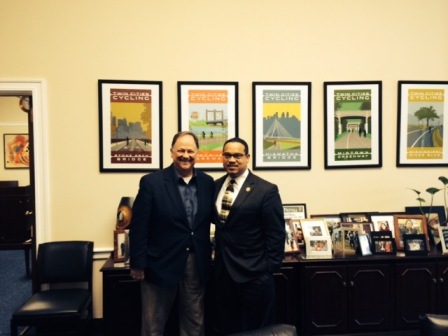 1. Janzen, Randy. 2014, Shifting Practices of Peace: What is the Current State of Unarmed Civilian
Peacekeeping?Peace Studies Journal, Vol. 7, Issue 3, Available at: http://peaceconsortium.org/peace-studies-journal-vol-7-issue-3-2014
2. Turkmani, Rim et al 2014. Hungry for Peace: Positives and Pitfalls of Local Truces and Ceasefires in Syria. London School of Economics, Security in Transition and Madani.
3. Ibid.