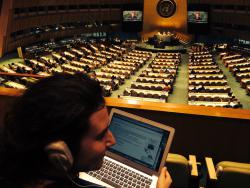 The UN General Assembly (UNGA) today (December 15) approved a Resolution on Follow-up to the Declaration of Programme of Action on the Culture of Peace, A/69/L.34, put forth by Bangladesh and co-sponsored by over 100 countries. Language noting unarmed civilian protection (UCP) was contained in the resolution, marking the first time UCP has been officially referenced in a UGA Resolution. The resolution notes:
"...the initiatives of civil society, in collaboration with governments, to strengthen civilian capacities to enhance the physical safety of vulnerable populations under threat of violence and to promote peaceful settlement of disputes..."
In his introductory remarks, Ambassador Abdul Momen, the Permanent Representative of Bangladesh to the UN noted the urgency to build the Culture of Peace that is the aspiration of all humanity. "To move away from the chaos and violence, the Culture of Peace is the answer," he urged.
(Published Dec. 15, 2014)
He went on to recognize the strong role of women in promoting peace and urged that the Culture of Peace be included in the Post 2015 Sustainable Development Goals.
In support of the resolution, Ambassador Libran Cabactulan, the Philippines Permanent Representative to the UN, observed, "Without peace there can be no sustainable development," Ambassador Cabactulan introduced the GA resolution A/69/L.41 promoting interreligious and intercultural dialogue which was considered by the UNGA at the same time. "Peace can only come when we have interreligious and intercultural dialogue. It was at the heart of the comprehensive agreement signed in the Philippines last March." The Philippines mission played a lead role on the UCP language.
Nonviolent Peaceforce (NP) is proud to have UCP noted by the UNGA as part of the Culture of Peace. "It is not a coincidence that NP grew up during the decade of the Culture of Peace (2001-2010)," observed NP's Mel Duncan. "The Culture of Peace sets the global context for UCP to develop."
"This opportunity should be taken advantage of to elaborate and firmly establish unarmed civilian protection as part of the Culture of Peace," suggested Ambassador Anwarul Chowdhury, the prime advocate behind the original Culture of Peace resolutions and founder of the Global Movement for the Culture of Peace www.gmcop.org/global-movement.
Next steps include having UCP considered by the UN's High Level Peace Operations Panel who's recommendations are due at the end of April as well as having UCP further recognized in UNGA resolutions and the Secretary General's report on the Culture of Peace.
Photo: Natalie Sikorski, NP Advocacy intern, monitors the General Assembly deliberations on the resolution for the Culture of Peace.