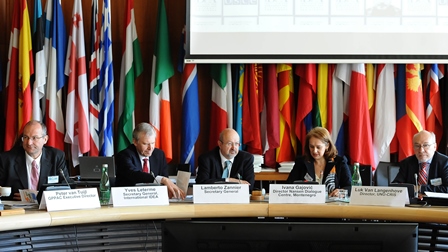 The Global Partnership for the Prevention of Armed Conflict, or GPPAC (http://www.gppac.net/home), is a coalition of international civil society organizations who work for or maintain a focus in global peace-building. With local, regional and international member organizations, including Nonviolent Peaceforce, working all over the globe, GPPAC has created a voice for conflict-prevention and peace-building to be taken seriously in the international community.
Last month, CEO Doris Mariani was invited to represent Nonviolent Peaceforce at GPPAC's International Conference on Strengthening Peace and Security Cooperation towards Democracy and Development, held in Vienna. The conference brought together top-level regional experts and representatives from political, academic, and civil society organizations. The goals went beyond mere discussion to recommendations of policy and practice. These reccomendations concerned fostering cooperation that could prevent conflict and reinforce peacebuilding.
(Published June 11, 2015)
The conference included representatives from member organizations and governmental institutions. This included the United Nations (UN), European Union (EU), African Union, Council of Europe, League of Arab States, Office of Child Support Enforcement (OSCE), and several civil society organizations. Presentations and discussions engaged the common disconnect between strategies, planning and the implementation of those plans and strategies. The panels also focused on regional cooperation among organizations to create a framework for peace and information sharing of effective methods. Lead by GPPAC, the International Institute for Democracy and Electoral Assistance (IDEA), the discourse created an opportunity for NP to learn from and share our best practices in preventing conflict. The conference allowed us to work with those who have the experience and ability to create real change. The respect NP has gained through our international work in the field, and through advocacy at the UN, has allowed us greater presence in the international community.
As an organization we were honored not only be a part of this conference, but to be a member of GPPAC. Through GPPAC we are able to continue working together with many organizations and institutions to create peace in times and areas of conflict, as well as foster important dialogue with policy and decision makers in the global sphere.