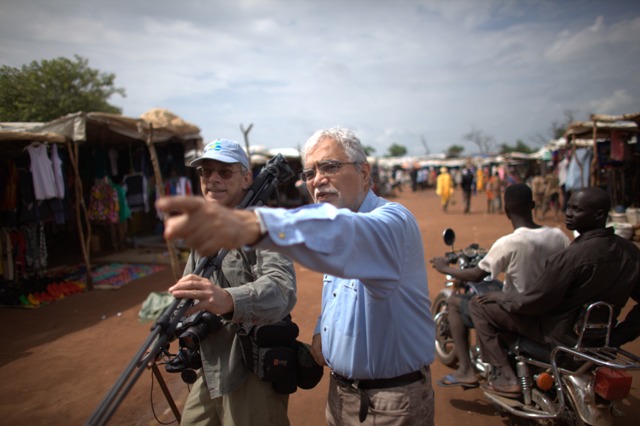 On a hot, dusty, and unbearably humid day scores of people line up to receive humanitarian food aid. Malnourished children push and shove each other in their desperation to get to the food. A young boy repeatedly kicks another boy in his way. The boy, weakened by malnourishment, dies from his injuries. This is not a personal account, it's a summary from the true testimony of Sudanese refugee Valentino Achak Deng, as described in his biography called What is the What by Dave Eggers.
In situations like these Nonviolent Peaceforce can act to protect vulnerable people before tragedy occurs. By providing unarmed protective presence during food aid distribution, our field staff ensures that food is distributed equitably, that the distribution does not cause further conflict, and that aid workers follow basic humanitarian principles.
Last year, our newly elected Board Member and Vice Chair Dr. Mukesh Kapila wanted to see for himself how it is possible for our field staff to protect others using unarmed strategies. In August 2014, he reviewed our operations in South Sudan, and in November supporters in Minneapolis had the opportunity to meet Mukesh in person as he elaborated on his experiences visiting the South Sudan program.
(Published Oct. 27, 2015)
During his tour, Dr. Kapila described an experience where some children disappeared within a protection site provided by the United Nations (UN). Immediately tensions between two ethnic groups escalated as rumors began flying that one group had kidnapped the other group's children. Armed conflict was about to break out, but someone sought Nonviolent Peaceforce's assistance. The field staff investigated the rumors and found that the children—being children—had just wandered off to explore the market and got lost. After re-uniting them with their frantic parents, the staff went on to do shuttle-diplomacy between the two groups, reassuring and cooling tempers. A big deal for the local community but just a day's work for the staff of Nonviolent Peaceforce who are working all over South Sudan to prevent violence and protect people from harm.
The world is currently facing humanitarian needs on a massive scale and better ways are needed to meet the needs of millions of people affected by conflicts and disasters. Dr. Kapila has worked with the UK Government, the United Nations, and International Red Cross Red Crescent. He has put his 30-year long humanitarian experience at the disposal of the UN Secretary-General Ban Ki-moon as a special advisor to help with the first ever World Humanitarian Summit (WHS) to be held in Istanbul on May 23-24th, 2016.
This summit, of unprecedented size and scope, aims to bring the global community together to find new ways of working together to save lives and reduce hardship. Extensive consultations are being held to "gather the perspectives, priorities and recommendations of all stakeholders on what must be done to make humanitarian action fit for the future." See https://www.worldhumanitariansummit.org/.
The World Humanitarian Summit convened a consultation on "Protecting People in Conflict" in London in July. Doris Mariani, Chief Executive Officer of Nonviolent Peaceforce, also attended the meeting. Discussions focused on why there has been such deterioration in respect to civilians caught up in crises, why international systems are failing and what recommendations could be offered to strengthen the protection of civilians. When Doris shared with the group examples of Nonviolent Peaceforce fieldwork, a UN official from New York participating by phone commented that "this Nonviolent Peaceforce work is really innovative and good."

Advocating Nonviolence at the United Nations
Another way Nonviolent Peaceforce aims to have a bigger impact on global conflict is through advocacy and outreach at the United Nations (UN). As the result of this work, an independent high-level panel convened by Secretary General Ban Ki-moon to review UN peace operations recommended, "Unarmed strategies must be at the forefront of UN efforts to protect civilians."
The UN has 16 peacekeeping operations around the globe, half of which are in Africa (Nichols, 2015). If even a portion of these huge and costly operations were shifted to unarmed civilian protection, armed violence would be much reduced and more lives saved. We must influence the UN peace operations policy to place unarmed methods in the forefront of their efforts to protect civilians if we want to "transform the way the world responds to conflict."
Nonviolent Peaceforce is trying to do just that. In July, Congressman Rick Nolan of Minnesota called for the United States government to provide more support for unarmed civilian protection (UCP) through initiatives at the State Department and USAID, as well as in positions at the UN.
He stated on Congressional Record "When confronted with such atrocities (as in Syria and South Sudan), our typical response is to send in the bombers and drones, ship military equipment, train 'the good guys,' or even put our own troops on the ground. By doing these things, we create a state of on-going war. Is it any wonder the result is more violence, rather than less?"
We are also optimistic that the United Nations General Assembly adopted the new Sustainable Development Goals on September. We are especially excited about goal #16 which focuses on peace and justice. These new goals, replacing the Millennium Development Goals at the end of the year, focus on peace and sustainability as a means to tackle global poverty and need. With the new recommendations focusing on unarmed strategies to protect civilians mad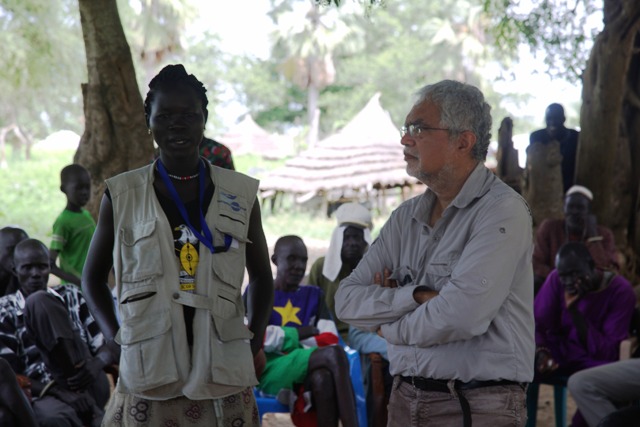 e by the UN Independent High-Level Panel on Peace Operation in June, and a new focus on peace in the Sustainable Development Goals, hopes have been raised for more positive outcomes at the United Nations.
Sources:
Eggers, D. (2006). What is the what: The autobiography of Valentino Achak Deng: A novel. San Francisco: McSweeney's.
Nichols, M. (2015, March 9). U.S. urges Europe to commit more troops to U.N. peacekeeping (S. Orlofsky, Ed.). Retrieved August 26, 2015, from http://www.reuters.com/article/2015/03/09/us-usa-europe un-peacekeepers-idUSKBN0M522O20150309