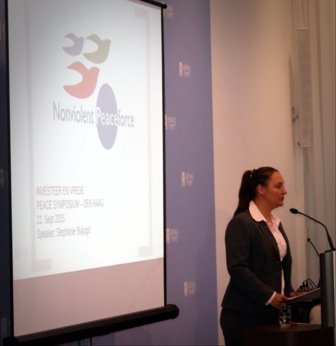 On September 21st, on the international day of peace, the Peace Manifesto: "Let the Children Play: Invest in Peace" was presented in The Hague, Netherlands. The organizer of the manifesto and the following event was EIRENE NL, an organization that starts with nonviolence to "work globally towards the realization of peace and justice." The next day, September 22nd, it was presented to the Foreign Affairs Committee of the Dutch parliament and accepted by Fred Teeven, former State Secretary for Security and Justice.
The Peace Manifesto emphasizes the need to use nonviolent means to prevent, intervene and resolve conflict and war worldwide. It offers insights on diplomacy and Unarmed Civilian Peacework (UCP), which is already implemented by a number of Dutch peace organizations. These organizations emphasize that they can be more powerful and effective with government support. The manifesto is by no means a blueprint, but rather the start of a constructive discussion on creating lasting peace. The Dutch public and politicians are made familiar with UCP through interesting stories of UCP-workers from all over the world.
(Published Jan. 7, 2016)
Speaking on behalf of Nonviolent Peaceforce (NP), Stephanie Buljugic explained that "UCP does make a difference and does have an impact. It is not an expendable add-on. More importantly, the local actors have the primacy in terms of a) assessing the threats, b) designing the protection and c) carrying it out."
Apart from Ms. Buljugic talking about her experiences in South-Sudan and Sri Lanka for NP, Mieke van Opheusden talked about her work in Guatemala for Peace Brigades International, Maarten van der Werf discussed his work in Hebron, Palestinian Territories for Christian Peacemaker Teams-NL and Stephanie Mbanzendore gave a speech on the rising tensions in her home country Burundi.
In Stephanie's notes for the event, she highlights several important recommendations:
1. An overall change in the department of Peacekeeping is required.
2. The primacy of local actors must be a guide to analysis and planning. Local communities and leaders and especially women must be involved throughout the ongoing, mutual and non-extractive process.
3. When appropriate, UCP should be expressively included in mission mandates
4. The Security Council, UN bodies and member states must assure that there is adequate funding for UCP to scale up to meet the needs.
5. In view of the positive contributions of Unarmed Civilian Protection actors, missions should work closely with communities and national and international non-governmental organizations in providing direct protection and building a protective environment.
6. And finally Peacekeeping troops as well as Civil Affair staff should engage in UCP training, making use of the UNITAR e-learning course on UCP that will be available in Mid-January 2016.
All four were awarded "Peace Hero 2015", as a token for their important work. The peace symposium was meant to urge all Dutch people, and especially those in parliament, to seriously consider and (financially) support UCP and diplomacy as an effective means and alternative to military intervention.