On the morning of his assassination, almost fifty years ago, Martin Luther King Jr. said, "Our next movement is to institutionalize and internationalize nonviolence." Decades before King's challenge, Rotary Founder Paul Harris said, "The road to war is well-paved, the road to peace is a wilderness."
All over the world there are little paths being walked daily, even amidst violence, helping to build that road. Each is significant and vitally needed to create the world that King, Harris, and countless other individuals have inspired in humankind. NP's path—providing unarmed civilian protection in conflict zones—is validating King's dream and transforming Harris' statement into a reason for optimism, as is the United Nation's support for unarmed civilian protection. NP's recent nomination for the Nobel Peace Prize is also a credible indication that hope will increase in the next 50 years. Our Midland chapter is filled with purpose and excitement in our work together to increase awareness of, and support for, NP—our own little path to peace.
(Published June 22, 2016)
How did your chapter start and how did you get involved?
My first "involvement" with NP was an intellectual/heart connection. Just hearing about it inspired hope. At that exciting moment in history when the Millennium arrived, I wanted to take local action to make a positive difference, and in 1999 Marge Darger and I invited Rev. Kirk Havel to join us for initiation of the Midland Interfaith Council for Peace and Justice (MICPJ) that focused on the UN Decade for a Culture of Peace and Nonviolence for the Children of the World.
Around that same time I read in a Michigan Peace Team (now Meta Peace Team) newsletter about Mel Duncan and David Hartsough meeting at the 1999 Hague Appeal for Peace and about the upcoming initiation in India of an organization called the Nonviolent Peaceforce, an international effort that would train unarmed civilians to resolve conflicts nonviolently. Those were years of parenting four high school and college students, as well as continuing with local activities. I don't remember when George and I made our first donation to NP. However, by 2006, I traveled to the Minneapolis office and volunteered for a few days to check out the organization. From that moment on I was sold on NP and initiated annual fundraisers through our local Helen M. Casey Center for Nonviolence. In 2009, I attended a United States Nonviolent Peaceforce Chapter Assocation (USNPCA) gathering, heard Mel and David share memories about NP's history, and learned about chapter work. I also invited Mel to come to Michigan, which he did in 2011. The Midland NP Chapter was started that year.
How have you garnered interest in the chapter?
We take raising awareness about NP's work as seriously as we do fundraising. Through MICPJ we developed a very good relationship with our local newspaper editor, and we continue inviting the Midland Daily News to cover our activities. Marna Anderson came to speak at our Tea for NP that drew well over 200 attendees this past February, many who for the first time heard about this work to "Transform World's Response to Conflict."
Between Mel's first visit and Marna's recent one, Tim Wallis, Doris Mariani and Tiffany Easthom have all blessed us with their presence and while here have spoken to attendees at a luncheon, high school students, faith communities, a college Global Peace Studies class and the general public. National Public Radio did interviews that were aired through a nearby university. In addition, our chapter members have spoken about NP to local organizations, written letters to the editor and forum pieces such as: "Conflict prevention equals human protection," "Nonviolent conflict resolution: A sustainable practice."
We send out yearly fundraising letters and write personal thank yous to donors, including those throughout Michigan who are not members of our chapter. We let them know that we share their enthusiasm for NP's work. Some of them accept our invitation to get periodic emails about our activities. We have asked several faith communities to consider a yearly donation to NP with some success.
What are some of your chapter activities?
We have co-sponsored activities such as "A Conversation with Muslims", and "Responding to Bullying"—a program that related challenges in the schools, workplace and social media to NP's international work. In 2014, our chapter initiated "Lessons in Leadership-Students Crafting Solutions" and we since have worked in six area elementary, middle and high schools teaching conflict resolution skills. We meet with teachers before setting up each program, so we know the skills that might be most helpful in their classrooms and schools. We have also brought in a Peer Mediation trainer as well as trainers for adults. We recently received a second grant from the Dow Chemical Company Foundation to support this work.
When we speak with middle and high school students we mention NP's work and even with the younger students our message is that what they are doing in the classroom to make things more peaceful, makes a difference in the world. We have had a couple "pennies for peace" collections. One of them was for South Sudan. We spoke to elementary students/teachers and told them about NP's work there to help protect children and their families. After Mel first came and spoke to Dow High School students, some of them organized two fundraising events for NP.
Seek out people in your faith community/workplace etc. and invite them to join and invite the younger ones (meaning those in their 60s or lower) to take leadership roles. Someone who is in her late 80s who attends faithfully and who has, along with her husband, been very active in our group suggested this. They both still offer leadership at a lower level, and realize there needs to be younger energy taking the front lead. Our members range between late 80s to 50s. After participating in the Tea for NP in February, we have had six people say they are interested in joining our chapter. We already have 12+ active members. We meet only four times a year for an hour and a half each time as we know how full people's lives are.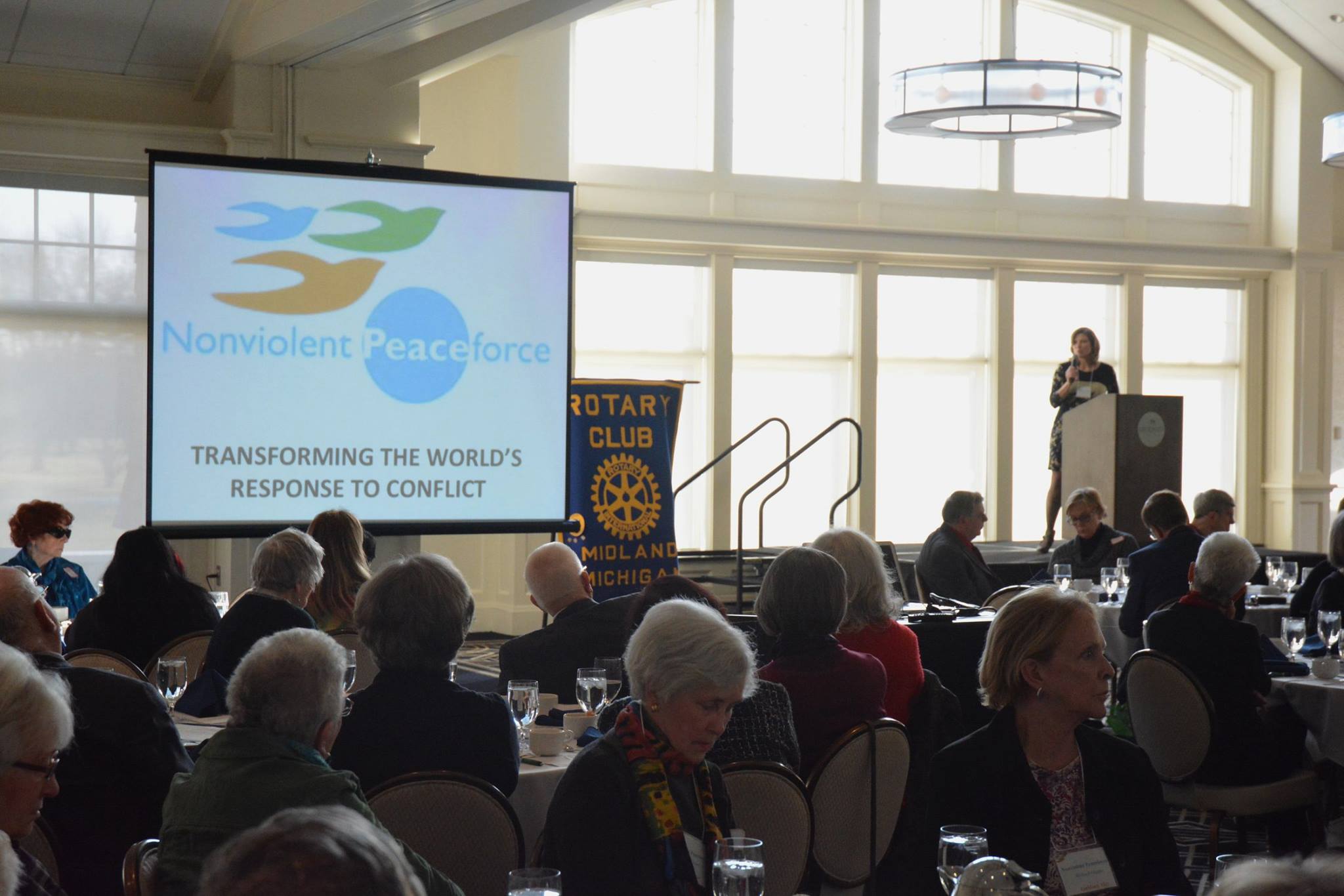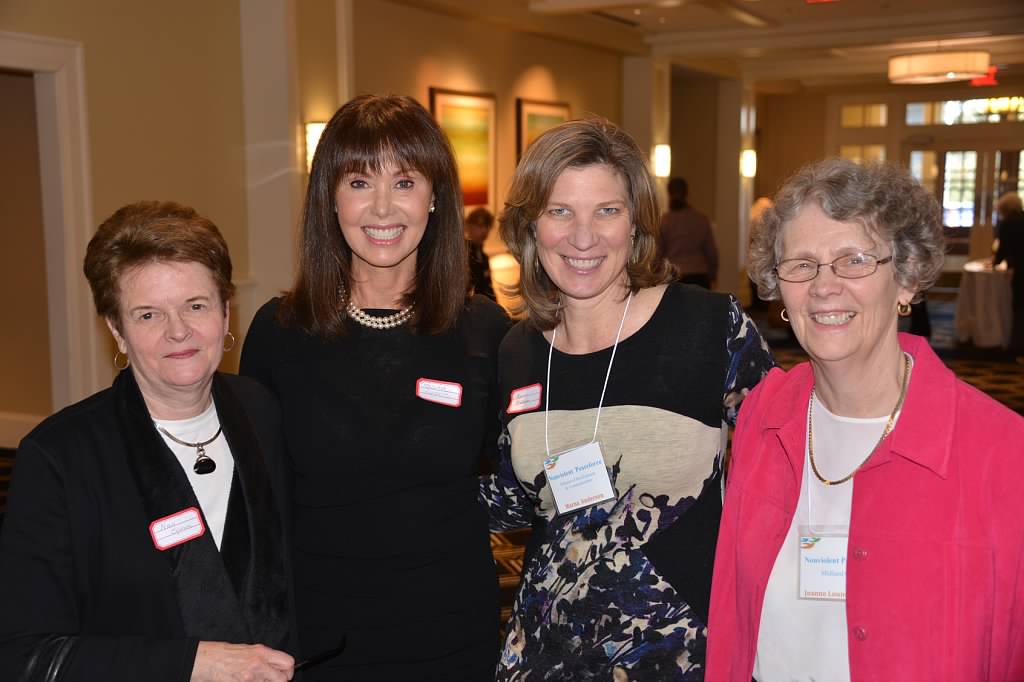 In the photo: Nan Spence, Paula Liveris, Marna Anderson (NP Director of Development & Communications), and Jeanne Schaller (NP Midland Chapter President) at Midland Tea Event generously hosted by Paula.