The toothpaste is out of the tube.... For the first time, on a broad basis, future reformations can come from the inside out and from the bottom up, in a positive, nonviolent way." Beyond the brutal "breaking news," profound changes are reforming our understanding of relationships with one another and the planet. People, especially youth, know that perpetual war will not sustain life.
Society is beginning to recognize that civilians trained in nonviolent tactics can and do effectively protect others in conflict zones around the globe. To date, 12 international nongovernmental organizations provide unarmed civilian protection in 17 countries. The success of nonviolence can no longer be denied or minimized.
Two major UN reviews and a report from countries that supply UN troops for Peacekeeping Operations have cited and recommended unarmed civilian protection (UCP) as practiced by Nonviolent Peaceforce (NP). Last September, the UN General Assembly unanimously passed 17 Sustainable Development Goals, goal 16 specifically promotes peaceful and inclusive societies. None of the remaining Sustainable Development Goals can be achieved without sustainable peace.
(Publieshed Oct. 11, 2016) On October 19th, the missions of Australia, Belgium, Costa Rica, the Netherlands and the Philippines will take this work a step further by hosting a High Level Briefing at the UN on unarmed civilian protection. The briefing will encompass how UCP can be widely available to protect civilians. Outcomes of this event will be shared at various UN debatesand resolutions in the coming months. NP's Executive Director, Tiffany Easthom will join officials from the Philippines where Nonviolent Peaceforce's civilian based ceasefire process serves as a model for other countries.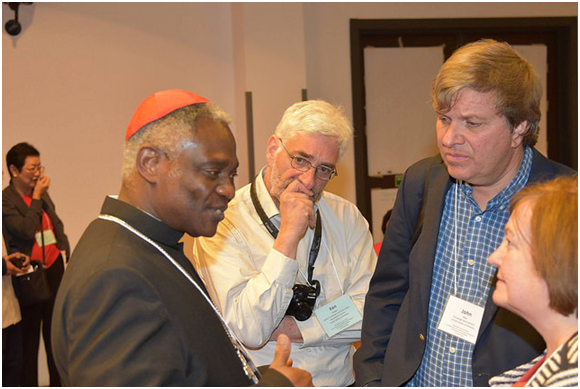 Simultaneously, Pope Francis has given "very strong recognition" to a landmark conference, held at the Vatican last spring, that called on the global Catholic Church to reject its long-held teachings on Just War theory. Unarmed civilian protection is one of the key tools cited in this call for Just Peace. In reflecting on the Just War, Cardinal Turkson, head of the Pontifical Council on Justice and Peace observed, "We do not stop war by starting another war." Pope Francis has announced that the focus of his message for the church's World Peace Day in 2017 (Jan. 1) will be on nonviolent strategies to prevent and stop global violence.
As Aleppo continues to be pounded and children take refuge in swamps in South Sudan, we know that our planet is in crisis. More people flee their homes and are displaced for longer periods because of violent conflict, than in any other time since World War II. Yet, futurist Barbara Marx Hubbard reminds us that when systems become highly disorganized innovations increase, so it is no coincidence that more peacebuilders, nonviolent resistors, conflict transformers and unarmed civilian protectors are at work on the planet than ever before. Together we are re-forming history. Indeed, the toothpaste is out of the tube.
By Mel Duncan, Director of Advocacy and Outreach