(Published Nov. 23, 2016) Congratulations to Jane Wanjiru (NPSS), Jasper Peet-Martel (NPM), and Jenny Anne Apias (NPPH) for being selected for 2017 Rotary Peace Fellowships! We wish good luck to Ndenyele (Wilson), Omalenge(NPSL), Asha Ashokan (NPSS), and Rocky Ambago(NPSS) who have been selected as alternates.
This brings our list to 14 Nonviolent Peaceforce staff members who have received Rotary Peace Fellowships!
Jane Wanjiru will be studying at Chulalongkorn University in Bangkok, Thailand from January to April 2017 along with Hope Tichaenzana Chichaya (NPSS), who received this award last year. Jenny Anne Apias and Jasper Peet-Martel will be attending Uppsala University in Sweden starting February of 2018.
Jane Wambui Wanjiru, Women Participation Advisor, Nonviolent Peaceforce South Sudan, Rotary Peace Fellowship for Professional Development Certificate, Chulalongkorn University in Bangkok Thailand.
"My role as Women Participation Advisor is to work with Women and Communities in general, to build their capacity using unarmed civilian protection, this then gives them the confidence to participate in decision making within their community as well as collectively finding ways to bring peace back into their local level. ...
My goal is to be a positive change maker and an educator especially on Peace, Conflict Prevention and Resolution. I also look forward to engaging in Community Service with other Rotarians as well as other Peacemakers for a lasting relationship and a lasting peace."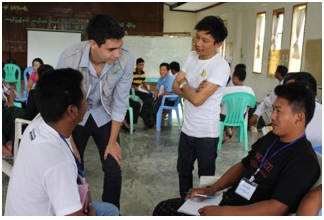 Jasper Peet-Martel (Standing, left), Program Officer, Nonviolent Peaceforce Myanmar, for Master's Degree in Social Science
"I firmly believe peace and security to be the cornerstone of sustainable development and because of this I want to continue to grow my capacity to contribute to the development of peace and security theory and methods, making a direct impact in conflict resolution and mitigation. I applied specifically for the Program at Uppsala due to the incredible opportunities they offer to work alongside and learn from leading peace and conflict researchers."
Jenny Anne Apias, National Civilian Protection Monitor, Rotary Peace Fellowship for Master's Degree in Peace and Conflict Studies, Uppsala University, Sweden, February 2018
"I was designated as National Civilian Protection Monitor of Nonviolent Peaceforce in a conflict affected area in the Southern Philippines. The task aims to protect civilians whose lives are affected due to the protracted and sporadic nature of the armed conflict in the area. At the same time, I monitor cases of grave child rights violations within the armed conflict context. The violations are documented and assistance is generated for the child victims through Nonviolent Peaceforce networks. Moreover, I also gave orientations and trainings to the military, armed group elements and community members pertaining to fundamental human rights and international humanitarian law. The Rotary Foundation in consortium with Uppsala University will give me an opportunity to widen my knowledge and understanding about peace studies and conflict resolution. It will help me in promoting just and lasting peace not just in my home country but also in war torn countries around the world."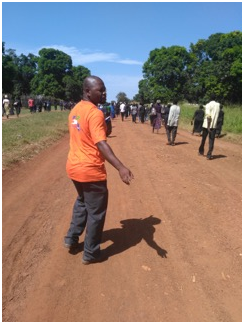 Hope Tichaenzana Chichaya, Rotary Peace Fellowship Professional Development Certificate, Peace and Conflict Studies, Chulalongkorn University, Bangkok, Thailand. January, 2017
"I am utterly humbled, excited and pleased to get The Rotary Foundation offer of Professional Development Certificate at the Rotary Peace Centre, Chulalongkorn University, Bangkok, Thailand. Although I have an MA in Peace Studies and International Relations plus my ongoing MBA online study, I strongly have specific goals in the Rotary Peace Fellowship: by the end of fellowship, I want to be a better educated, empowered, and capacitated global peacebuilder and protection worker through academic learning, practice and global networking."
Currently, three NP staff are studying at the University of Queensland, Brisbane, Australia: Kristina "Daisy" Sintia Dewi (NPPH), Mong Marma (NPPH), and Johannes Dehler (NPPH). Jeya Murugan (NPPH), graduated from International Christian University in Tokyo Japan in May 2016. Other NP staff who have received awards are: Muhamed Butera Mpira (NPSL), Philip Ikita (NPSL), Sjors Beenker (NPPH), Jeanne Lound Schaller (Midland Chapter), Aseeveram Florington (NPSS), and Rachel Beecroft (NP-USA).
Each year, The Rotary Foundation awards 100 fully paid fellowships to applicants all over the world. One hundred are selected each year for graduate studies in Peace and Conflict Studies at International Christian University (Japan), Uppsala University (Sweden), Duke/UNC (US), University of Queensland (Australia) and the University of Bradford (UK). In addition, fellowships go to senior level peace practitioners at Chulalongkorn, Thailand, for a three-month Professional Development Certificate.
NP would like to thank Dr. Ann Frisch, NP Senior Adviser, and J. Michael Cavitt, President of the Rotary E Club of One World,for their Rotary mentorship of NP staff. NP gratefully acknowledges the endorsements of the Mercer Island, WA Rotary Club (Jasper); Rotary E Club of One World (Jenny Anne, Jane, and Hope).