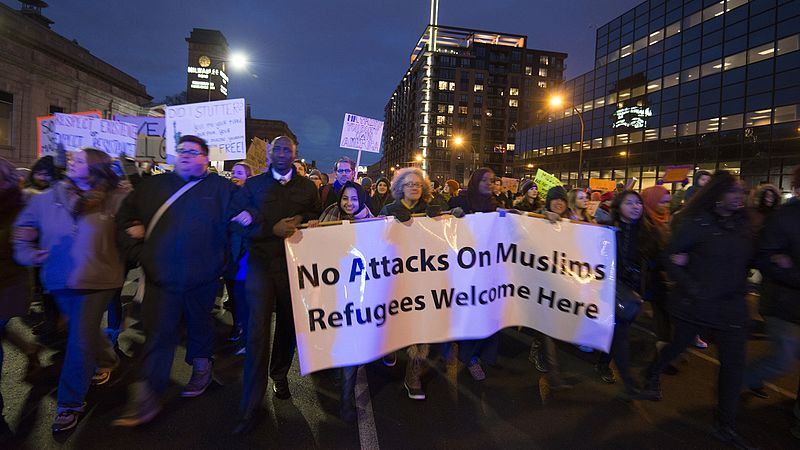 Left: March in Minneapolis (MN) protesting Executive Order banning immigrants and refugees from predominantly Muslim countries entering the US. Photo by Fibonacci Blue.

(Published Feb.13, 2017) On January 21st, an estimated 5 million people around the world joined the Women's March following the inauguration of US President Donald Trump. According to political scientists, this was the largest single-day demonstration in the US [1]. Protestors gathered to protect legislation and policies regarding women's rights, human rights and other issues including immigration reform, healthcare reform, the natural environment, LGBTQ rights, racial equality, freedom of religion, and workers' rights.
While for many this is a frightening time, we can be inspired by those standing up to bigotry and fear. Thousands of people took part in rallies following Trump's order to ban Muslim refugees and legal immigrants entering the United States. Volunteer lawyers scrambled across the country to assist immigrants detained at airports.
At the Women's March, people protested peacefully and no arrests were made in Washington, D.C., Chicago, Los Angeles, New York City, and Seattle where an estimated two million people gathered [2]. We can take heart in this and in the effectiveness of nonviolent civil resistance. According to a statistical analysis by Erica Chenoweth and Maria Stephan, nonviolent movements are almost twice as successful as violent ones in achieving their goals [3]. In fact, nonviolent campaigns engage larger audiences and allow for mass participation of diverse crowds [4].
Nonviolent movements are the only way to change the status quo. Chenoweth's and Stephan's data shows that only 3.5% of a population taking part in a campaign is needed to change the state of a nation. However, they found the only campaigns that succeeded the 3.5% population point were nonviolent ones.
If we think what we do today to challenge the status quo doesn't matter, we can look to history for enlightenment.
 The 1963 March on Washington helped build support to pass the Civil Rights Act of 1964 and the Voting Rights Act of 1965.
In 2003, Liberian women took part in a sex strike as part of the Women of Liberia Mass Action for Peace. Their actions succeeded in ending the 13-year Second Liberian Civil War—and got a female president, Ellen Johnson Sirleaf, elected.
The 1930 Salt March established Gandhi as a force British leaders could not ignore or suppress. In 1947, India was finally granted independence.
Finally, if these lessons in history don't uplift you, perhaps we can learn something from our sisters and brothers around the world. While we march in our cities for progress to continue, women in places like South Sudan march to put an end to war. In spite of their hardship, they continue to fight for preservation of dignity and human life. If we ever feel down because of current affairs, we must remember that everyone matters in the struggle for justice. When we all show up, we have tremendous power to change the status quo.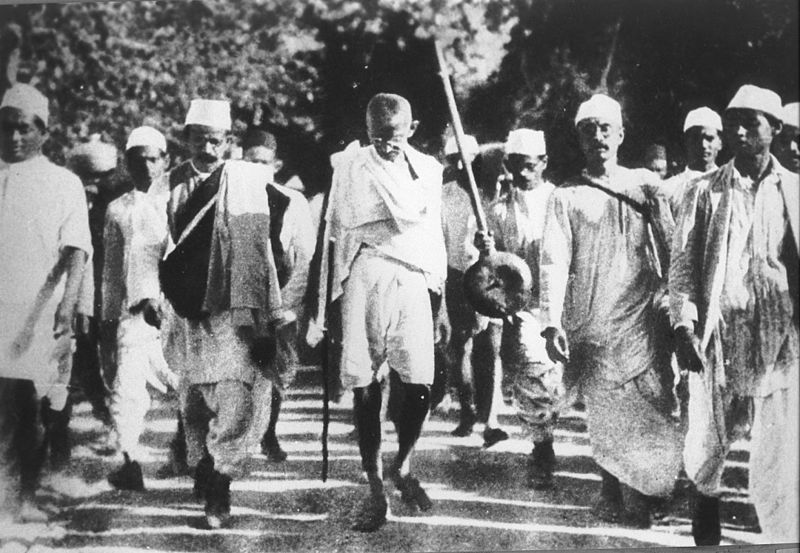 1. Broomfield, Matt. "Women's March against Donald Trump is the largest day of protests in US history, say political scientists". Independent. Retrieved February 9th, 2017.
2. Capps, Kriston (January 22, 2017). "Millions of Marchers, Zero Arrests". Citylab. Retrieved February 9th, 2017.
3. Stephan, M. J & Chenowith, E. (2012) Why Civil Resistance Works: The Strategic Logic of Nonviolent Conflict. Columbia University Press.
4. Principe, Marie. (December 29, 2016). Women in Nonviolent Movements. United States Institute of Peace. Retrieved February 9th, 2017.
 Ghandi's Salt March in 1930.
 By Amy Hansen