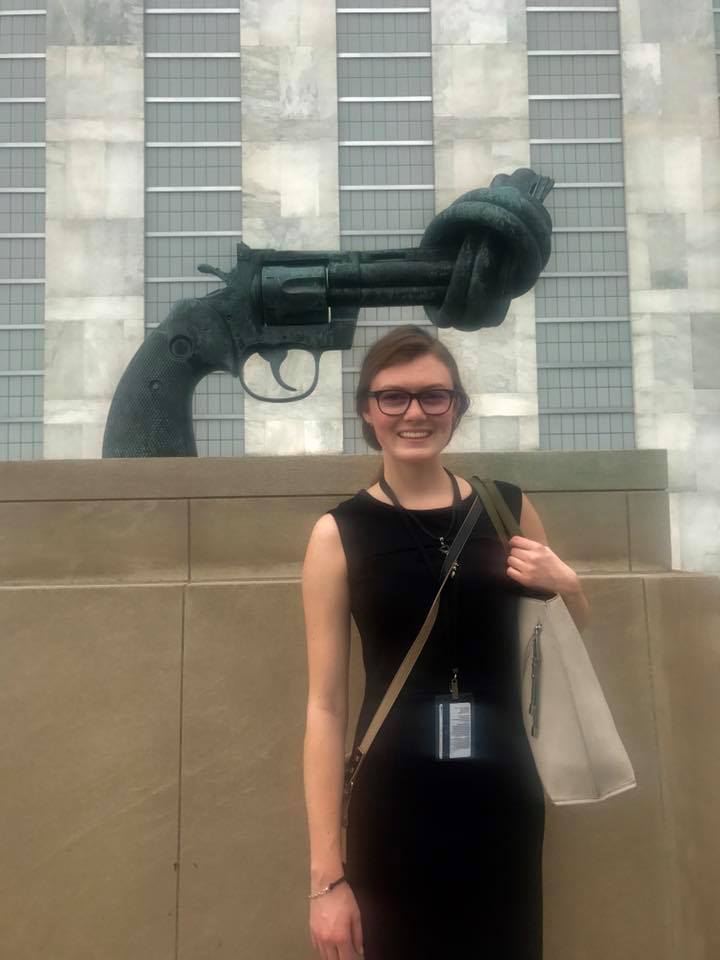 Claire Guinta reflects on her Summer Peace Fellowship with Mel Duncan and NP at the UN Headquarters. The NP Advocacy and Outreach Program at the UN brings UCP to the forefront and is made possible by donors like you.
By Claire Guinta
If you know about the beginning of Nonviolent Peaceforce, then you have heard of Mel Duncan. You may know how he, together with David Hartsough, founded the organization in 2002. NP's unarmed civilian protection field team deployed one year later in Sri Lanka.
What Mel does now is more of a mystery. What does the Director of Advocacy and Outreach do?
I'm sure you have been wondering what really goes on with NP at the UN. It has been my burning question since I met Mel in the summer of 2015. I have interned on and off with NP in the Twin Cities since then. Yet, seeing Mel's work in action remained a dream of mine. This year I received the Marquette University Center for Peacemaking Student Peacemaking Fellowship. The fellowship allowed me to work with Mel in New York this past summer. I was thrilled to finally have the answer to this question.
NP field teams UCP methods every day in areas affected by conflict. Mel's job is to make sure the international community understands that UCP is an option. Nonviolent Peaceforce advocates for unarmed civilian protection (UCP). We advocate at the grassroots, to different governments, and at the international level. Mel spends most of his time in New York, advocating for UCP to the international community.
Who is the "international community?" This means the United Nations (the bodies, the agencies, and the missions). It also includes a network of international nongovernmental organizations (INGOs). These INGOs, like Nonviolent Peaceforce, work with and alongside the UN.
What is "advocating?" It is hard and painfully slow work. Advocating means Mel meets with different key players. These are the people having discussions about civilian protection or conflict resolution and prevention. It means he is always reminding people of the possibilities of nonviolence. He does this at each meeting, each workshop, each breakfast, lunch and dinner. He is sharing the successes NP has found in the field, so that others can benefit from UCP methods. It means he is asking questions and making connections on the daily so NP is staying relevant and staying visible.
The UN is filled with many voices each advocating for their own agendas. This is one reason why each action moves slowly. It is why having one sentence or one definition about UCP in a resolution or report makes a difference. And it is why your support for NP's Advocacy and Outreach Program is so crucial to the protection of civilians.
I could see the impact of your support firsthand through my experience in New York. I witnessed how much Mel has changed the conversation at the UN. He has shifted the focus to be more on civilians and nonviolence. In fact, many people made sure to tell me how NP has really shifted things in the last few years. NP has held Special Consultative Status with the Economic and Social Council since 2007. In the time since then, NP has been able to push for recommendations for UCP methods. These recommendations show up in:
-Secretary General reports,
-Security Council resolutions,
-UN agencies policies and guidelines, and
-State government guidelines, among many others.
After witnessing the real changes NP has made and continues making, I enter my final year studying at Marquette University feeling refreshed and inspired. The NP Advocacy and Outreach Program brings UCP to the forefront of the international community. None of this would be possible without donors like you.
To see the list of UCP recognition at the UN & beyond, click here
To read more on Unarmed Civilian Protection Making the News, click here
To read more about our joint course with UN Institute for Training & Research, click here