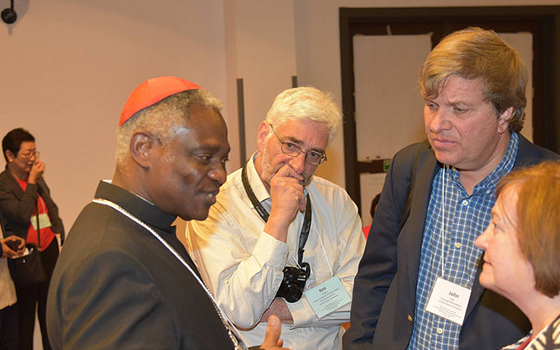 Cardinal Turkson speaks with Ken Butigan, John Dear, and Mairead Maguire at conference hosted by Pontifical Council for Justice and Peace and Pax Christi International.
The past decade has been brutal for civilians caught in violent conflict. Today, more people are affected by conflict and disaster more frequently than in previous decades. The number of people in need of humanitarian assistance and protection has nearly doubled in the past decade, from an average of 30 to 40 million people per year to more than 65 million people per year. Pope Francis has labeled the current situation a "world war in installments."
It is in this context that the Pontifical Council for Justice and Peace and Pax Christi International called together approximately 80 people — religious leaders, lay people, peace activists and writers — from around the world to reconsider the Just War Doctrine, adopted by the Roman Catholic Church centuries ago. Nonviolent Peaceforce co-founder Mel Duncan was included among the participants who decided that there could no longer be Just Wars and instead presented a call for Just Peace.
The call is picking up momentum. Last month, the umbrella group of the leaders of U.S. Catholic men's religious orders (CMSM), overwhelmingly passed a resolution titled "Gospel Nonviolence: The Way of the Church." The resolution calls to 1) significantly build up nonviolent practices and a culture of nonviolence; and 2) to invite Pope Francis to offer an encyclical on nonviolence, which would include a shift to a just peace approach for transforming conflict.
Unarmed civilian protection was one of four practices specifically referenced as a means of creating lasting peace. In concert with restorative justice, nonviolent resistance and nonviolent civilian-based defense, unarmed civilian protection was identified as a method to transform how the world responds to conflict.
"We resolve to significantly build up nonviolent practices, such as nonviolent communication, trauma-healing, restorative justice, unarmed civilian protection, nonviolent resistance, and nonviolent civilian-based defense. This includes skill training, advocacy, and when possible investment of our resources."
Every day, Nonviolent Peaceforce sees evidence that unarmed civilian protection is effective in deterring violence and protecting civilians living in war.
In Myanmar, our small team of 12 has leveraged its impact by training over 400 civilians to monitor the fragile peace agreement and assist people to safety when violence breaks out.
In the Philippines, unarmed civilian protectors are escorting civilians to safety who are seeking safety from the armed conflict in the city of Marawi.
Providing accompaniment to people getting settled in camps for the internally displaced persons in Iraq.
In this year's World Day of Peace message, Pope Francis affirmed that "true followers of Jesus embrace his teaching about nonviolence;" called us to "make active nonviolence our way of life;" and "pledged the assistance of the Church in every effort to build peace through active and creative nonviolence."
At a time when we cling to signs of hope for peace, it is good to be reminded of actions taking place that are creating a new way forward, ones that embrace peace through nonviolence. Unarmed civilian protection is an idea whose time has come and together we will bring this idea forward locally and globally.