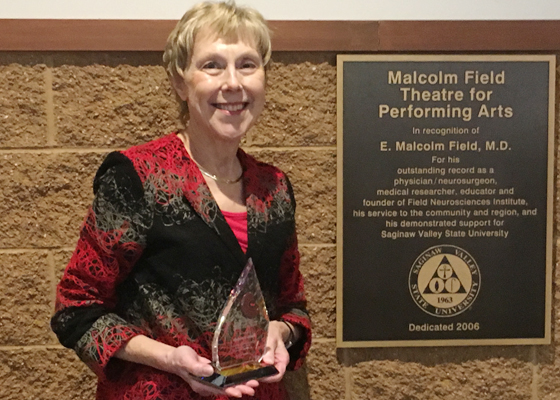 Randi Kawakita, NP Midland Chapter Member
We are proud to share that Randi Kawakita was selected to receive the Drum Major Award for her leadership and service to her community and was honored during the annual MLK Jr. Celebration at Saginaw Valley State University.
The award received its name from something Martin Luther King Jr. said. If people wanted to call him a drum major for the leadership he modeled, he wanted them to say he was "a Drum Major for Justice…for Peace."
Randi is a member of the NP Midland Chapter. Like you, Randi has a long history of working for peace and justice. Randi has collaborated with different groups like Midland Rotarians and local religious organizations to bring speakers and trainers in conflict resolution skills to the public. She has also dedicated herself to years of teaching conflict resolution skills to her students.
During her 23 years as a teacher, one of her many efforts to build a more peaceful world was by helping to create Diversity Day. Randi developed awareness of discrimination by bringing in more than 65 community members to share personal experiences with her eighth-graders at Jefferson Middle School. Following her retirement in 2011, she helped create the NP Midland Chapter's program "Lessons in Leadership: Students Crafting Solutions" and is part of the Teaching Team that has taught conflict resolution skills to several hundred elementary, middle and high school students in the Midland area since 2014. This program lays groundwork for positive attitudes, actions and outcomes that benefit local individuals and communities that will go on to shape the world.
We are proud of our members and always love celebrating and recognizing your hard work. Thank you for all you do to support Nonviolent Peaceforce!