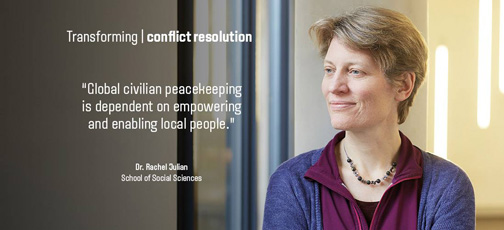 As a teenager, Dr. Rachel Julian campaigned for nuclear disarmament. Now, she is Senior Lecturer in peace studies at Leeds Beckett University in England and on the board of Nonviolent Peaceforce. Like you, she advocates for Unarmed Civilian Protection.
"Unarmed Civilian Protection is transformative because it's challenging an underlying paradigm, proving that someone could stand in front of somebody with a gun and just by being there, makes that person turn away," she describes. This knowledge of nonviolence's power is not new for Rachel.
"I grew up with the language of activism and nonviolence, hearing of and participating in whole disarmament discussions, anti-apartheid marches and the empowerment of communities," Rachel commented, "but then one day I wanted to find out what were the peace activities outside the UK." So she moved to Brussels after learning about NP from then-executive director Tim Wallis. She was told to set up Nonviolent Peaceforce Europe. It was 2002.
Rachel started to set up a European network for NP. After Rachel helped set up a European network for NP as European Coordinator, she moved onto fundraising and was hired as International Fundraising Director and worked for NP until 2007.
These days she teaches about conflict resolution, peacebuilding and nonviolent resistance.
"Unarmed Civilian Protection is changing the debate of violence and protection because it's about empowering people and recognizing that there is local ownership," Rachel said. "Nonviolence is the active recognition of the worth of every single person. And if you put nonviolence into the heart of what you're doing, then you need to recognize that the people you're working with have the same worth. They are not 'the other.'"
It can be hard for some to believe in the ability and results of this nonviolent practice. Society has this embedded belief of militarization being necessary. "This idea that 'wherever there is violence, you need soldiers' is not true. Wherever there is violence, you don't need soldiers. There's absolutely no question that UCP and nonviolence works," Rachel explained.
At NP, we believe in the importance of involving all parties and listening to all the actors. We strive to build relationships so that everyone has a voice in a peace agreement. You and I know that peace is much more likely to be sustained when everyone is included. "It's like the ceasefire in Mindinao," said Rachel, "ceasefires in Mindinao have broken down time after time and this time civil society was involved. There was buy-in. They were included and seen, they didn't reinforce the violence, they broke the cycle of violence by having an unarmed civilian protection monitoring team, and that has helped that ceasefire stay for longer."
---
Now, Rachel is running the first research council funded Unarmed Civilian Protection research in Myanmar. She is also a facilitator for the Unarmed Civilian Protection course with UNITAR, has set up the UCP Research network and is a board member of Peace News Trust.