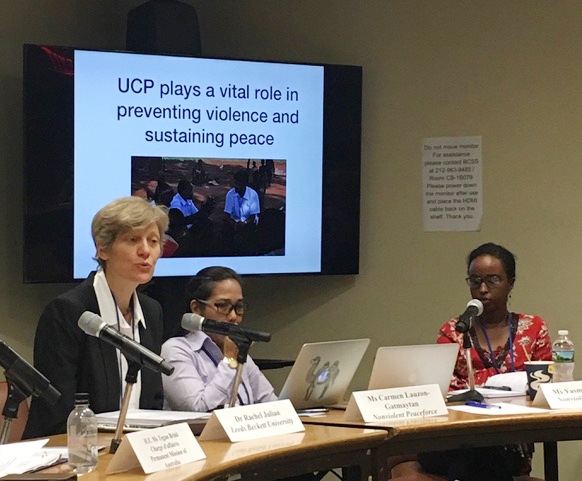 "Unarmed civilian protection (UCP) challenges the widespread assumption that 'where there is violence we need soldiers', or, that armed actors will only yield to violent threat," asserted Dr. Rachel Julian of Leeds Beckett University in the United Kingdom. She was one of four briefs for Sustaining Peace and Preventing Violence Through Unarmed Civilian Protection, a UN Side event to the Security Council's Open Debate on the protection of civilians. The Missions of Uruguay and Australia hosted the May 24th event.
Based upon her review of the literature, evaluations, field reports, and internal documents of over 20 organizations providing Unarmed Civilian Protection covering a 20-year span, Dr. Julian reported that:
Lives are saved.
Communities are able to stay at home rather than be displaced.
Peace and human rights work is more possible, involves more people and in a wider area.
Living and working in affected communities supports the re-establishment of relationships and communication across divided communities.
Attitudes and behaviour of armed actors changed.
Impact takes time.
She concluded that unarmed peacekeepers can carry out most of traditional peacekeeping tasks and that Unarmed Civilian Protection works in places where traditional peacekeeping works.
Carmen Lauzon-Gatmaytan, Nonviolent Peaceforce's Programme Development Officer in Mindanao, illustrated Dr. Julian's points by describing how NP's work continued despite the intense fighting that erupted in Marawi last May.
"NP along with the peace panel structures who are all unarmed civilians, facilitated the rescue of more than 1,500 trapped civilians through the Peace Corridor, created by the peace panels on NP's insistence." Ms. Lauzon-Gatmaytan explained to the assembly of UN diplomats, agency staff and nongovernmental organization representatives.
She emphasized the need for ongoing training, "To this day, we continuously train grassroots civilian peacekeepers and we have also started providing training for members of the Moro Islamic Liberation Front on conflict mediation, civilian protection, women and children's rights."
She closed by requesting of the UN, "we enjoin your support for the work on the ground of many of us who are directly in touch with vulnerable civilians, the women and children and others in many conflict-affected areas."
Ms. Yasmin Maydhane, a civilian protection officer who spent her early years in internally displaced persons (IDP) and refugee camps, briefed on NP's work in South Sudan where 170 unarmed civilian protectors have formed 14 teams around the country. With the support of generous donors like you, NP has helped form over 40 Women's Protection Teams and trained more than 1900 women in self-protection strategies.
For example, she described how in an area of the western part of the country, women were beaten and/or raped at checkpoints based upon their ethnic identity. Women from three tribes met with each other and started to organize. They said, "Our men rape you. Your men rape us." They went together to the checkpoints and demanded that the men stop the violence and they did.
Dr. Youssef Mahmoud, a Senior Adviser at the International Peace Institute and former UN official, explained that the UN is increasingly legitimizing the use of violence in the pursuit of peace.
"Outsiders have to be humble enough to recognize that people have capacity not just needs. Outsiders also have to build into their DNA that they are dispensable." He recommended that the Security Council challenge the assumptions of their mandates and analyze situations differently by mapping what is already working.
Ambassador Luis Bermudez of Uruguay summarized the Side Event by observing that Unarmed Civilian Protection (UCP) values mediation, negotiation, trust, continued community engagement, local ownership, solidarity, courage and generosity. And that cooperation with Unarmed Civilian Protection should be included in Security Council mandates.
This Side Event was the third major exposure of Unarmed Civilian Protection at the UN in the last six months and represents a growing appetite on the part of some member states as well as UN officials for new and effective approaches that can sustain peace and enhance local capacity while protecting civilians.