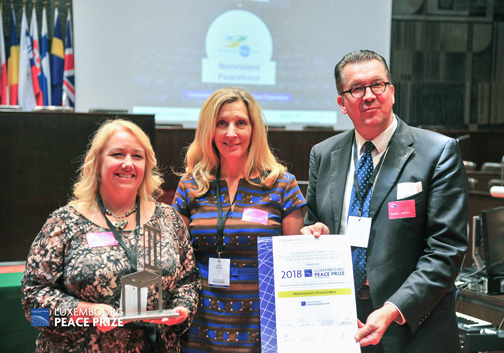 On Friday, June 22 2018, peace activists from around the world gathered at the historic European Parliament building in Luxembourg to celebrate the 2018 Luxembourg Peace Prize Laureates. The Luxembourg Peace Prize is a joint prize is awarded by the World Peace Forum and the Schengen Peace Foundation. The peacemakers represent a diverse mix of activists, political leaders, business leaders and artists from around the world. Guests from all over the world were in attendance.
Nonviolent Peaceforce was awarded the prize for "Outstanding Peace Organization," which is given to nonprofit organizations with a history of global coverage that build peace directly and/or promote peace. Only with your commitment and support, have we made it this far. You helped make this happen.
The jury was made up of an impressive assortment of accomplished scholars, practitioners, thought leaders, policy makers and front-line activists from around the world. Our executive director, Tiffany Easthom was present to accept the award on our behalf.
"Accepting the Luxembourg Peace Prize on behalf of NP was a profound experience. It was an immense honor and deeply humbling to represent the thousands of people who have been part of NP, the staff, volunteers, donors, supporters and most importantly the communities who have welcomed us into their lives and showed us what commitment and strength means."—Tiffany Easthom
Thank you for your steadfast commitment to our mission. Here's to continuing our live-saving, peacebuilding work for years to come.