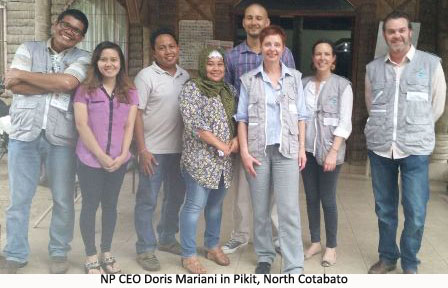 By Doris Mariani, NP CEO
I recently visited our field programs in the Philippines and Myanmar to review our operations and meet with staff and stakeholders. NP has been in the Philippines since 2007 but our Myanmar program is relatively young, having been established in 2013. In fact, it was our work in the Philippines as the experts in civilian ceasefire monitoring and verification that instigated the invitation to Myanmar where the government and ethnic armed organizations were working on establishing their national ceasefire mechanisms.
Despite historic agreements that have been signed in both countries in the last year and a half, the journey toward peace is wrought with challenges. In the Philippines, the current debate is about the Bangsamoro Basic Law (BBL) which embodies the government's peace agreement with the Moro Islamic Liberation Front and seeks to create a new Bangsamoro political entity to replace the Autonomous Region in Muslim Mindanao. During my visit, the draft law was undergoing debates at the House and Senate. In Myanmar, following the signing of the March 2015 draft peace deal between 16 ethnic armed groups and government, the debate centered on whether and when and what kind of a Nationwide Ceasefire Agreement (NCA) will be reached. Nationwide Ceasefire Agreement is viewed as a doorway to political dialogue, shaping political settlements and autonomy for various ethnic regions. At the moment, both BBL and NCA are delayed but hopes are high that agreements will be reached.
(Published July 29, 2015)
The nature of NP's work going forward is closely tied to the peace process and political outcomes which, in turn, are likely to influence donor community's funding decisions. Therefore, an important part of my trip was to meet with our key government partners to discuss NP's programmatic approaches in the context of potential political developments. In Manila, I met with representatives from the European Union and Norway, and in Yangon we had meetings with European Union, United Kingdom, Japan and United States representatives. What donors value most is the fact that we are present in the communities and working side-by-side with local people building peace. I am very optimistic about the future of programs and funding in both countries.
In the Philippines, I visited Datupiang and Pikit field sites in Bangsamoro, Mindanao where we lead the Civilian Protection Component, implement Early Warning Early Response mechanisms to reduce and prevent violence, and conduct Child Protection activities. Violent conflict has caused tremendous human cost in the Bangsamoro. According to the World Bank, from 2011 until 2014, the total number of people who died, were injured, kidnapped or trafficked reached 7,972 while the total number of families displaced reached 77,052. Political violence, land and clan feuding and shadow economy were the leading causes. NP responds to incidents and, more importantly, tries to prevent them by employing pro-activemeasures through engagement with a wide variety of stakeholders from the community, government, state and non-state armed actors. Training that is focused on empowering locals to foster peaceful interaction and reduce conflict is a big part of our activity.
Myanmar's ethnic conflict is the world's longest running conflict and there is no quick fix solution. Preparations are underway for Myanmar's general elections on November 8 - the country's first general elections since a nominally civilian government was introduced in 2011, ending nearly 50 years of military rule. The next government will have to shoulder much of the responsibility that comes with advancing political negotiations to settle the issue of political autonomy for various ethnic regions, control over natural resources in these areas, and what kind of "federalism" will Myanmar have, including whether the country will have one single, federal army.
In Myanmar, NP supports the peace process through active engagement with key stakeholders from Myanmar Peace Center, state and regional governments, ethnic armed organizations, military (called Tatmadaw), and civil society organizations. Although NP is still young in Myanmar, we are recognized as the experts in civilian ceasefire monitoring and a big part of our work focuses on awareness raising on civilian ceasefire mechanisms and facilitating relations between key stakeholders. In just a short time, our staff has grown from 2 to 12. Currently, we are working in four states - Karen, Kachin, Chin and Mon - and we plan to expand to more states with new programming. An important element of our programming in Myanmar is to build local capacity by training local civil society organizations on how to do civilian ceasefire monitoring in order to reduce violent clashes and displacement. I had an opportunity to attend one such training in Hpa-an, capital city of Karen, a six hour drive from Yangon. It was a very high-energy, interactive exercise. I discovered that in addition to possessing subject matter expertise, our staff possessed considerable talent in acting – roleplaying on how to engage non-violently with hostile parties in a conflict setting is an art. For me, the highlight of visiting our programs is spending time with our people. I am continually impressed by their knowledge and professionalism, by their passion and hard work, and their enormous commitment to protect civilians in conflicts.
Photo: Training in Hpa'An, Myanmar