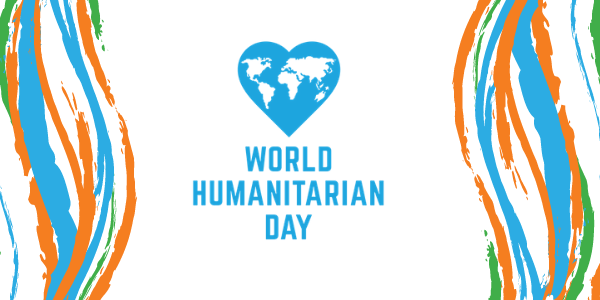 On World Humanitarian Day (WHD) August 19, the world commemorates humanitarian workers killed and injured in the course of their work, and we honour all aid and health workers who continue, despite the odds, to provide life-saving support and protection to people most in need.

This year World Humanitarian Day comes as the world continues to fight the COVID-19 pandemic over recent months. Aid workers are overcoming unprecedented access hurdles to assist people in humanitarian crises in 54 countries, as well as in a further nine countries which have been catapulted into humanitarian need by the COVID-19 pandemic.

This day was designated in memory of the 19 August 2003 bomb attack on the Canal Hotel in Baghdad, Iraq, killing 22 people, including the chief humanitarian in Iraq, Sergio Vieira de Mello. In 2009, the United Nations General Assembly formalized the day as World Humanitarian Day.
On August 19, Nonviolent Peaceforce commemorates and celebrates the humanitarians who have dedicated their lives to helping others. We honor our staff and our partners who are providing protection and creating positive and sustaining peace for those living in areas affected by violent conflict, and we ahonor those who provide critical support and medical care. Thank you to the #RealLifeHeroes who improve and protect millions of lives.
View this post on Instagram
"As I embarked and the chopper started, everything in Lankien changed while looking down. The market was full of dust from the chopper and I could see familiar people waving."

More from Frank 👉https://t.co/X9bM9Uj9ls#RealLifeHeroes#WorldHumanitarianDay pic.twitter.com/arehgrxH69

— NonviolentPeaceforce (@Peaceforce) August 19, 2020
"Because of NP's relationships, local groups feel like they can reach out to us and ask for our help."

More from our team in remote Philippines 👉 https://t.co/IJg1ALMEIj#RealLifeHeroes#WorldHumanitarianDay pic.twitter.com/rV8Wi8ttBk

— NonviolentPeaceforce (@Peaceforce) August 19, 2020
"In time of crisis most children and women trust us more than others, as they understand why we were working before—to make our communities stronger."

More from Mang Pi and emerging women leaders 👉https://t.co/9056bDQJt6#RealLifeHeroes#WorldHumanitarianDay pic.twitter.com/tQL2gbSmbL

— NonviolentPeaceforce (@Peaceforce) August 19, 2020
"Sara, my darling, I have a tent now! A temporary house! Once you are back in Iraq, I am inviting you for lunch at my own tent! I hope this virus goes away. We miss you."

More from Sara and Zeinab 👉 https://t.co/cHP49eWA1U#RealLifeHeroes#WorldHumanitarianDay pic.twitter.com/Y9U30uAMhP

— NonviolentPeaceforce (@Peaceforce) August 19, 2020