By: Abdul Raheem Mohamed Zulfi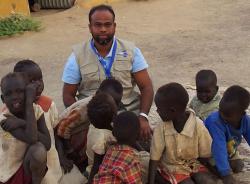 "Good Morning," said the voice of a man. I turned to the voice while I was trying to put a kettle of water on a charcoal stove. The cup of tea was necessary, to protect my body against the cold during the early hours of the morning. It took a few seconds to identify the man. It was dark and he had wrapped his body with a blanket.
"Good morning, James Gatluak, what's up?  Today is a national holiday don't you know?" I expressed my surprise at his unexpected early morning visit. James is one of our national protection officers and his face was full of fear. "I've just been informed of an urgent protection issue", he said, and continued to explain with tension.  "A 14 year-old girl was raped by a group of boys."
I took my mobile phone and called one of our standby emergency contact persons from the community where the rape had reportedly taken place. All I got was "beep… beep… beep". I realized the communication network was totally cut off. Communication is one of the major challenges for people working in remote areas of South Sudan. I picked up my satellite phone and managed to get further information.
After this I immediately put on my Nonviolent Peaceforce jacket which has the logo of our organization on the back. James and I then rushed out to get in the Land Cruiser with one of our international protection officers,  Rachel, a Kenyan lady. We had traveled less than two kilometers when our vehicle was stopped at a military check point. A soldier talked to us in the Nuer language, which I could not understand. James translated to me "The road is temporarily closed for civilians. No vehicles are allowed." This was not a new experience for me, as I was born and raised in a village in Sri Lanka. My village had experienced all the negative aspects of internal armed conflict for more than three decades.
We decided that reaching the survivor quickly was essential, so we chose another route. We were taken through a grass field by our driver, Taban, who is very familiar with all corners of the county.  It was a long journey, full of dusty roads .  I saw people walking long distances barefoot in the hot sun. Even the elderly, women and children were carrying goods on their heads. Some people were traveling with their cattle.  Our vehicle went over many bumps and holes, and we jerked about ferociously. I felt sorry for James, who was suffering from motion sickness. He asked the driver to stop and vomited several times. He even had to walk besides our car on foot several times.
On the way, Rachel and I called a meeting with our Child Protection Committee (CPC). It was in Mankein payam whic is the small administrative district where the victim lived. We arrived in the payam and attended the emergency CPC meeting under a big tree. Some committee members carried their plastic chairs for the meeting, others sat on the ground and a few youths attended the meeting by standing.  NP played the role of supporting the CPC in raising the awareness of the community. NP discussed the community's responsibility to support the victim and worked on facilitating guidelines. These guidelines served to mitigate potential risks during the emergency. NP also mapped out available resources to use in managing child protection cases.
The CPC members came up with an action plan to lead the emergency response with NP supporting them.. Two female members of the CPC, accompanied by our female national and international staff immediately made a home visit to the girl's house. They collected necessary firsthand information and they mobilized the support of the child victim and her parents to go ahead with further actions. 
"It is [the] high[est] priority for each and every one when a 14 years-old girl  is sexually abused by a gang of youths," I replied when Taban, who was complaining about driving to different villages since sunrise without any thing to eat.  I then shared my sugar free biscuits from Sri Lanka with my colleagues. 
Child protection is everyone's business. It is not only the business of certain organizations or people, rather it is the collective responsibility of everyone in the community. This includes:  parents, women groups, youth representatives, elders, community chiefs, religious leaders, teachers, police, military, health workers, and many more. All stakeholders have their own responsibility to protect children in their community.
In the field of civilian protection, and especially in child protection, we have to clearly identify and analyze potential risks and available resources. In Unity State, Nonviolent Peaceforce has formed CPCs at the community level in different payams (county) where we implement child-protection. Members of these CPCs are trained in various areas of  child protection and receive coaching in regular bi-weekly case management meetings supported by NP staff.
It was dark when I reached NP's compound that night. When a colleague from another organization  saw me he said, "Your cup of tea has been waiting for you since morning".  I replied to him with a smile, "Child protection is my cup of tea."
Abdul Raheem Mohamed Zulfi is an Attorney at Law from Sri Lanka and a Master Degree holder in Human Rights. He has a joint certificate in Post Graduate Diploma in Conflict Resolution and Peace Preparedness from Bradford University, United Kingdom. Tsunami devastation, which badly affected his own community in the coastal belt of Sri Lanka motivated him to change his career from a practicing lawyer to join Terre des homes (Tdh) to work for the protection of children. He also worked for the Equal Access to Justice Project of the United Nations Development Program, Sri Lanka. He has been working for Nonviolent Peaceforce for the last year as a team leader for a child protection project in Unity State, South Sudan. He realizes that his service is needed to protect the children of the Republic of South Sudan, a newly born country facing a lot of challenges.