By Abdul Raheem Mohamed Zulfi, Nonviolent Peaceforce Team Leader in South Sudan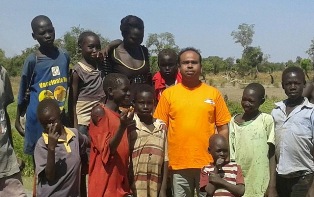 It was Friday afternoon and I was sitting with my Nonviolent Peaceforce (NP) team members in a small 'Rakuba.' This is a shelter made of grass and poles brought from local market and built for multiple purposes. We use the space mainly for our office work and frequently as a venue for meetings or training workshops.
"It is 3:00 o'clock. In another half an hour time, there is a meeting organized by our Child Protection Committee (CPC) with Angolo community in Block 12," said Essa, one of our staff from the Nuban community. We quickly finished our discussion on the tool to assess protection concerns of children. Particularly to assess protection concerns for children in the market in Yida Refugee settlement. This is a space where NP has closely been working with Nubian communities since the establishment of the camp.
Once we were finished our discussion, I jumped on our motorbike as a passenger. Essa carried me through the bush and sand. We even went through gardens where refugees cultivated crops for their survival during the dry season. These crops of sorghum, rice, groundnuts and other assortments are new to me. Halfway there our motorbike got stuck in the sand. Essa asked me to get down and push the bike. While I was pushing the bike through the sand, a helping hand joined me under the hot sun. It was a familiar face: Musa, a member of our Youth and Children Clubs (YCC). Once the motorbike was freed from the sand, we continued our journey. I started sweating but luckily I had my bottle of water with me, which I have available at all times. This is necessary because of the extreme heat ranging anywhere from 86-104 Fahrenheit on most days. On our way I saw many people, including youths and children, moving towards the Angolo Child Friendly Spaces (CFS).
The Angolo Child Friendly Space was well arranged, as the community creatively decorated the place with local materials. Children were well dressed in cloths of different bright colors, and elders wore long white clothes with caps on their heads. Most of them were carrying long sticks in their hands, a sign of great cultural significance in many communities of South Sudan. In addition to providing self-protection from enemies and dangerous animals, the walking stick symbolizes respect.
It was a special day for the children who attend the Child Friendly Space. This was a celebration for the last day of their activities and for the children's graduation into starting their school curriculums. They started their celebration with the traditional dances performed by Angolo youths. During such celebrations NP usually utilizes the opportunity to disseminate key current child protection messages to the community. I talked about the primary responsibilities of parents and designated community leaders to protect their own children. This is especially important in a risky situation, when people have taken up arms because of the conflict situation. The Youth and Children's Club members played a drama on the theme of negative impact of early child marriages. In between short speeches given by key people from the community, children danced, sang songs, and recited poems.
Nuban communities settled in Yida as refugees are facing many challenges in their day-to-day lives. As far as children are concerned, they are facing serious threats from different directions. Many boys report they are being forcefully recruited for military operations, while a number of girls report being sexually abused and facing gender-based violence. The numbers of children working and living in the market increase every day. There is no structured education system for children and no livelihood support for their parents. Every day children are coming to Yida for security and education. Many of them are unaccompanied, having been separated from their parents. New arrivals to Yida are not considered for the services provided by certain agencies - unless they move to new the refugee camp, Ajoung Thok. The majority of the refugees prefer not to move to Ajuong Thok for security reasons, despite the services provided there.
We have strategized our activities to empower community members, so that they can protect their children from these abuses and violations. I strongly believe in community participation and empowerment in the field of child protection - through the community taking on ownership in a sustainable way. We have formed 15 Child Protection Committees (CPC) comprised of community chiefs, women, and elders. Each of these committees has between 15-20 community members. Regularly, we conduct a series of training workshops in different thematic areas. Furthermore, for coaching and mentoring purposes, we have regular bi-weekly meetings with each of these groups. These meetings allow us to discuss particular child protection cases and issues for guidance and action.
The Child Protection Committee members are motivated and have committed themselves to child protection activities. Specifically, they have fully volunteered to facilitate early childhood development activities for children. These activities are for children below 12 years old who attend our Child Friendly Spaces (CFS). Twenty-three Child Friendly Spaces are attended by around 2500-3000 refugee children per day. Furthermore, we have 15 Youth and Children Clubs that support children from 12-18 years old. This is done through facilitating sports, cultural and traditional activities, as well as social work during evening hours. Through our Child Friendly Spaces and Youth and Children Clubs, Nonviolent Peaceforce in South Sudan ensures that girls and boys are kept in a safe environment under close monitoring.
Abdul Raheem Mohamed Zulfi is an Attorney at Law from Sri Lanka and has a Masters Degree in Human Rights. He has a joint certificate in Post Graduate Diploma in Conflict Resolution and Peace Preparedness from Bradford University, United Kingdom. Tsunami devastation, which badly affected his own community in the coastal belt of Sri Lanka motivated him to change his career from a practicing lawyer to join Terre des homes (Tdh) to work for the protection of children. He also worked for the Equal Access to Justice Project of the United Nations Development Program, Sri Lanka. He has been working for Nonviolent Peaceforce for the last three year as a team leader for a child protection project in Unity State, South Sudan. He realizes that his service is needed to protect the children of the Republic of South Sudan, a newly born country facing a lot of challenges.
---