By Kristine (Tin) Valerio, Team Leader in Northern Bahar El Ghazal for Nonviolent Peaceforce in South Sudan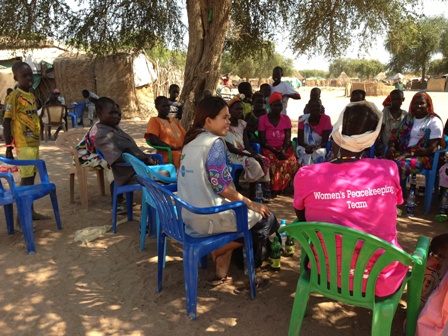 As we enter this year's Women's Month, the heat of South Sudan envelops my body. After meeting the transnational feminists in Asia, together with my fellow Filipinas, I came back to South Sudan welcomed by its hottest season. The leaves are falling down and the grass is brown. The river, just months ago populated with fishermen, is becoming part of the vast dry soil. The cows and goats are thinner and weaker. Hunger, which is a part of everyday life for most South Sudanese, will definitely be exacerbated. With South Sudan's dry season the migration of the pastoralists along the borders of Sudan is on its way. This may bring conflicts, killings, revenge, and echoes of cries among the communities of Riziegat, Misseryia and Dinka Malual.
Women and girls, while experiencing the economic dearth and political instability caused by decades of war, continue to suffer from the everyday threat of just being a female in a post-conflict South Sudan. Some cultural practices, including patriarchy, breed gender-related issues. After its national independence, these issues remain as a misery in the lives of women and girls in South Sudan.
During my first month at our field site in Northern Bahr el Ghazal State, we responded to a rape case of a 13-year old girl. She spoke in Arabic, a language I do not know. But even without translation, from the way she looked into an abyss, from the sound of her crackling voice and from the unending tears coming from her sorrowful eyes... I understood deeply what she wanted to share with us. After telling us what happened, I hugged her tightly. I hoped that our response would help her feel the security that she needed the most. Through referrals to health and psychosocial services, as well as accompaniment to the legal procedures we help to manage rape cases. This with time helps a survivor to heal.
Women and girls experience different forms of gender based-violence (GBV): physical, psychological, economic, and sexual. Thus, we are building Women's Peacekeeping Teams (WPT) to educate, empower and encourage women's participation in eliminating any forms of GBV; as well as for them to a be part of the whole peace building process.
In one of the series of gender based violence awareness trainings that we conducted, I remember how the Women's Peacekeeping Teams were eagerly listening to the new concepts. I never knew they would be so interested to hear about concepts such as: gender (and preference), emergency contraceptive pills, post exposure prophylaxis*, trauma, legal sanctions, etc. It was hard to explain those terms but with their eyes wide open and with their eager ears, I was enticed to share more. I learned equally from them and they also learned from each other. They shared a lot of stories about GBV cases, the response they initiated as Womens' Peacekeeping Teams and on the struggle to build a home, as well as a nation free from any forms of violence.
Our WPTs from different places such as Akuem, Malualbai, Pamath, Gok Machar, and Majok Yin Thiu, shared several stories of violence in the their communities and the domestic violence that they themselves experience. There was a woman in Malualbai, during our Community Security Meeting, who shared with us her experience with her husband who became alcoholic after several failures in achieving a decent life. Almost every day of her life, she experienced being beaten by her husband. The Local Police Chief responded that they would act on that case and also on all the cases of alcohol abuse in their community.
I tried to explain how people become alcoholics, hoping to at least make the wives understand the problems their husbands are suffering from; while also taking steps to alleviate any violence in their homes and their community. I shared with them the need to voice their concerns and how each member of the community should work hand in hand- to respond based on those concrete experiences.
These stories are etched in my memory. These stories keep a woman activist like me feeling the urge to struggle for a safe and better society for women, girls, and the whole community. But more than the pain that women and girls experience, what makes me keep fighting for women's rights is the stories of hope- the initiatives like the Women's Peacekeeping Teams at our field site.
The WPT in Akuem told us how they were able to respond immediately when a girl was shouting for a help while a boy was in the act of raping her. The WPT in Gok Machar shared with us how they organized themselves to stand against any forms of abuse in their community. Women and girls in South Sudan are trying to build their lives and we must help them carry on their work
It is too hot now in South Sudan. A year ago, I was just freezing in the snow of South Korea while joining a protest on the street, crying for justice and for the comfort of women. A year before that, I was embracing the serene cold wind of Palestine while understanding the issues of Muslim Arab women. Before coming to South Sudan, while providing for the sexual and reproductive health needs of women in the aftermath of typhoon Haiyan in my country, the Philippines, I saw how resilient the Filipinas were.
Different countries have their own specific features. Each has its own particular issues and struggles. All over the world, however, the oppression of women is a common affliction.
In the fight for women's rights, international women's solidarity is therefore urgently needed.
Long live International Women's Day!