By Derek Oakley, International Protection Officer for Nonviolent Peaceforce in South Sudan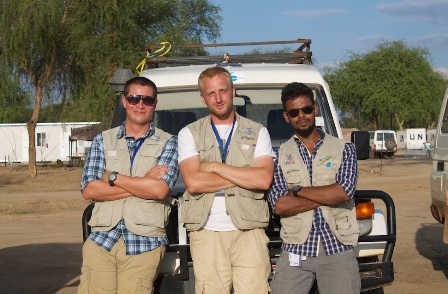 On April 17, 2014, my colleague Andres and I were in the United Nations Mission in South Sudan (UNMISS) Protection of Civilians (POC) compound in Bor, South Sudan. Gunmen invaded the compound and fired upon unarmed men, women and children, killing at least 58 people. These people were largely internally displaced people (IDPs) of the Nuer ethnic group. They had been staying in the POC since the civil war in South Sudan erupted in December 2013. Alongside five women and nine children (whom we had sheltered with for the duration of the assault), Andres and I survived unharmed through a combination of nonviolent training focused on strategy in dealing with violent conflict and ethnic tensions. We were threatened on multiple occasions with guns, axes and sticks. We were even ordered by gunmen to leave the women and children behind. We refused to do so, calmly insisting that we were humanitarian workers and that these were innocent women and children who had nothing to do with the war; we would not leave without them.

Immediately after the attack and up to the present time, we have been contributing to the ongoing response from the United Nations and non-governmental organizations (NGOs) operating in the POC. We have done this by collecting and transporting the wounded and the dead, supporting the arrangement of medical evacuations and tracing family members outside of Bor (family members who can take care of children who lost their parents in the attack). During this time, I have been exposed to the best and the worst qualities of humanity but inspired by both to continue in pushing forward. I do this with the limited means I have to help survivors of the attack and their loved ones. I am eternally grateful for the support and solidarity of those around me and those farther afield. Without them it would have been impossible to keep it together enough in these extreme circumstances to be of use to anyone.

I have seen and experienced things over the past few days that I would not wish on anyone and which I do not feel it necessary or appropriate to detail here. Yet, this is what my colleagues and I, as unarmed civilian peacekeepers, signed up for and willingly accept. I do not intend to appear callous, dismissive or masochistic about this statement and I do not make it lightly. Rather, this experience crystallizes and reinforces for me the reality of this work. This was a very clear test of both our working assumptions about the power of protective presence in deterring violence against civilians, as well as personally, for my own values and rhetoric. If we had been armed, we would be dead now. If we hadn't happened to go to ground where these women were, they and their children would be dead. Our presence in the POC that day was not a planned response to a perceived threat. It all happened too fast and was not something that anyone had predicted. Rather, it is a reflection of our everyday approach.

We know that there is some degree of risk involved in most areas where we work every day. On this occasion, our reactions and their results have felt consistent with the responsibilities of unarmed peacekeepers. I now grasp the responsibilities that we attempt to articulate and promote in a much more raw and vital way. Most activities that we do are about preempting the worst possible outcome of conflict and preventing atrocities from occurring. At times like the one I am describing, when so little was under our control, we are left with the most fundamental resource – our presence. We use this resource of direct action as an option to try and stop killing. This is a small thing but without the knowledge that we were able to do something, however tiny, in this horrific situation and can and would do again, it would be very difficult to conceive of continuing in this vocation. I remain resolute in my belief in and commitment to the possibility for making space for people to think and feel beyond hatred and violence; as well as to believe in creation over destruction, and to work for genuine peace, justice and freedom for all and not for the fear-based power for a few.

On occasion, I have struggled to articulate why I feel called to this path and what it actually looks and feels like in practice. To me, there can be no clearer illustration of both the "why" and the "how" of this work than my experience on April 17, 2014. Thank you very much for taking the time to read this message, unsolicited as it is. In addition to your patience in doing so, I ask only for your thoughts at this time for those killed that day and their families.