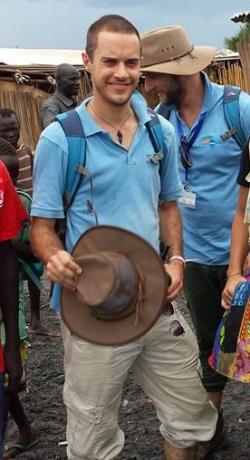 It's been a slow couple weeks in Juba. I was supposed to be out on mission earlier in the week, but due to circumstances outside of my control, I was never manifested on the flight and found myself grounded for another week in the capital.
I'm on the mobile protection team – a new approach to protection mainstreaming that is being led by Nonviolent Peaceforce. The idea is to integrate the protection of civilians into the overall humanitarian response in a sustained, meaningful way.
The problem is that the humanitarian sector is often preoccupied with logistics – how to get food from A to B, how many households need mosquito nets, how to target vulnerable populations who have fled to the bush. These civilians are subsisting on emergency food, sheltering under trees or in disused cattle camps.  
We're here to make sure these logistics are incorporated in a way that humanizes the populations. Our main concern is to measure the capacities, vulnerabilities, and resiliencies of the host population in order to foster ownership and build long-lasting relationships with influential local actors.
We build the networks. We're what Malcolm Gladwell calls "Connectors." Ideally, those of us doing mobile protection are the "first in, last out." We've joked that we're the cowboys of the organization, flying wherever there's need and busting our hump to establish a presence.
We don't, however, just ride off into the sunset. When we hit the ground, we're establishing relationships, not only with local leadership but with influential actors in the community – religious leaders, doctors, elders, teachers, business people, and women. When a distribution finishes, we stick around to make sure that the systems serve everyone effectively, especially the most vulnerable – women, children, the elderly, and the infirm.
So you can understand the frustration that for the last week, I've been grounded. Insert Top Gun reference here –
It's been a bit of a blessing in disguise. We've done a lot of the ground work that is necessary when building a team, such as meeting with others in the protection cluster to establish our mission and our responsibilities. We've also been able to outfit the team so that we can hit the ground running.
You'd be surprised how important this ground work is, and how little opportunity you have to do it in an emergency situation.
It's also allowed me to spend time researching the human rights situation in the country and gain an understanding of what we will be facing in different areas. Amnesty International published their report Nowhere Safe: Civilians under Attack in South Sudan a few weeks ago, around the same time that the United Nations Mission in South Sudan (UNMISS) published their Conflict in South Sudan: A Human Rights Report.
Both make for pretty grim reading. In the nearly six months since the conflict started, both government and opposition forces have committed grave human rights violations including rape, murder, targeted attacks on civilian areas of refuge (including churches and medical facilities), attacks on humanitarian actors (including the UN mission), and looting. Worse, these violations seem to be institutionalized on a scale and level of organization that represent crimes against humanity.
We can't forget what that means. These are crimes so deplorable that they actually shock the conscience of humanity. They target civilian populations and serve no military objective other than to terrify and destroy innocent life.
There are, however, some gems of humanity that shine through. Stories of survival buried in the narrative that allow you to believe that in this conflict there is anything other than madness and carnage.
From the Amnesty report –
"In the afternoon of 16 December 2013, I was at home, in the Mia Saba neighborhood, with my family. My wife and our five children were in our house and I was sitting outside under a tree with seven (male) relatives. We heard shooting nearby and I ran to a neighbour's house. He is a Dinka soldier and a good friend. I stayed hiding in his house and we saw two Toyota pick-up trucks full of soldiers. We heard them shooting by my house… [After the soldiers left] we found that my seven relatives had been shot dead… We found my wife and children cowering terrified in the house. The soldiers had gone in and taken money, several telephones, a computer, and a TV. My neighbour took us to his home for the night and the following day he drove me, my wife and my children to the UNMISS base; he saved our lives. He knew that his colleagues had come to kill Nuer and he could not stop them but saved us by hiding us in his home" (emphasis mine).
In the midst of complete chaos, a friend helped a friend, a neighbor stood up for a neighbor despite ethnic differences. He did it at great risk to himself. There's danger in being a 'collaborator,' a serious risk to your short-term well-being to preserve your own humanity.
It is ultimately why I have faith that a solution can be found in this conflict. I wouldn't be here if I didn't believe that. Sometimes it's hard to see, but then I think of two of my colleagues: national staff, one Dinka, the other Nuer. Over the course of our training, they became fast friends. We never saw one without the other- two women who developed a bond that will long outlast the politics of the day.
It's what gives me hope. It's what allows me to read reports filled with horror, to suffer abuse from aggravated IDPs (internally displaced persons) in the camps, men and women who have experienced traumas far outside anything I could imagine.
It is what allows me to keep going, even when I'm stuck on the ground, longing to fly.