Press Clip Source: METTA Center for Nonviolence
Date: November 17, 2015
Written by: Soneile Hymn
Read original article: Here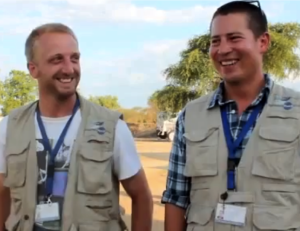 Derek Oakley of Nonviolent Peaceforce for joins us for this episode on Peace Paradigm Radio to tell his story of nonviolent resistance in the face of armed men in the middle of the civil war going on in South Sudan. We go into specifics on the training, the situation and the nonviolent principles that led to this triumph for nonviolence. Then, on Nonviolence in the News, Michael touches on a variety of topics including great new nonviolence resources, and recent actions for peace education, humanization and other aspects of nonviolence and its praxis.
The image is Derek Oakley and fellow peacekeeper Andes Gutierrez after successfully employing the power of nonviolence.
Play the show in a new window, or see the full article here.