Press Clip Source: American Friends Service Committee
Date: May 11, 2016
Written by: Mel Duncan and David Hartsough
Read original article: Here.
A few months later, I went to The Hague conference toting 50 copies of a one-page, single spaced proposal for a peaceforce. Instead of the 5000 attendees that had been planned for, 9000 of us showed up at the conference that had been called to put an end to war in the 21st century. Every venue was jammed. After a day, I called my wife, Georgia, back in St. Paul and explained exasperatedly that it was too crowded to organize. "Well then, be quiet and listen," she responded. The next day, I grabbed the stranger, David Hartsough. Little did I know that David had been working on nonviolent intervention strategies and developing larger scale nonviolent peace teams for over ten years.
By that evening, we were pulling together small groups of people and discussing whether or not this was the time in history to increase the scale, the scope, the professionalism and the international make up of unarmed civilian protection. From the meetings at The Hague, we drafted a proposal and began consulting with people living and working in war zones around the world.
We learned a lot. We learned that the concept of a nonviolent peaceforce was a recurrent vision initiated by Maude Roydon, Mahatma Gandhi, and Badshah Khag, among others, and had occurred and recurred to enough people that the moment was ripe to organize. We were reminded that no one could make anyone else's peace for them. We saw that in the most violent places in the world, courageous and creative peacemaking and human rights work was underway. More often than not, women were leading these efforts. These women told us that isolation was deadly. Our presence could extend and expand their ability to work and help create the peace.
After conducting a thorough feasibility study, we convened in India 150 people from 49 countries who shared the vision and Nonviolent Peaceforce (NP) was born. In addition to electing a representative board and affirming our mission, those assembled chose Sri Lanka as the site of our pilot project where we worked for nine years.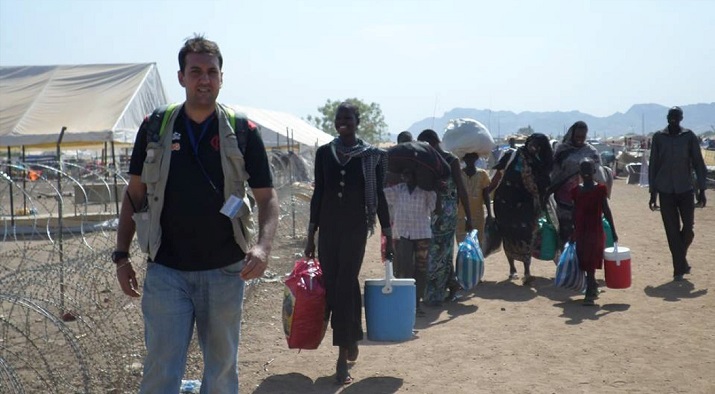 Today, NP has active civilian protection projects in the Mindanao region of the Philippines, Myanmar, and Syria. The largest is in South Sudan, where 200 unarmed civilian protectors are deployed: half come from the local area, and the other half from 25 other countries. They are working in very remote and challenging locales protecting civilians and deterring violence that the U.N. has described as "extreme." Amid a war that reignited 2 ½ years ago, the protection needs are vast. NP has 8 teams around the country working on a range of strategies including women's protection. Tens of thousands of people have taken refuge in proximity to UN compounds. Women have to leave these areas daily to collect firewood. They are routinely raped by government soldiers or armed militia. Women's bodies are battlefields in today's wars. When strategically accompanied by NP's unarmed civilian protectors, the women are unharmed. This work has been 100% successful over the past 2 years.
In Mindanao, NP was invited by both the government of the Philippines and the Moro Islamic Liberation Front to monitor the civilian protection component of a ceasefire in 2009. For the next four years, working with local partners and over 300 trained volunteers, NP monitored, verified, reported and intervened on threats to civilians on a daily basis. This ceasefire was an important ingredient in the comprehensive peace agreement that still holds after two years.
During the ceasefire, two armed patrols were converging on a village. People started to panic and flee. Elders called an NP team that was nearby. En route to the village, the team called both local commanders, informing them of the situation and reminding them that an attack would breach the ceasefire. The NP team also said they would stay in the village until the armed patrols left. Both sides backed off and 1000 people stayed home without danger.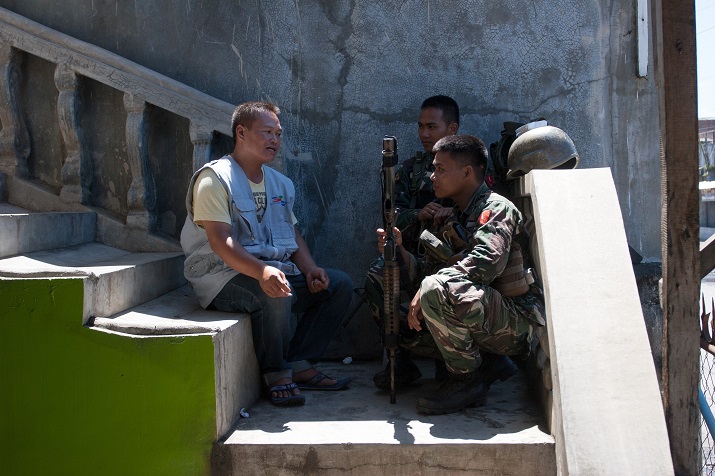 More civilians in the world today are under threat of violent conflict and having to flee for long periods than any time since World War II. Indeed, Pope Francis has labeled the current crisis as a "world war in installments." Unarmed civilian protection (UCP) is an emerging and increasingly recognized method to help address this burgeoning need. Twelve international nongovernmental organizations are now practicing UCP in 17 areas of violent conflict, including urban areas of the United States. Two high level U.N. reviews cited and recommended UCP in the past year. The annual report of the countries supplying troops to U.N. peacekeeping operations (C34) also recommended UCP last month. In the appeal coming out of the historic gathering convened in Rome last month to re-examine the Just War Doctrine, the Roman Catholic Church was called upon to promote nonviolent strategies, including unarmed civilian protection, as a way of implementing a doctrine of Just Peace.
While Nonviolent Peaceforce's fieldwork has been significant over the past 12 years, this critical work is much broader than NP. We need to continue to develop and practice nonviolent methods that effectively protect civilians, document successes, and make the best methods available to many more groups. Unarmed civilian protection can be replicated and scaled up in many more areas throughout the world. The recognition that comes from AFSC's nomination of Nonviolent Peaceforce for the Nobel Peace Prize helps us to credibly spread this methodology to protect many more people. It also helps the world learn that there are effective and nonviolent alternatives to violence and war as a means of dealing with conflict and providing security for all people. We are deeply grateful to AFSC for the nomination. May Peacemakers and people yearning for and working for peace all over the world have the Faith that "We Shall Overcome"!
Note: AFSC nominated Nonviolent Peaceforce for a Nobel Peace Prize for 2016. In our nomination letter, we said, "The work of Nonviolent Peaceforce is not to shrink from violence, but to meet it directly, while refusing to add to that violence in the process of doing so. As ever, the work of peacemakers is not to step away from conflict, but to step toward it, with the tools and conviction to engage conflict in ways that are constructive rather than destructive." I asked the co-founders, Mel Duncan and David Hartsough, to write a guest post about the founding of the organization and their work. - Lucy