Press Clip Source: Office of Presidential Advisor on the Peace Process
Date: June 9, 2017
Written by: Office of Presidential Advisor on the Peace Process
Read original article: Here.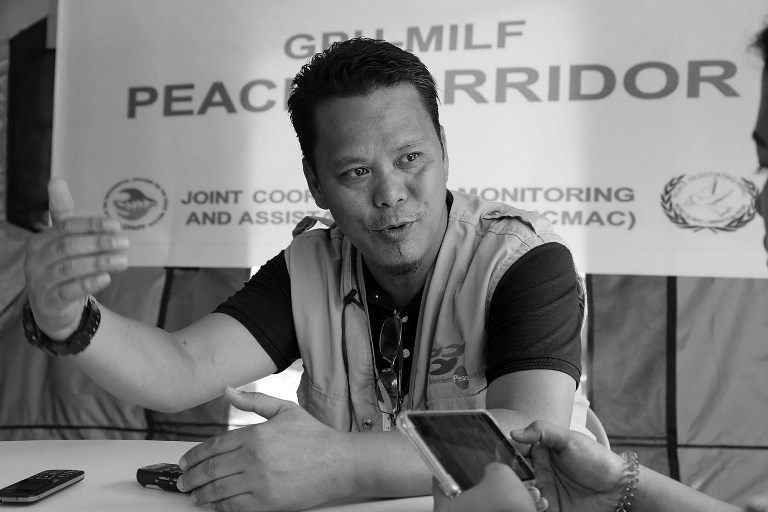 MARAWI CITY –
"The most difficult challenge is risking your life as a volunteer but you are aware that you can something to save people's lives,"
said Salic Mai, a volunteer working for the execution of the Peace Corridor.

The Peace Corridor was established in the three-kilometer Banggulo Bridge to the Quezon Avenue to allow rescue and relief operations. It was a product of a strong partnership between the government and the Moro Islamic Liberation Front (MILF).

He is one of the many Joint Coordination, Monitoring, and Assistance Center (JCMAC) volunteers who braved going to the conflict area in the city to rescue trapped civilians.

The JCMAC is composed of volunteers from the government, MILF, and Non-Violent PeaceForce who is tasked to provide a safe route for the trapped civilians in the city.
Salic is a member of Non-Violent PeaceForce, an international peacekeeping organization that aims to protect civilians and prevent violence in areas affected by armed conflict.

"We talked all night because my family is worried for me and one of them said I can still back out (as a rescue volunteer). But I also thought about the other people trapped inside who have been crying out for help.," Salic shares the top reason that made him decide to volunteer as JCMAC.

Aside from being in an independent peace organization, Salic is also part of the civilian protection component of the International Monitoring Team (IMT). The IMT is a peace monitoring body under the Bangsamoro peace process.

Salic reiterated the challenges that the JCMAC experience in retrieving the trapped civilians, "It was a challenge to rescue trapped civilians within a limited timeframe of 4 hours covering all the affected villages in Marawi." (The city has more than 90 barangays or villages and military said the Maute group is still present in nine barangays).

"After we crossed the bridge and the trapped civilians saw us coming they felt safe and we saw how relieved they were," Salic mentioned the condition of the civilians who were trapped for a few days in the conflict area. There those who needs immediate medical assistance, and those who ran out of food to eat.

Despite of the difficulties in bringing the trapped civilians into a safer place, the JCMAC was able to rescue 179 trapped women, men, children and elderly during its first attempt in 4 June 2017.

On its second attempt on Thursday, it was able to bring 38 more civilians to safety – making it a total of 217 saved people.

"The most important is we save lives, even if we just save one, we can say that the Peace Corridor succeeded," Salic said with a smile on his face.