Press Clip Source: The Lowell Ledger
Date: November 15,2017
Article by: Tim McAllister
Link to source: Here.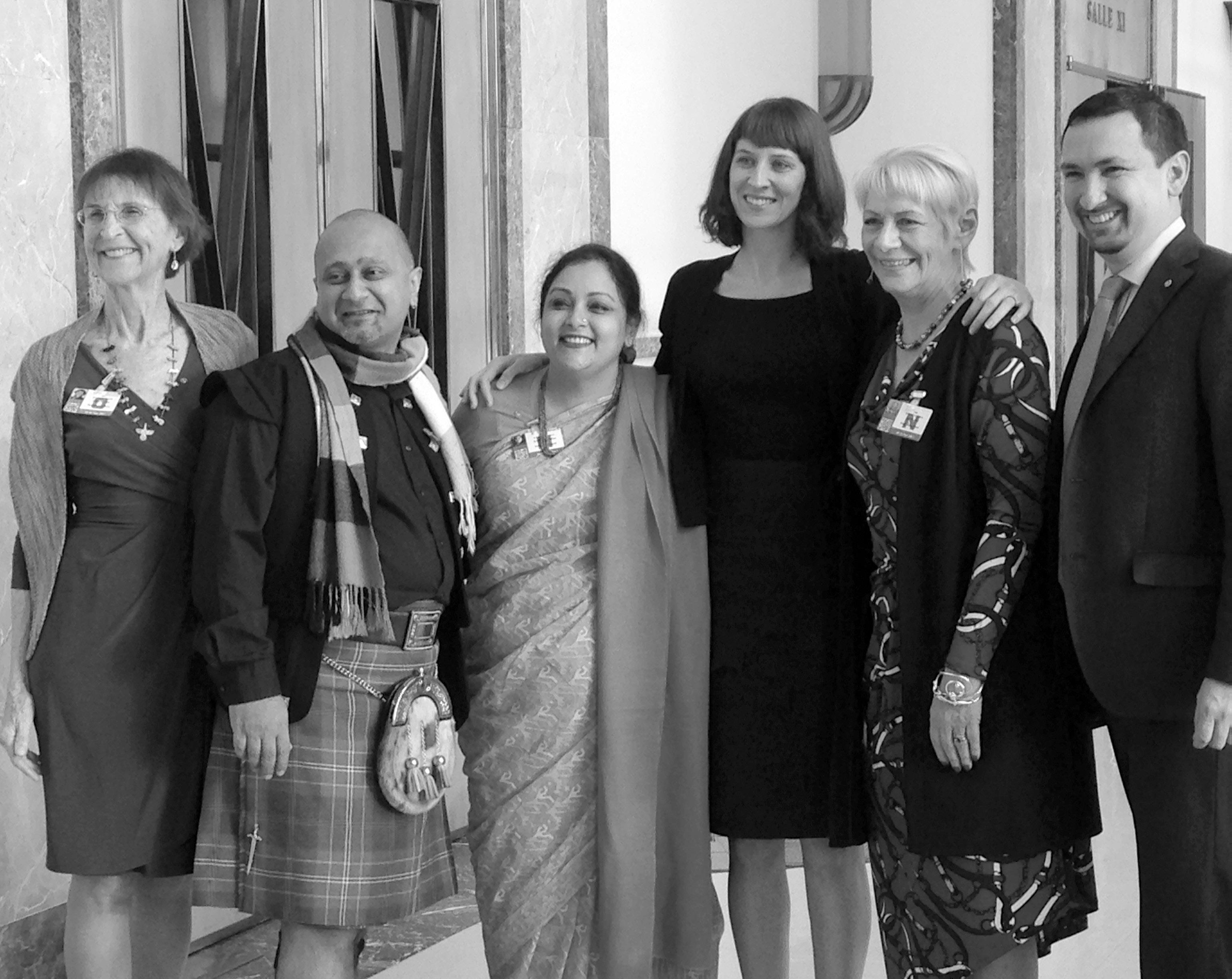 Dr. Ann Frisch, far left, with the five others honored by the United Nations in Geneva, Switzerland.
Lowell native Dr. Ann Frisch was honored by the United Nations for her work to protect civilians in violent conflicts. Frisch was named one of six 'Rotary People of Action: Champions of Peace' and made a presentation about her work at the United Nations in Geneva, Switzerland on Saturday, Nov. 11, which was Rotary Day at the UN.
"I got the peace champion award for my work in bringing in the skills and knowledge of unarmed civilian protection into Rotary," Frisch said. "This means that Rotary can bring in Nonviolent Peaceforce protectors or be trained in the peacekeeping strategies of physical presence, monitoring and information gathering, building relationships and capacity development."
She was honored by the UN for her work in collaboration with Rotary clubs in Thailand to conduct civilian-to-civilian protection trainings as part of the Southern Thailand Peace Process. She cowrote the first manual on unarmed civilian protection, administered by the UN Institute for Training and Research, the department that trains all UN personnel. The goal is for unarmed civilians to keep unarmed civilians safe when there is a war going on or other strife.
The Nonviolent Peaceforce, for which I have worked as a peacekeeper in Guatemala in 2007 and for outreach and advocacy since 2006, partnered with United Nations Institute for Training and Research," Frisch said. "It offers online courses to provide the first training in unarmed civilian peacekeeping and uses the manual as the basis for the instruction. It is interactive and is a full university online course. We gave three all day workshops on the civilian peace process in Southern Thailand, in Hatyai, Pattani and Bangkok, to the Rotary clubs there to let them know how civilians were trying to bring peace. There is also a formal peace process, with Malaysia being the intermediary between the hostile forces. The important thing about this is that we were able to get a district grant to train Rotarians under a new rule from The Rotary Foundation that allows Rotarians to be the beneficiaries of Rotary funding if it helps us do our job of making peace. The Nonviolent Peaceforce is both unarmed and nonpartisan. We don't take a side in armed conflict because there are civilians on both sides that may need protection. If we side with one, the civilians we protect are targeted by the other. Being unarmed and non-partisan helps keep us and the civilians we protect safe. We are not a target of any armed party. In fact, we seem to build relationships of respect with all the armed parties. We may need to tell them we disagree with some of their actions if they hurt people."
The Nonviolent Peaceforce has several projects in the works that address various problems in parts of the world where the political situation makes daily life perilous.
"One area where Rotary could use protectors is when they are giving immunizations for polio, which is Rotary's major project, in areas where immunizations are seen as a stealth technique to hurt their opponents," Frisch said. "Rotary vaccinators have been killed and injured by some parties where Rotary is working because of this resistance. Children suffer when they are not vaccinated. The strategies of building relationships with all the parties, staying non-partisan, never having weapons of any kind and the fact that we are international with protectors from many different countries could mean less resistance. We have not done that yet, it is just potential. We have two projects underway where Rotary and the Nonviolent Peaceforce are partnering to bring safe spaces for dialogue. The Nonviolent Peaceforce just sent a team into Cox's Bazaar in Bangladesh to explore the protection needs of the Rohingya people fleeing from Myanmar. The Rotary Club of Dhaka Mahanagar in Bangladesh invited the Nonviolent Peaceforce. The members assisted our team in getting acquainted with government officials who have responsibility for the Rohingya refugee camp. The credibility and good relationships Rotarians have with local officials is very important in getting access to the Rohingya people. The second project is an exploration into how the Nonviolent Peaceforce might address conflict in Nigeria. Park rangers in the National Parks have challenges with cattle keepers who need food and water for their animals. With the Nonviolent Peaceforce's experience with cattle keepers and farmers in South Sudan, our protectors are in a good position to know how to bring together the parties and provide safe spaces for fruitful discussion. No one need fear of being harmed while they are talking because we are there and trustable. The Rotary District has offered to host the project."
Frisch, known as Ann Mullen back in those days, attended Lowell schools from kindergarten through high school and graduated with LHS class of '58. She lived in Lowell from 1944 to 1962, when she finished college. She went to the University of Michigan and graduated in 1962 with a major in French, in 1972 with a master's in social work and in 1985 Frisch got her PhD in human ecology from Michigan State University. She has lived in New York City, Guatemala, Ann Arbor, East Lansing, Albuquerque, Oshkosh and Malaysia. Today she lives in White Bear Lake, MN, a small town about 20 miles away from the Twin Cities. Frisch grew up in homes on Jefferson St. and Segwun Ave. in Lowell. Her father, Don Mullen, worked at WLAV and then the Grand Rapids Public Library. Also living nearby were her aunt and cousin Blossom and Gerald Mullen and her grandparents, Claude and Zella Mullen. She was involved in a lot of extra-curricular activities in school and even worked at the Ledger for a little while.
"I remember wonderful things about Lowell," Frisch said. "I remember Boyd's Store and the train going by every day. We watched and counted cars. We rode our bikes up and down Segwun and down along the river road. My mother, Blanche Mullen, was the art teacher. I remember art class and the art shows, making enameled jewelry and paper sculpture. The senior play, I did advertising for the school play 'Onions in the Stew' and I played flute in Lowell High School band. My favorite classes were Latin, French and history. In the work study class with Mr. White, as [a] senior in high school, I worked for the Lowell Ledger, first setting type, the paper ribbon punch code and then as assistant editor and photographer. I covered the big fire in 1957 on Main St. I woke up that morning, raced to the Ledger office to get the Leica and take the pictures. I was also a camp counselor for the YMCA while I was in college."
Frish comes back to Lowell now and then for various reasons and said she has been impressed by the city's growth over the years.
"I came back for a reunion several years ago and have come several times to see family," Frisch said. "I took my daughter Stirling to Lowell when she was young, in the 70s, to see where I grew up in South Lowell. The house was torn down when they rebuilt the road. The last time I visited Lowell was about three years ago with my sister Noel Feeney to visit friends and see my old house on Jefferson. Though I haven't lived there in years, I understand Lowell is a vibrant cultural place with music and arts. My mother had David Davis as an art student and he later opened a gallery there. My mom was very proud of that. My dad died in 1966."
Frish had some practical advice for Lowellians on how they can help make the world a more peaceful place.
"Probably the most important thing we can do is to read widely about conflicts and be open about their resolution," Frisch said. "There are good and caring people on all sides. With our children, it is important to be non-partisan in their disagreements while we protect them. Be imaginative about how conflicts we are in can be resolved with good will and willingness to commit to good resolution for the opponent. Let people make their own decisions about how conflict is resolved and keep them safe while they do it. Don't demonize our opponents. We are quick to label people as 'crazy' or 'idiotic' when we disagree with them. It makes it harder to find common ground if we say mean things about them. We can disagree on facts, we can try to persuade on the basis of facts, but treat our opponents with the respect they deserve and disagree, if needed, with their behavior. If they treat us badly, reach out to them, ask to be heard. If needed, take a non-partisan person with you to keep the conversation respectful. Protect people who might be in danger of harm from bullying or name calling. Walk with them, advocate for them, listen to them about their needs. If challenged, be respectful of the challenger, let people speak for themselves and stand up for their right to decide for themselves. Support building relationships with people who are not like us, new people in our community and schools. Welcome them, have them for dinner, champion good policies and practices in our communities to do unto others as we would have them do unto us."