Press Clip Source: NewsDeeply
Date: November 5, 2018
Link to source: Here.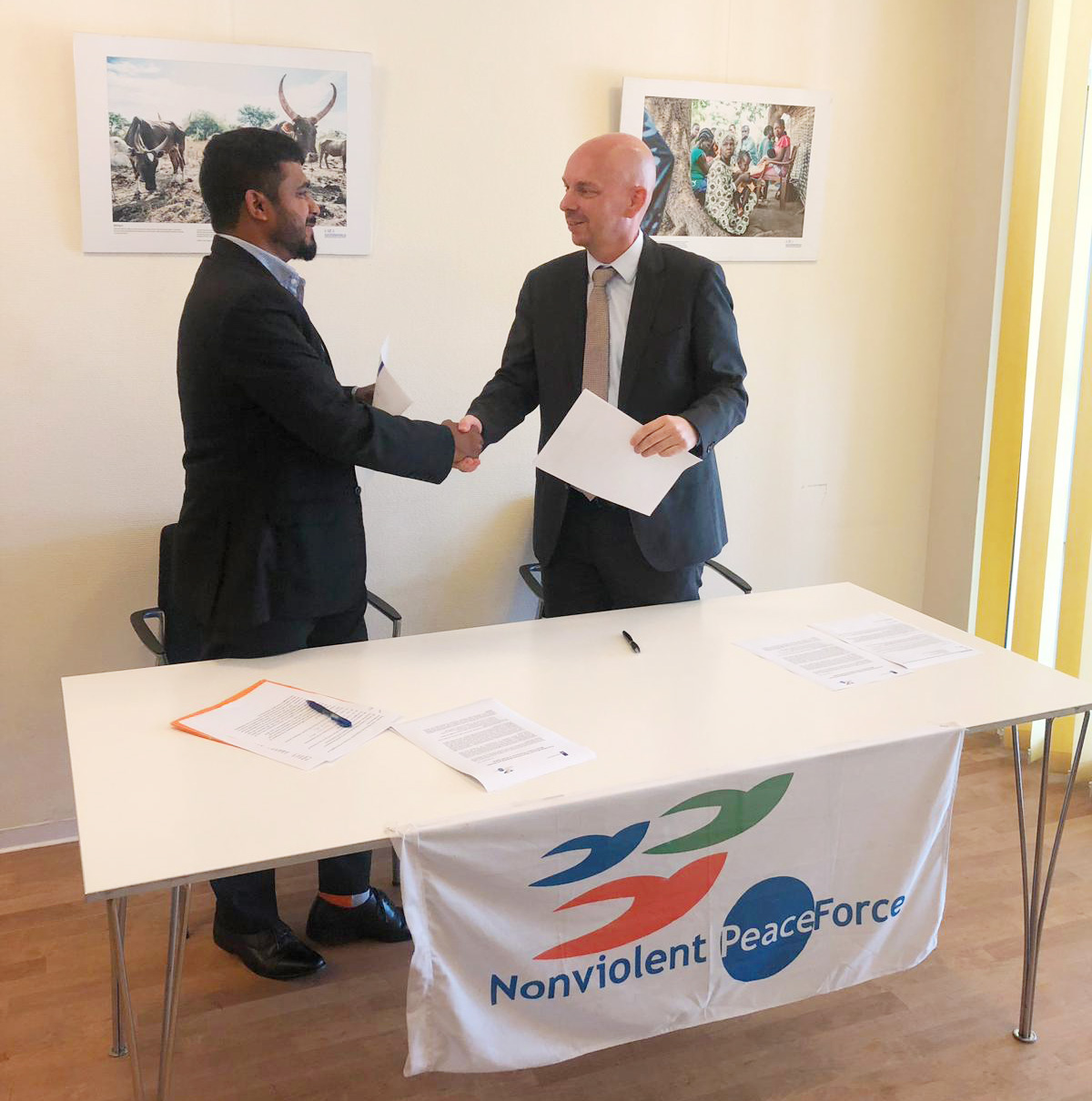 South Sudan Head of Mission Aseervatham Florington shaking on signing 2,710,246 Million USD with the Embassy of the Kingdom of the Netherlands
The Embassy of the Kingdom of the Netherlands in South Sudan and Nonviolent Peaceforce (NP) are happy to announce that their joint project 'Promoting Women's role in Peace building and Gender-based Violence prevention in South Sudan' has been extended by one additional year until the end of 2019, which was concluded at a signing ceremony at the Embassy of the Netherlands in Juba on November 5th.
The project began in January 2016 and is being implemented in Bentiu POC, Aburoc, Juba POC3, Rumbek (Rumbek Central, Rumbek East and Cuibet counties) and Aweil (Aweil East, Aweil North and Aweil South counties). The overarching aim of this initiative is to promote women's participation in peace building and protection, and to reduce the prevalence and impact of conflict and GBV on communities in South Sudan. In support of this goal, the project includes extensive community engagement and capacity building activities to promote collective action, support peace-building efforts, and address pertinent protection and GBV concerns with a particular emphasis on women's participation.
By funding this project, the Embassy of the Kingdom of the Netherlands in South Sudan aims to strengthen women's rights and gender equality, which is one of the priorities in Dutch foreign policy in general, and in the Dutch multi-annual strategy for South Sudan in particular. At the signing ceremony this week, Chargé d'affaires a.i. Jeroen Kelderhuis also looked back to the celebration of the peace agreement last week and stated that "the Netherlands gives much attention to the empowerment of women at home and abroad. We promote Sustainable Development Goal (SDG) 5, that aims to achieve gender equality and empowerment of all women and girls, including the prevention and eradication of gender based violence. With the extension of our joint project with Nonviolent Peaceforce, we will be able to support even more women in South Sudan than we have already done thus far". By empowering women to be meaningfully involved in the prevention and resolution of conflict and the shaping of post-conflict society, the project also contributes directly to the implementation of the United Nations Security Council Resolution 1325 on women, peace and security.
Since the beginning of the project, considerable results have been achieved: For over two and half years, Women's' Protection Teams (WPTs) have established community-led mechanisms to boost women's participation and GBV prevention, and response activities in their respective communities. By mid-2018, 2,250 women have been actively participating in community based protection mechanisms of self-protection and capacity building.
In May 2018, the first Women National-Level Conference was held and brought together representatives of Women's Protection Teams (WPTs) from different communities from five project locations. It provided a forum to them to share their experiences and best practices relevant to peacebuilding and Gender Based Violence Prevention, and to build links with other existing groups within South Sudan. Building on the momentum from the first event, a 2nd National Level Women's Conference "Uniting and Raising Women's Voices in Peacebuilding and Community Protection" will be held on the 22nd of November 2018 in Juba with the aim to create a space for women to identify collaboration and coordination opportunities.
With the one-year project extension, NP will able to build on these achievements and continue to further strengthen women's voice and participation in peace building and the prevention of GBV in South Sudan. Mr. Kelderhuis closed the signing ceremony by stating "We believe in this joint project, and we believe in Nonviolent Peaceforce. We're happy to continue our cooperation on this very important topic."
You can find more about the Embassy of the Kingdom of the Netherlands and Nonviolent Peaceforce's work in South Sudan on:
https://www.facebook.com/NLinSouthSudan
https://www.nonviolentpeaceforce.org/
For further questions, please contact:
• Tim Daniel Krap (Embassy of the Kingdom of the Netherlands) at This email address is being protected from spambots. You need JavaScript enabled to view it.
• Pascal Pillokeit (Nonviolent Peaceforce) at This email address is being protected from spambots. You need JavaScript enabled to view it.