Press Clip Source: Humanity United
Date: November 27, 2018
Link to source: Here.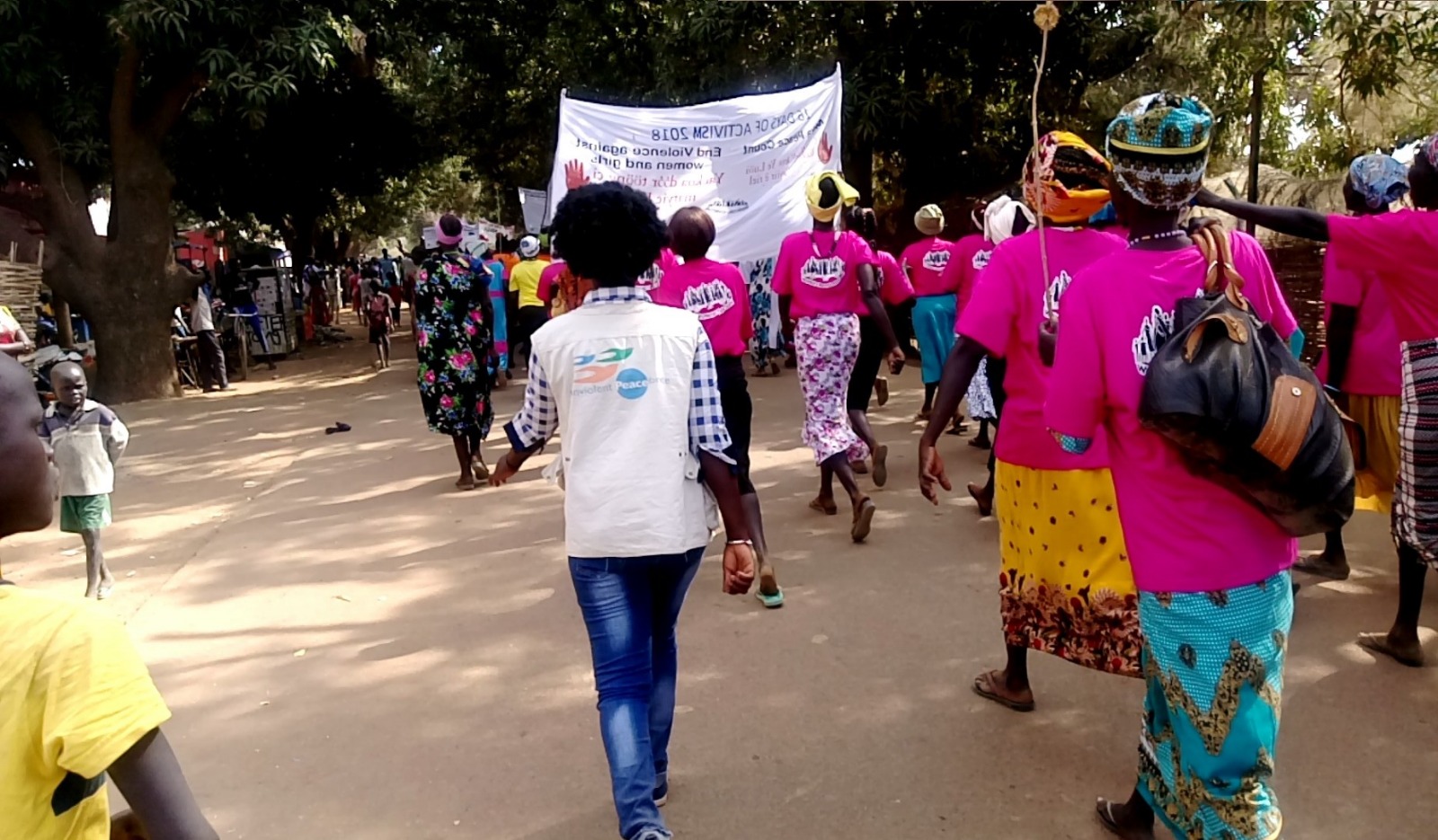 Thank you, Humanity United, for the ongoing support for Nonviolent Peaceforce's work in South Sudan and for selecting NP as a partner to profile in their 10 year anniversary publication!  
ADDRESSING THE ROOT CAUSES OF CONFLICT
Contemporary conflicts are protracted, multigenerational, and are no longer contained to the battle field. The traditional approach to protection has been to send in armed actors to "enforce" peace, an approach that only addresses a small aspect of the needs of civilians affected by violent conflict.
Globally, we are facing a displacement crisis as more people are running from their homes in search of safety than we have seen since World War II. Countries are dealing with the impact of receiving mass numbers of refugees and communities are being displaced within their own countries—all of which leads to instability, vulnerabilities, and interrupted economies. Nonviolent Peaceforce's (NP) work has shown that supporting communities, from the bottom up, in implementing unarmed strategies for conflict resolution, violence reduction, and protection reaches the root causes of conflict and allows for sustainable peace.
INTERRUPTING THE CYCLES OF VIOLENCE
NP is an international NGO working to protect civilians and reduce violence in areas affected by armed conflict. By implementing unarmed civilian protection (UCP) programming, they work to interrupt the cycles of violence that permeate through all aspects of life in conflict-affected communities. NP is currently active in six countries, including their largest country program in South Sudan, as well as Iraq, Syria, Philippines, Myanmar, and most recently in Bangladesh.
Through NP's policy and advocacy engagements they aim to help shift the global paradigm that privileges the resources of armed actors as a tool for civilian protection and conflict resolution, to more sustainable, civilian-led, nonviolent approaches.
The organization was founded by David Hartsough and Mel Duncan, two long-time peace activists. The two met at the 1999 Hague Appeal for Peace, where they shared their ideas and visions on sustainable peace through non-violent means. NP was officially founded three years later, at the 2002 Peace conference in Surajkund, India.
BUILDING PEACE FROM THE GROUND UP
The UCP approach relies on building relationships of mutual trust and understanding with all parties of the conflict. Working alongside local communities and civilians, NP's everyday activities are diverse, ranging from protective presence and accompaniment, to monitoring ceasefire mechanisms, to supporting self-sustaining local protection infrastructures.
In South Sudan, ten women's peacekeeping teams (WPT) have been formed and trained by NP's local colleagues. These teams work with a variety of UCP methods, including accompaniment, dialogue, rumor control, and early warning/early response. Some teams use their peacekeeping methods with families, intervening in plans for early marriages, which often occur when families are facing economic hardship and marry off their girl children in exchange for cattle. The WPTs work with family members, encouraging them to avoid these marriages and keep the girls in school. These courageous women then train other women to defend their children, encourage them to report rape, and accompany them throughout the legal process.
SHIFTING THE GLOBAL PARADIGM
NP's goals for the future include increased field work, doing more where it is most needed. The organization regularly receive requests to go into new locations outside of their existing six country programs. They are working to strengthen the organization to allow a positive response to these requests while continuing to build UCP as a field of practice.
NP is also conducting a global good practices process, bringing together practitioners, academics, policy makers, and UCP beneficiaries to learn from one another and build case studies, training tools, and common resources to serve as a force multiplier.
The organization is also using their learning and experiences from the field to help shift the global paradigm around the protection of civilians—advocating with the UN, member states, regional bodies, policy makers, and donors to prioritize civilian-led approaches to conflict prevention and civilian protection.