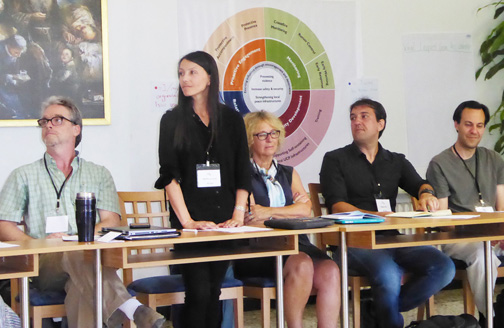 "We are building a community of practice for unarmed civilian protection that extends far beyond Nonviolent Peaceforce," observed NP's Executive Director Tiffany Easthom as she opened the Middle East Regional Good Practices workshop that took place from June 18–20 in Beirut.
Thirty-two people from 14 countries representing 19 organizations and 5 academic institutions gathered to reflect deeply on our civilian protection work and discover what is working and why. We discussed our underlying values and principles like nonviolence, nonpartisanship, the primacy of local actors, solidarity, empathy and oneness. We struggled with dilemmas like how do we remain nonpartisan in asymmetrical violence? What does nonviolence mean if our only access to people in need is with an armed convoy?
And we learned much from each other. A sampling includes:
• Engaging with local communities in continual context analysis.
• Continual adjustments are critical to our ability to protect.
• Ongoing incident mapping is required for strategic deployments.
• This mapping can be used as part of an early warning system. For example, one group described how they were able to evacuate a community of 2,500 people before a mortar attack began.
• Keeping families in tact is an essential element of UCP.
• Clarity of roles is important. For example, local partners are usually better able to communicate with tribal leadership while internationals can interact with occupying troops.
• Nonpartisanship does not mean ignoring oppression.
• UCP's leverage involves:
             o Greater local capacity.
             o Credible messengers for peace especially women and youth.
             o Ability to convene multiple parties, even those in conflict, to address local violence.
             o Higher level attention to the area.
• Advocacy can be done on multiple levels sometimes simultaneous to the protection on the ground. For example, one group described how they had gone to a hospital under attack and immediately started calling embassies, UN agencies and their families to bring outside pressure to stop the attack.
• Peacebuilding coupled with reconciliation will result in protection.
• Well-organized communities are better able to protect themselves.
• Trauma has become normalized and must be addressed.
• Civilian protectors need to be trained to identify the types of weapons in use to adjust strategies.
• Diverse teams reinforce our nonpartisanship with adjustments being made based upon context.
• UCP helps smash patriarchy.
• We have to become better at monitoring and evaluation while recognizing that all methods have their limitations. A mixture of quantitative and qualitative analysis combined with storytelling helps provide a more holistic picture of impact.
Many more lessons will be included in a report of the workshop due out next month. Contact us if you would like to see the final report.
This workshop is the second of six regional UCP good practices workshops convened by NP. The next workshop will be in sub-Saharan Africa. We still need $25,000 for this event.
The number of violent conflicts is increasing. As a world community, we need to learn how people can effectively protect themselves and be protected when necessary. We need to learn to do this work nonviolently in a way that sustains peace. These workshops provide rich experiential lessons that will be shared.
So often during the Beirut workshop people would respond to questions by saying "it depends on the context." We are learning that UCP is dynamic and nuanced heavily reliant on deep community engagement and continual analysis and mapping. Good practices are much more based upon process rather than prescription.
We are also seeing how a vibrant community of practice where we can all share our strengths, vulnerabilities and dilemmas that will be necessary for our mutual improvement. As Thich Nhat Hanh reminds us, "It is much easier to practice compassion if we have the energy and support of a community. A community helps us not lose hope."

NP wants to acknowledge the leadership and warm hospitality provided by Fadi Abi Allam, President of the Permanent Peace Movement of Lebanon: