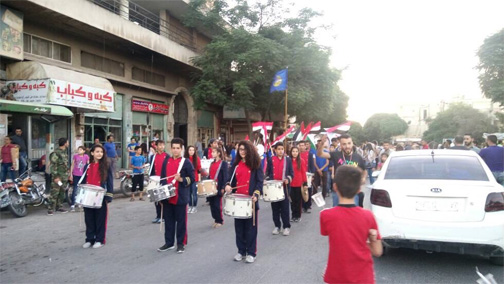 Since 2015, Nonviolent Peaceforce has had a presence in Syria through our office in Lebanon. Working in partnership with a coalition of around 25 civil society organizations, NP trained Syrians on unarmed civilian protection which resulted in the creation of Community Peace Teams.
These Peace Teams are made up of civilians, mostly young people, committed to reducing violence being experienced now and creating conditions for lasting peace which they know will someday arrive. They've worked to reduce random gunfire by honoring martyrs with music instead of gun salutes, they fostered dialogue between internally displaced persons and their host communities and they trained hundreds of civilians in preparing ahead to respond to conflict. These activities keep people safer and are possible because of your support and the communication, training, encouragement and coaching from NP.
Syrians who attended NP's trainings participated because they want to have a voice in their country and be part in moving their communities away from violence and towards peace. Because of you, participants were able to see themselves as positive agents of change and identified needs they could implement to benefit their communities. They were able to see that relationships, not weapons, is the way to create conditions for lasting peace.
In spite of our successes in Syria, we are closing our office in Lebanon. Our goal is to work directly in Syria. We believe we will have a greater impact if we're in the country rather than operating from the outside. We'll keep you posted as our plans develop and we want to thank you for the difference you've made in the lives of Syrians who are deeply committed to creating the conditions for lasting peace.