Now for another update from the Nonviolent Peaceforce Assessment team - These photos capture just a few of the steps that refugees make once they arrive to their first point of entry into Europe. Approximately 60 percent of refugees and migrants arriving in Greece are currently entering through Lesvos, traveling in small and often unsafe boats from Turkey, some 10 kilometres across the Aegean Sea. Upon arrival, refugees and migrants are required to register at the centre in Moria, housed in a former military base. Once registered, most new arrivals proceed by ferry to Athens, where many continue onward towards the Greek-Macedonia border in hopes of seeking asylum in other parts of Europe.
This photo shows the view from outside the Moria first reception centre in Lesvos, Greece:
 Here you see asylum seekers huddle around a fire at an informal camp outside the reception centre: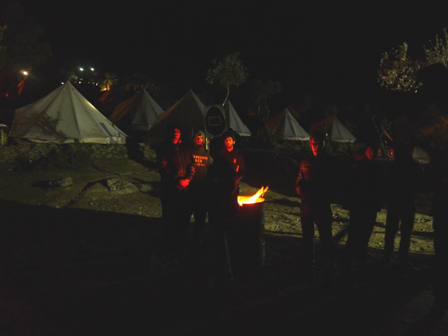 Deflated rafts washed up on the shores of Lesvos, Greece. Refugees and migrants risk their lives in hopes of a better life in Europe, crossing the Aegean Sea from Turkey to the Greek islands in overcrowded and unstable rafts. Charging over $1000 USD per person, smugglers regularly deceive migrants, assuring them the boats will be safe and stable; some smugglers pack as many as 70 persons in a raft.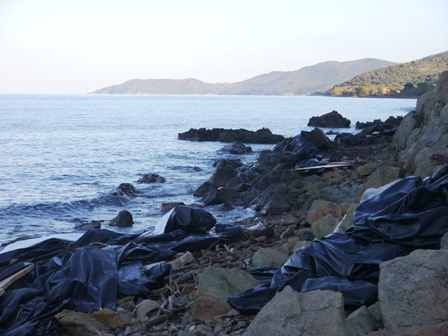 Debris caught in fishermen's nets off the coast of Lesvos, Greece. Often loaded at more than double their capacity, the flimsy rafts carrying refugees and migrants across the sea from Turkey to Greece are frequently prone to flooding and leaks. Refugees are many times forced to throw their few remaining belongings overboard to avoid drowning. Few wear life vests, and those that do have often been scammed by smugglers into buying phonies -- some filled with straw, packing foam, and other sinkable materials.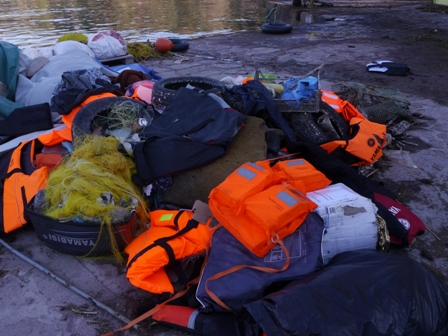 Refugees and migrants wait in Mytilini Port to board ferries to Athens; Lesvos, Greece.
Ferry terminal at Piraeus Port; Athens, Greece. Since the number of refugees and migrants coming to Europe surged last April, local and international volunteers have been at the forefront to provide much-needed relief. At a time when tensions are high and xenophobic rhetoric has been thrown around by some, these volunteers have displayed great empathy and solidarity with the arriving refugees and migrants. At the port in Athens, for example, volunteers greet those arriving from the Greek islands with clothing, shoes, food, and other necessities.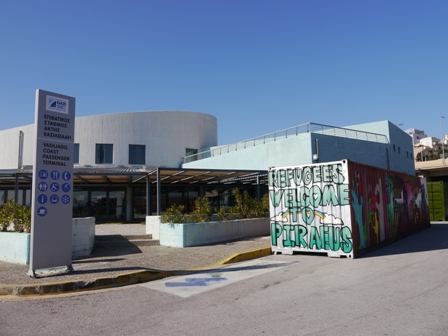 Refugee families arrive at Piraeus Port; Athens, Greece. Following several days of ferry strikes, large numbers of refugees and migrants arrived in Athens last week. Many travel from their countries of origin – including Syria, Iraq, and Afghanistan – to Turkey, where they travel by small boats to the Greek islands. After registering and receiving a temporary visa, most travel onward to Athens by ferry and attempt to proceed to other parts of Europe.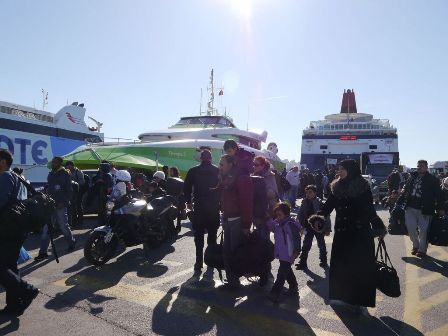 Refugees and migrants board a bus bound for Idomeni, a Greek town near the border with the Former Yugoslav Republic of Macedonia (FYROM); Athens, Greece.