Last week, the Nonviolent Peaceforce (NP) assessment team visited Serbia to continue its assessment of protection concerns facing refugees and migrants transiting through Europe. Their visit was especially timely, as it coincided with significant new border restrictions put in place by five of the major transit countries, including Serbia. These shifts in policy have already had negative implications for the rights of refugees and migrants and have left thousands of vulnerable individuals stranded across the Balkans. The consequences of these policy changes have been perhaps most alarming in Greece, where the humanitarian situation continues to deteriorate as the refugee bottleneck grows. Highlighting things they saw in four cities around Serbia, the NP team captured the following photos:
Šid, Serbia

While in Šid, the assessment team interviewed refugees from Iraq and Syria, including Palestinians and Kurds from Syria, who had just been returned to Serbia by Croatian authorities. The refugees told NP that they had not been given any explanation for their return. One young man from Aleppo, Syria, lamented, "Better to die under the bombs in my home than to be humiliated like this here."
Belgrade, Serbia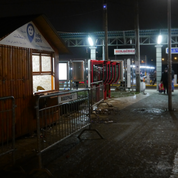 A major challenge for refugees and migrants during their journey across the Balkans is access to information. Many do not know their rights, what services are available to them, or other information that would help them to stay safe. Providing accurate information is difficult, with frequent and often ad hoc border closings and changes in policies, but a number of local and international organizations have been working to address this issue. In a park near Belgrade's bus station, local volunteers provide free information to refugees and migrants transiting through the city.
Dimitrovgrad, Serbia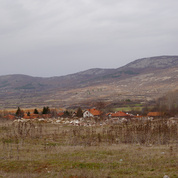 Pictured here is the mountainous terrain lining Serbia's eastern border with Bulgaria. Until recently, refugees and migrants have been entering Serbia at two main points: Preševo, at its southern border with Macedonia, and Dimitrovgrad at its eastern border with Bulgaria. Although considerably fewer refugees and migrants have entered through Dimitrovgrad, those that have, have reportedly faced serious abuses in Bulgaria, including theft, prolonged detention, beatings, and dog bites. Service providers in Serbia told NP that refugees and migrants taking the route through Bulgaria walk several hours through forests and over mountainous terrain, risking frostbite or even death in order to avoid the threat of physical violence against them. During the assessment team's visit to Serbia, it was announced that authorities were closing the Serbian-Bulgarian border, and refugees and migrants attempting to enter through Dimitrovgrad would be returned to Bulgaria.
Preševo, Serbia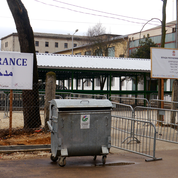 Pictured here is the government registration centre at Preševo, Serbia, where refugees and migrants newly arrived from Macedonia register before proceeding along their journey. Until recently, approximately 2000 refugees and migrants were transiting through the centre each day. However, the assessment team found it nearly empty, with no new arrivals queuing to register. Following the decision of police forces in Austria, Slovenia, Croatia, Serbia, and Macedonia to institute a joint registration system and to restrict entry to only Syrians and Iraqis, the movement of refugees and migrants came to a standstill, as those already within the borders but without the new registration documents were turned back. Afghans, who until now had been permitted across these borders, were suddenly not allowed to continue their journey north.