By Adrianne Lapar.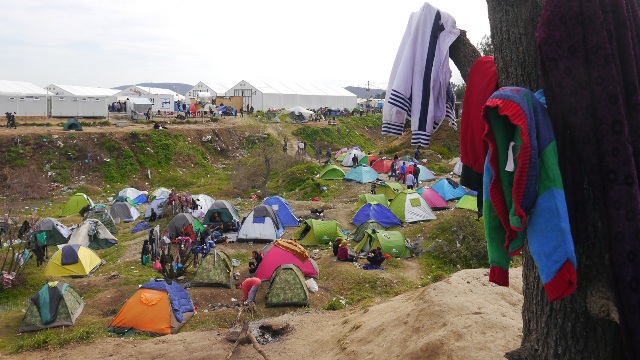 Khameel sits on a piece of cardboard in a tent within northern Greece. We are literally a stone's throw away from the border with Macedonia and far from Khameel's home in Iraq. But suddenly, his home doesn't seem so distant when he leans in and tells me, "It's like the conflict is following us."
Khameel, a young Yazidi man from northern Iraq, has been displaced since August 2014, when the Islamic State in the Levant (ISIL) seized his hometown of Sinjar. "Daesh took our girls from us," explains Khameel, referring to ISIL by its Arabic acronym and referencing its sexual enslavement of thousands of Yazidi girls. Khameel, along with tens of thousands of other Yazidis, fled to the Sinjar Mountains, and hid there for about a week before trekking on foot to northeastern Syria. There, he and other Yazidis scraped by for about a week, relying upon the goodwill of Syrian Kurdish civilians, before making their way to Iraq's Kurdistan region.
Khameel spent nearly two years living in squalid conditions in crowded, tented camps for internally displaced persons (IDPs) before he finally decided to attempt the journey to Europe, in search of a life where he might be free from insecurity and discrimination. But the journey itself turned out to be much more difficult than he had expected.
In Turkey, he encountered even more discrimination, violence, and injustice. He tells me, "In Turkey, you cannot say you are Yazidi... they don't accept us." On his way to the Turkish coast, Khameel states his bus was stopped by local police. According to Khameel, he and the other passengers – mainly Iraqi and Syrian refugees – were taken to a nearby police station, where they were beaten and questioned: where were they from and what they were doing in Turkey? The police allegedly demanded 15 euros from each person detained, threatening, "If you don't pay, you will go to jail." Khameel and several others paid, and scraped together some funds for those who didn't have enough.

Khameel had already survived so much by the time he came face to face with one of the most dangerous legs of the journey: crossing the Aegean Sea to Greece in a small dinghy. He recalled being especially concerned for a Yazidi family he had met along the way, an elderly couple with a blind adult daughter: "If the boat had sunk, they would have all drowned."
Fast forward a few weeks later, and Khameel is sitting beside me inside a makeshift tent, explaining the situation at a transit camp hosting some 8,000 refugees and migrants at the village of Idomeni in northern Greece. (That number has since swelled to an estimated 14,000.)

He tells me the Yazidis face "many problems" from different groups staying in the camp, especially other ethnic and religious groups from Syria and Iraq. For example, he explains, Yazidis have been harassed and threatened while waiting in line for food and other humanitarian assistance, and some have even been ejected from line by other groups. As a result, they struggle to access food and basic services.
When I ask Khameel what his plans are, he tells me he wants to go to Germany; he's heard the German people care about Yazidis. He doesn't know when it will be his turn to cross the border to Macedonia, and the border police he's asked don't seem to be any better informed.

"Maybe in a week?" they shrug. "These orders are not from us; they are from above." With no better place to go, all Khameel can do is wait.