–Syrian refugee, Šid, Serbia, February 2016
In January 2016, Nonviolent Peaceforce (NP) deployed a team to the Balkans to assess protection needs of migrants and refugees, with a view to inform possible NP program development in the region. In particular, the team sought to understand sources of violence against refugees and migrants in order to determine how unarmed civilian protection could be used to reduce violence along the route.
(Photo 1: Adrianne Lapar and Lisa Fuller of the NP assessment team interview an Afghan
woman and her teenage daughter in a park in Athens. The women reported fear for
their security, especially at night, in their abandoned airport building shelter.)
Visiting key transit points in Greece, Macedonia, and Serbia, the team arrived during a critical turning point in the so-called "refugee crisis." We arrived to assess protection needs, stemming from the largest mass migration to Europe since World War II, just as borders were shutting. The team witnessed firsthand how states have been struggling to cope with the massive influx: a fine balancing act between guaranteeing the rights and basic humanitarian needs of arriving refugees and migrants, and addressing the needs of their own citizens, including national security and social welfare.
The team found that increasingly restrictive migration policies have exacerbated protection concerns and contributed to a growing humanitarian crisis in Greece, where nearly 50,000 refugees and migrants are currently stranded. In Greece, people stay in overcrowded transit accommodations and informal temporary shelters, some sleeping in tents or even out in the open at gas stations, abandoned buildings, and public squares and parks. In these locations, there is little or no security presence and refugees and migrants are vulnerable to multiple forms of violence including beatings and stabbings, sexual and gender-based violence, abuse and exploitation of children and other vulnerable groups, and harassment and threats against certain ethnic and religious minorities.
Refugees and migrants face additional threats while they are on the move. Along the route, the NP team met Syrian, Iraqi, Palestinian, and Afghan refugees who had been denied passage across borders—often on an arbitrary basis—and were, in some cases, pushed backwards along the route. Some described violence by border police and other security personnel, including beatings, and a few alleged that their passports and registration documents had been confiscated or destroyed in front of them.

Denied access, some seek increasingly unsafe means to cross borders. These include a growing reliance on smugglers, which puts refugees and migrants at an even greater risk of exploitation and abuse, and attempting passage across irregular and dangerous areas, such as rivers, mountains, and remote forests, where the risks include drowning, frostbite, death by freezing, robbery and violence by criminal groups.
Despite policy changes to stop the flow, including the official shutdown of the Balkan route and a deal between the EU and Ankara to stem movement between Turkey and Greece, all indicators suggest that people will continue to seek ways to enter Europe. Arrivals to Greece have continued, and the number of people stranded in the country grows daily. What remains to be seen is how this affects protection, especially as refugees and migrants seek increasingly dangerous ways to reach their destinations in Europe.
The assessment team returned April 6 and submitted findings and recommendations for the Board of Directors to consider for approval of a new program in Greece. We'll keep you informed of any new program development.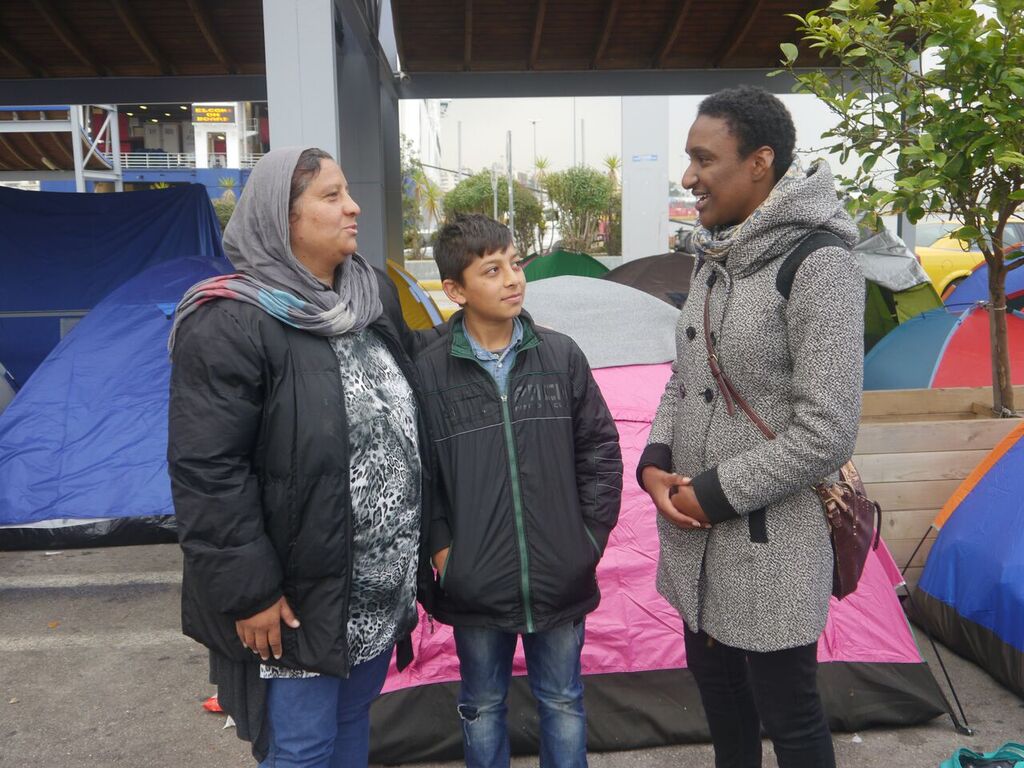 (Photo 2: NP assessment team member Asil Sidahmed interviews a Syrian widow at the port in Athens, Greece. At the time of the interview, the woman and her four children were staying in a tent at the port alongside other mostly Syrian refugees.)