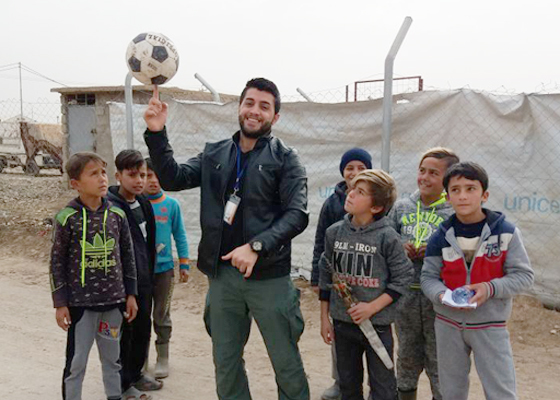 Destan, NP Peacekeeper entertaining kids during day patrol 
Nadia* is a mom to five children all under the age of ten. Like most moms, she worries about the safety of her kids. Like you, she hopes and wishes for peace.

Nadia arrived at Hamam Al Ali's screening site in the fall of 2017. Her husband had been detained as the family fled Mosul, despite having a life threatening illness. But Nadia managed to find the transit site on her own and she and her five young children quickly settled into a tent on the outer rim of the camp.

But soon after her arrival, Nadia started to receive threats from local security guards. What could she do on her own?
She worried for her children and herself, so she reported the incidences to NP staff. With your support, NP staff was able to help Nadia out.

NP made their visits to Nadia intentionally high profile. NP staff would drive up to Nadia's tent and parked their branded vehicles right in front. Female international and national NP staff had lingering chats with Nadia and male NP national staff conversed with nearby male neighbors over tea.

After just a few days of these regular patrols, the entire block became familiar with NP staff, greeting them warmly each time the car pulled up. During the three weeks that NP provided high visibility and sustained protective presence, Nadia reported significantly decreased interactions with local guards. NP coordinated with camp management to relocate Nadia and her children into another tent, away from the camp's periphery. Nadia stopped being harassed after that.

Building upon this successful intervention, NP staff now conduct night patrols in Hamam Al Alil Camp several times per week. The reason for success came from our supporters like you, who we couldn't accomplish anything without.

Nadia was just one of the many mothers NP was able to assist. Because NP received funding to establish ongoing programming in the 20,000-person Hamam Al Alil Camp, NP has been able to build long-term relationships with other displaced people. With your support, these relationships will ensure that NP continues to protect vulnerable families and improve the security situation for all Iraqis living in Hamam Al Alil Camp.