Two Iraqi men like in the story below, speaking with NP staff.
----Story #1: "Stopping Violence Before it Spreads"----
The first punch thrown split a lip open. Two men from different tribes were fighting at a food distribution in one of Iraq's internally displaced persons camp. They were arguing about the distribution line.
Saif* was taken to the doctor to get stitches. Saif's brother was angry that Saif was beaten up. So, he decided to arm himself with a stick to fight Ali*—the man who hurt his brother—and Ali's tribe. He wanted revenge.
Nonviolent Peaceforce (NP) heard about the situation and approached Saif's brother. By engaging him in conversation, NP was able to reduce some of the tension and keep the conflict between just Saif and Ali. With your support, NP prevented the conflict from spreading and becoming a communal conflict. NP suggested he then accompany them to get Saif additional medical help.  
NP staff brought together four tribal leaders from Saif and Ali's tribes to discuss the situation and resolve the conflict. The community leaders played a significant role in coming up with their own solution. Throughout all this, NP followed up with everyone involved to make sure no one would seek revenge. Now, the two tribes are at peace with one another. If NP hadn't been there, the fight could have escalated into a broader communal problem.
Because of supporters like you, NP is uniquely positioned to take the time to listen to these displaced Iraqis and build relationships with them. In turn, NP peacekeepers support communities to find their own solutions to conflicts they face.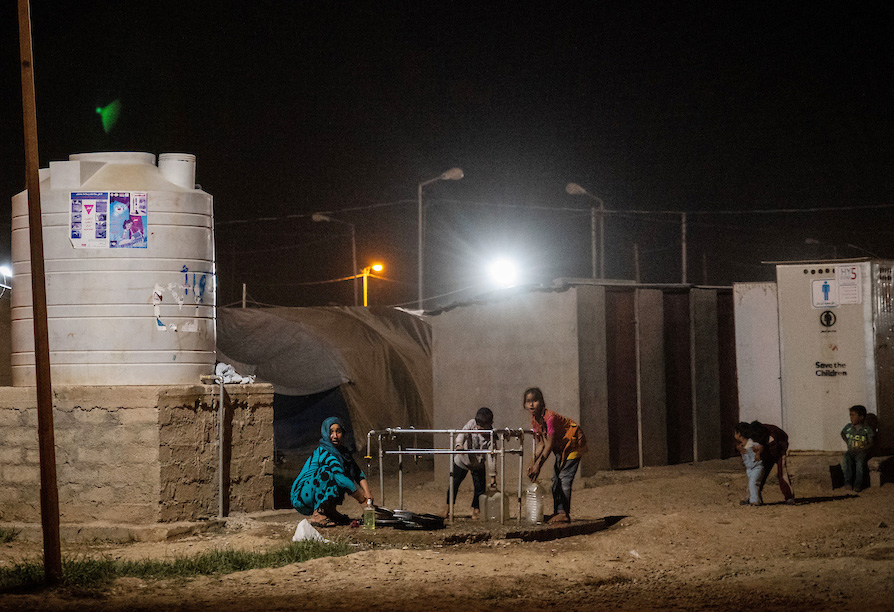 Bathrooms and a waterpoint in one of the internally displaced persons camps in Iraq.
---- Story #2: "Advocating for Women's Safety and Privacy"----
When civilians' lives are uprooted by war and people find themselves crammed alongside thousands of others in an internally displaced persons camp, things become chaotic. Discomfort, arguments and physical fights break out. This is where you come in. You help Nonviolent Peaceforce lead forums where people come together to talk about their most pressing concerns. These community security forums take place on a regular basis. People address their safety concerns and share information about humanitarian aid organizations' services. The meetings also serve as a space for people to dialogue with each other about community challenges and come up with solutions together.
One example was when women started to report feeling uncomfortable going to the public bathrooms. They said that youth were loitering and they felt unsafe.
When NP peacekeepers patrolled the bathrooms and waterpoints, they found that it was not just restless youth hanging around, but men as well. NP confronted them about their presence and asked them to understand the women's point of view. They began to understand that the women felt as if they are being watched. Empathy is key, and that is what NP tries to get them to understand.
Community leaders started to talk about the situation in their own neighborhoods. Now that more people are aware of the problem, youth that formerly sat near the bathrooms and waterpoints are now on the lookout for newcomers or visitors from other neighborhoods to inform them on giving the women privacy. Thank you for helping women feel safe when they're far from home.