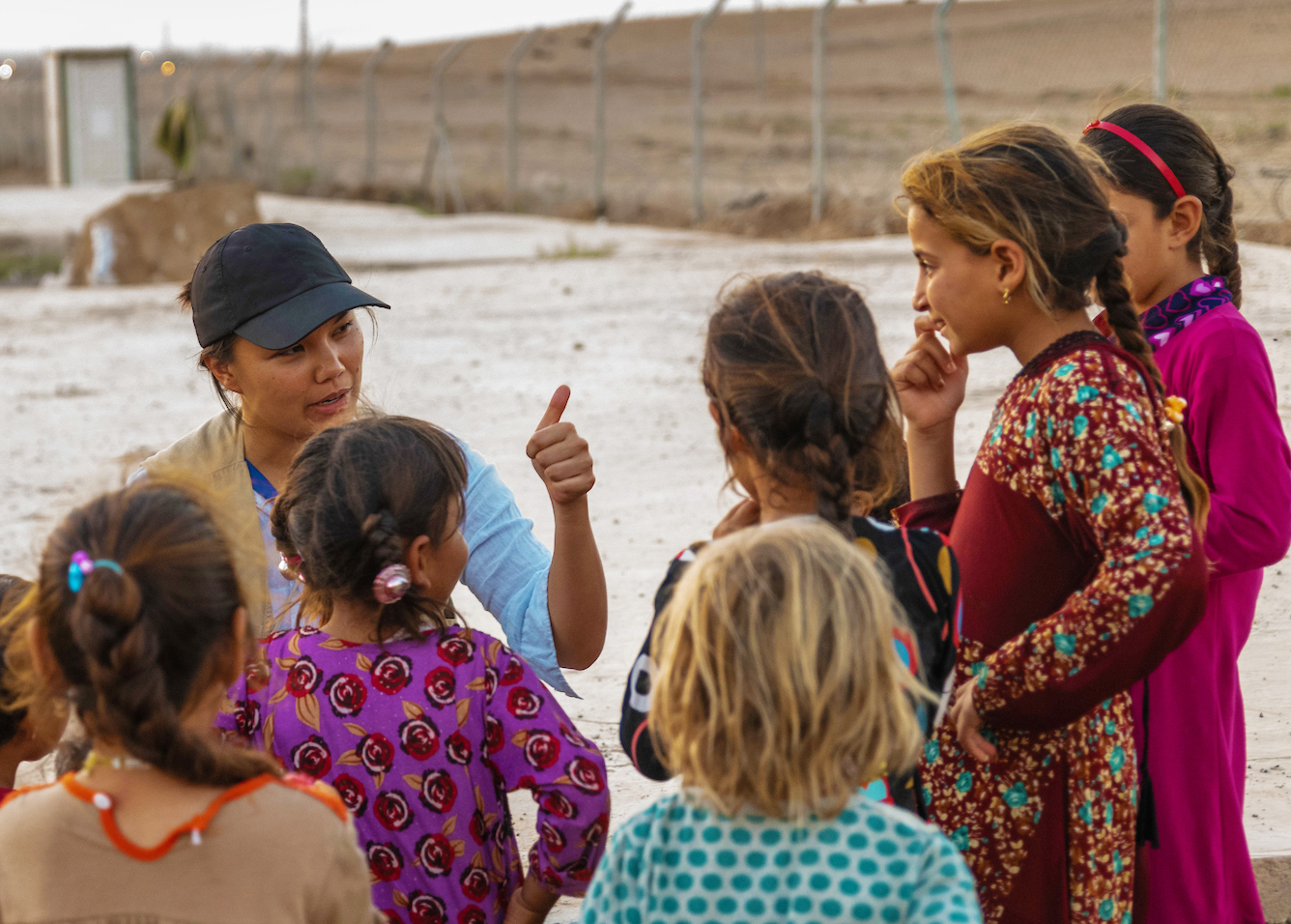 A group of Iraqi girls surrounding a Nonviolent Peaceforce peacekeeper.Every day, girls face threats to education caused by war, poverty, cultural norms and practices, poor infrastructure, violence, and fragility.
According to UNESCO estimates, 130 million girls between the age of 6 and 17 are out of school and 15 million girls of primary-school age—half of them in sub-Saharan Africa— will never enter a classroom. Poverty remains the most important factor for determining whether a girl can access an education. Studies consistently reinforce that girls who face multiple disadvantages — such as low family income, living in remote or underserved locations, disability or belonging to a minority ethno-linguistic group — are farthest behind in terms of access to and completion of education. Violence also negatively impacts access to education and a safe environment for learning.
In Iraq, girls are dropping out of school.
Nonviolent Peaceforce works in a camp in southern Mosul, where internally displaced Iraqis flee after violence in their communities. Displaced girls from the camp have to walk 15 minutes unaccompanied through the desert to get to school. Sometimes, boys from the camp harass the girls on their way to school.
The girls are blamed for being too friendly or for wearing the wrong clothes to attract this kind of attention. The community responds in fear and the shame is put on the girl and her family. They are punished for talking to the boys and are pulled out of school by their parents.
Your support can allow girls to safely go to school. Because of the trust you helped us build with the community, they felt safe enough to relay this situation to our team.
Since then, our team has identified a few girls who have dropped out of school and have spoken with them. As an initial assessment, staff walked with the girls along the route to observe the situation and environment. Once exams are over and students start attending school regularly again, our teams are committed to go back to accompany the girls on their walk to school to ensure safety and access to education.
The girls already say they are very happy that Nonviolent Peaceforce would do something like that. We're happy to protect them. With your support, you can help us continue to open access for these girls' education in Iraq.