Midterm Review and Six-Month Planning Workshop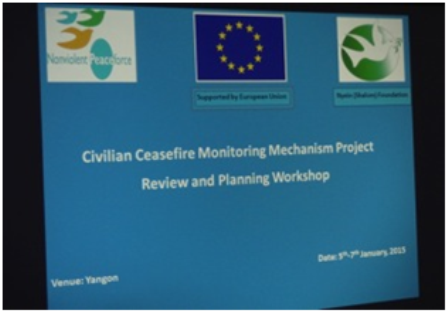 From January 5th to 7th, Nonviolent Peaceforce (NP) and its partner organization, the Shalom Foundation, held a three-day Midterm Review and Planning Workshop in Yangon, Myanmar, for representatives of the Chin and Mon State Civilian Ceasefire Monitoring Mechanism Project. The workshop resulted in the creation of a six-month work plan that will strengthen the implementation of the Civilian Ceasefire Monitoring Mechanism Project in Chin and Mon State, a project supported by the European Union.
Facilitated by senior-level staff of the Shalom Foundation and Nonviolent Peaceforce, the meeting also served as a point of analysis and reflection on the first three quarters of the 18-months-long project, and on the implementation and adherence of existing bilateral ceasefire agreements between the respective Ethnic Armed Groups (EAGs) of Chin and Mon State and the Myanmar Government. Since the beginning of the project, this was the first time that the two groups from Chin and Mon State had the opportunity to engage directly with each other and share experiences and lessons learned.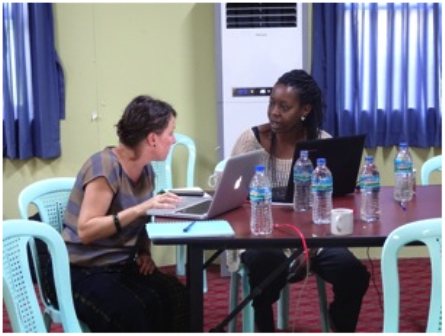 The workshop featured briefings from the two secretaries of the Mon and Chin State projects on their past and current challenges, and on future goals for 2015. Through an inclusive dialogue, the civilian monitors and workshop facilitators then reviewed the project's achievements and strategized how to achieve the remaining objectives. Review showed that both mechanisms have been highly successful in raising awareness and support for civilian ceasefire monitoring from multiple stakeholders, including around 146 representatives from the government and the Ethnic Armed Groups, and over 700 community members. In Chin State this mechanism consists of 48 monitors and 21 volunteers operating from one coordination office at the state level (Hakha), and from 12 offices in various townships. In Mon State, a Civilian Ceasefire Monitoring Committee has been established at the state level, consisting of two staff members and 15 volunteers. Five township-level committees have also been formed, managed by 25 volunteers.
In addition to engaging with each other, the monitors from Chin and Mon State had the opportunity to engage directly with the European Union (EU) Instrument for Stability representative, as well as with high-level representatives of the Myanmar Peace Center who are directly involved in the negotiations of the Nationwide Ceasefire Agreement. These encounters increased information sharing and coordination about ceasefire monitoring between the grassroots-level and the union-level representatives, and aided the preparation of a nationwide ceasefire monitoring mechanism. The government of Myanmar and the Ethnic Armed Groups of Chin and Mon State that are engaged in the negotiations have announced February 12, 2015 as the highly anticipated date of signing a Nationwide Ceasefire Agreement.