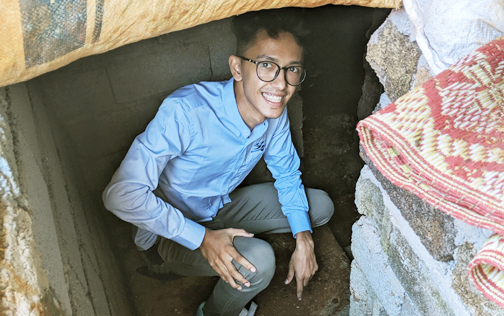 Nyein Paing Oo, or "Matrix," inspecting a trench civilians built in their city to take cover from armed conflict.
Matrix's Burmese name, Nyein Paing Oo, means "the first one who owned peace." But he isn't the first one in his family or community to want peace. His mother has been a peace worker since the 1990s.
Matrix's desire for peace came from his experience of growing up in the conflict-affected area of northern Shan, in Myanmar, where five decades of military rule and the world's longest-running civil war involving more than a dozen armed ethnic rebel groups have left the country weak and divided.
Matrix, who is 23, has felt the impact of conflict first-hand in Shan, and in the last 10 years, he has seen an increase in fighting. In 2013, anti-Muslim riots broke out and forced Matrix and his family to flee. When they were able to go back home, they found that their family shop had been burned down.
"I grew up hearing all the bombs, bullets, shootings and gangs," says Matrix. "Those things don't work. It's been more than 60 years of fighting. Nothing changed. People suffered. I also suffered. It's not what we want. So I thought maybe coordination, collaboration and searching for answers together is the point—to be together, to collaborate—it's not to do violence to each other. I thought nonviolence is the key."
He hopes his efforts help build peace in northern Shan. "Everything that is happening there has to be resolved," Matrix says. "We are not fighting with other nations—we are fighting with our own people. If we can have peace, everything will settle down. Then we will see development in the nation."
Matrix was working as an interpreter for Nonviolent Peaceforce in his hometown in 2016 when he learned about Nonviolent Peaceforce's mission to protect civilians affected by conflict with nonviolence. He and others from his hometown attended Nonviolent Peaceforce trainings. It was there that he saw that changes could be made at the grassroots level. "I knew that if I worked with Nonviolent Peaceforce," he says, "I could help people. I could make more of an impact on my community."
Matrix taking questions during a training.
Thanks to generous supporters like you, Matrix has learned about the importance of nonpartisanship and how it helps build relationships with everyone involved in a conflict. Because of your support, Matrix trains local people to build community resilience to address violent conflict.
Self-empowerment is key for communities to be able to protect themselves. In Myanmar, you're helping to build community autonomy and local efforts to sustain peace. Today, civilians are able to come up with even more creative solutions to resolve violence on their own.
In northern Shan, Matrix explains, communities have suffered a lot because of the armed conflict. Civilians can sometimes feel hopeless, but he has seen their perseverance.
He shared some examples of community resilience:
Having a prepared warning system, so villagers can warn one another to leave the area before conflict breaks out
Connecting face-to-face so everyone stays updated
Creating a direct reporting system to government officials
In one village, people fled when armed clashes broke out between the military and armed groups. The village's ceasefire monitoring group reported the situation directly to the local government and the next morning the conflict had ended. The quick response was atypical.
"Usually," Matrix says, "the conflict takes three or four days to end. It will not suddenly stop and people will not go back home. But at the time, they reported it and the next morning, members of Parliament came just because of the report." Thanks to Nonviolent Peaceforce's training, the villagers are better prepared and organized to respond to armed conflict.
Matrix helps train civilians to better understand community resilience in the face of violence.
Matrix is grateful for people like you whose support creates opportunities for his community to build peace on their own. "I'm on the Nonviolent Peaceforce staff now, but the thing is, those people are my people in northern Shan. I want to build them up. They're not just attending a training and going back to their lives. They're learning how to protect themselves. So I'm really happy. These are my people."