Forms and Information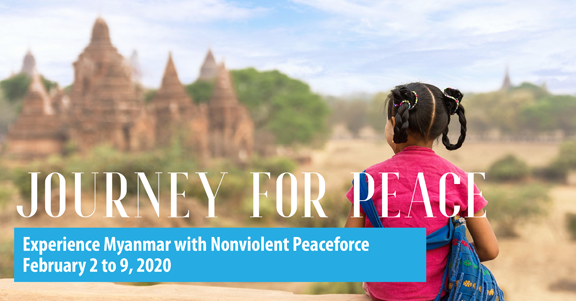 Thank you for your interest in visiting Myanmar with other supporters from Nonviolent Peaceforce.

Witness the impact your support to Nonviolent Peaceforce has on-the-ground in Myanmar
• Experience one of the most interesting and beautiful countries in the world.
• Learn about Myanmar's culture and the difference your support makes.
• Interact with locals who are working to create lasting peace in their country.
You don't want to miss this one-of-a-kind opportunity. The trip is scheduled from February 2 to 9, 2020.
View itinerary here.
We look forward to hosting you and learning with you as we engage with our friends in Myanmar working for peace.
To download a registration form, click here.
Once you've filled it out, please send to our Saint Paul office at:
Nonviolent Peaceforce
2610 University Ave. W, #550
Saint Paul, MN 55114
OR
Scan and send electronically to This email address is being protected from spambots. You need JavaScript enabled to view it..
See you in Yangon!

For more information please contact us at This email address is being protected from spambots. You need JavaScript enabled to view it..
To see a compilation of photos from our trip in 2018, click here.