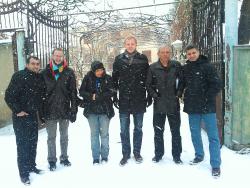 Nonviolent Peaceforce has started the preparatory work to open its first field office in Georgia. This will be in the village of Nikozi in the Shida Kartli region, adjacent to the disputed territory of South Ossetia.

Shida Kartli stretches along the line of divide between the Georgia controlled territory and the South Ossetian controlled territory. There are over thirty Georgian villages located in close proximity to the line of divide and as a general rule there is little or no communication between the communities on both sides of the conflict. It is generally alleged that the people on both sides do not have much sympathy towards each other as a result of the conflict and of differences in culture and traditions. However, NP's first experience in the region shows that common people separated by the conflict retain connections and care for each other despite the political and military reality that they have to live in.
NP's work will rely on these human connections, and aim to increase safe options for communities affected by disputed boundary lines in Shida Kartli and in the South Caucasus as a whole, helping them to address the challenges they face living in these contested areas.
NP has now hired two International Civilian Protection Officers (IPOs) and three local staff members who will work and live in the community of Nikozi.
These IPOs who were chosen to live among the conflict affected communities and help them first had to complete a demanding and intense Mission Preparedness Training. Robert Rivers, NP's longstanding trainer, well acquainted with local realities and needs, led the training.
NP's Nikozi field office is the first office to be run by an international organization outside Gori, the administrative capital city of Shida Kartli region, in the immediate proximity to war-affected communities and the line of conflict divide. The opening of this office will be an important milestone in the development of NP's mission in the South Caucasus, and will be the result of a lot of hard work on the part of NP South Caucasus team who have been making all the necessary preparations for this moment. NP's programme in the South Caucasus became possible at the end of last year thanks to the generous contribution of the Belgian government, a long-term NP donor that previously also supported the start-up of crucial NP projects in other parts of the world.
The Shida Kartli Field Office has been relocated to the village of Tkviavi for logistical reasons in April 2012