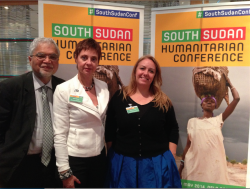 The international humanitarian and donor community convened in Oslo, Norway, on May 20th for a pledging conference on South Sudan, hosted by the Government of Norway in collaboration with the U.N. The conference garnered an additional $600 million to avert a looming famine. But there was a great deal of frustration among the donors. The South Sudan crisis is taking place while the world commemorates the 20th anniversary of the Rwanda genocide and the 10th anniversary of the Darfur genocide. What have we learned? Is it time for innovation and transformation.
On June 4th a tele-briefing was held hosted by the Peace and Security Funders Group (PSFG) on the South Sudan crisis, where experts on the issue discussed the problem, the current response and the unique dynamics in South Sudan. Doris Mariani – NP CEO along with Tiffany Easthom- Country Director of NP in South Sudan, Professor Mukesh Kapila- Senior Advisor of NP, and Lisa Monoghan- the Protection Cluster Co-lead of the Norwegian Refugee Council, shared their expertise and experience with the current conflict. Tiffany Easthom stressed the protection crisis in South Sudan and the critical nature of a direct protection program in response, quoted saying; "What we have seen, because there is such a high degree of targeting of civilians and an alarming use of sexual violence, is that the levels of rape is astronomical." Women who are leaving the safe compounds are being raped as direct punishment for what their people are doing. Tiffany Easthom and the rest of the NP have scaled up protective accompaniment assistance in response to the crisis. Professor Mukesh Kapila states that today in South Sudan is "the latest stage of a long history of violence and it is important to get understanding of that history because if we don't understand that history then it is very difficult to make sense of the confused environment that we have today." Professor Mukesh Kapila, along with being an NP Senior Advisor, is the Professor of Global Health and Humanitarian Affairs at the University of Manchester was Undersecretary General at the International Federation of Red Cross and Red Crescent Societies and was the United Nations Resident and Humanitarian Coordinator for the Sudan. Professor Kapila has written an article on the lessons learnt from the Rwandan genocide and conflict in Darfur. These lessons are not irrelevant when reflecting on the current conflict in South Sudan. To read more about the lessons from these grave incidents, click here:
http://www.e-ir.info/2014/05/15/lessons-from-a-personal-journey-through-the-genocide-in-rwanda/
The PSFG is a network of public, private and family foundations, and individual philanthropists who make grants or expenditures that contribute to peace and global security. PSFG releases a monthly newsletter that includes information about colleagues' programs and priorities; developments in the field of philanthropy; innovative research and resources; and upcoming events. Along with this, they coordinate high level panel discussion on current crises and topics.