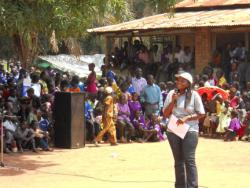 Langiwe Joyce Mwale Ngoma, a recent Nonviolent Peaceforce Peacekeeper who served in South Sudan, was selected by Bryn Mawr University Women in Public Service Institute: Peacebuilding and Development from 500 applicants. Fifty-one women from thirty-eight countries are participating in the Institute in Philadelphia. According to the Institute, "They are diplomats, school teachers, parliamentarians, development practitioners, and journalists. They advocate for women's rights, refugee rights, and human rights. They work in their local communities, in their capital cities, and far from home in other nations where they are needed."
Nonviolent Peaceforce Team Leader in Nzara, South Sudan
Langiwe Joyce was the leader of the NPs Team in Nzara, Western Equatoria State in South Sudan, that provided protective accompaniment to child soldiers, rescued, or released from captivity from various militias in the area, including the Lord's Resistance Army.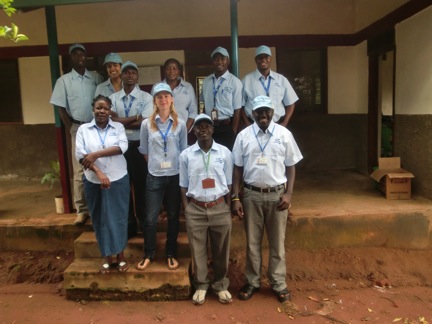 Last year, she wrote of her work there: "Drawing my experience from Zimbabwe, I have set up Conflict Early Warning and Early Response Systems for reporting violations in Western Equatoria, in South Sudan, paving the road to peace and transforming social relations. Among other activities, I provided protective accompaniment to women and children who wish to report cases of gender based violence to the police. I also trace and reunify rescued children from the Lord Resistance Army rebels and other armed groups. So far I have re-unified forty-nine children in one year of implementing this project and they are now living happily with their families. To support them, I convened community members to serve as a support system to help them reconcile with their past."
Langiwe Joyce and her team also created local Women's Peacekeeper Teams that she helped train in gender based violence, protection of children and human rights. These women worked together to create ways to better protect their children from abduction. In the first picture, she is shown leading activities for "Day of the African Child" which her team organized. In the second she is with her team in Nzara.
Civil Affairs Officer with United Nations Mission in South Sudan.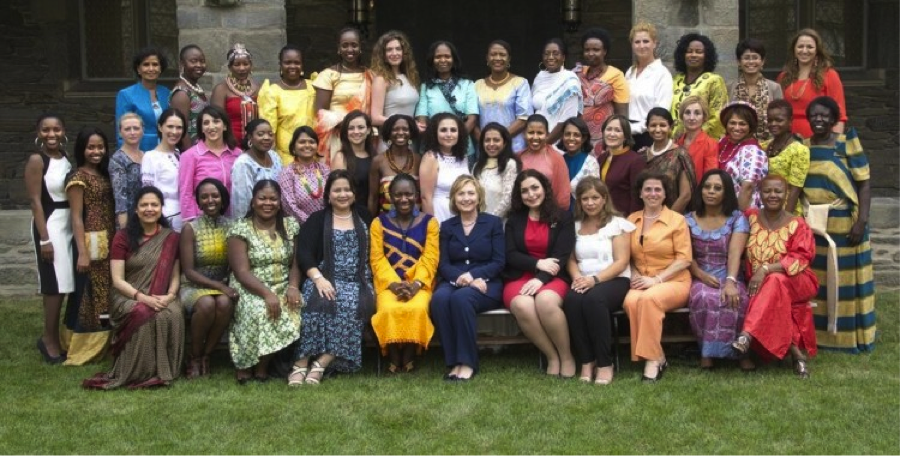 Langiwe Joyce is now a Civil Affairs Officer with United Nations Mission in South Sudan, based in Bentiu in Unity State along the border with Sudan. Part of this area are highly contested and contain significant oil resources. There are violent conflicts in this area ranging from international border issues with Sudan, to cattle raiding, mushrooming of rebel militia groups as well as internal governance related issues. "My role as civil affairs officer is to implement two cross-cutting activities to build peace at local level and as well as protection of civilians, through processes that inform the overall evolving engagement of the UN peacekeeping in efforts to protect civilians."