In May, NP brought a challenging and rewarding first year on the ground in South Sudan to a close.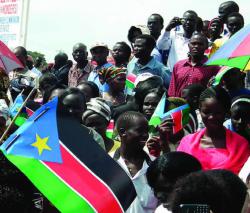 Increasing the safety of people living in extreme danger and helping them learn how much they can do to enhance their own security are top priorities of our peacekeepers in South Sudan.
In honor of how much your support means to NP's efforts, we want to share some of the key ways you've helped the courageous people of South Sudan in the last year.
JUNE 2010: Post-election hostility – Lanyi
When an imminent outbreak of large-scale violence threatens in the wake of the April 2010 elections, NP facilitates dialogue between factions supporting three different candidates. By day's end, open hostility and tension give way to reconciliation.
JULY 2010: Cattle raids – Kediba
Peacekeepers quell violence and foster newfound peace between Mundari and Moro tribes after 500 cattle and two children are stolen.
AUGUST 2010: School strike – Mundri East
When a violent strike shuts down a school and leads to student and teacher arrests, NP brings 300 pupils, educators, and parents in the inflamed community together. Working with a local partner, peacekeepers help resolve grievances and restore calm so the school can reopen.
SEPTEMBER 2010: Disputing governors – Yambio
After the April 2010 elections, tensions between the defeated governor of Western Equatoria and his successor ignite community division; both camps issue death threats. NP helps organize a bilateral dialogue and works with each politician prior their face-to-face meeting. Together, the governors reach joint solutions, ask each other for forgiveness and publicly embrace.
NOVEMBER 2010: Voter registration – Wito Payam
Ahead of the 2011 referendum, NP intervenes to ensure voter registration rights for displaced villagers driven from their homes by the Lord's Resistance Army.
JANUARY 2011: Protective presence during referendum voting - multiple locations
Peacekeepers protect civilians at polling stations in Mundri West, Mundri East and Mvolo counties, specifically in areas where risk of violence is high, and no other external monitoring organizations are present.
FEBRUARY 2011: Launch Western Equatoria Conflict Early Warning/Early Response System (CEWERS)
NP establishes CEWERS in the three conflict-prone counties of Greater Mundri to effect rapid response, prevent violent outbreaks, and build local capacity to preemptively identify and mitigate conflict.
MARCH 2011: NP receives $1,000,000 from UNICEF
UNICEF awards NP $1,000,000 to open a new field site in Nzara County dedicated to child protection.
APRIL 2011: New peacekeepers deployed to two new field sites focused on child protection
Eighteen new peacekeepers undergo rigorous mission preparedness training ahead of deployments focused on child protection and gender-based violence prevention in Central Equatoria and Nzara county. Children recently rescued from the Lord's Resistance Army are a priority.