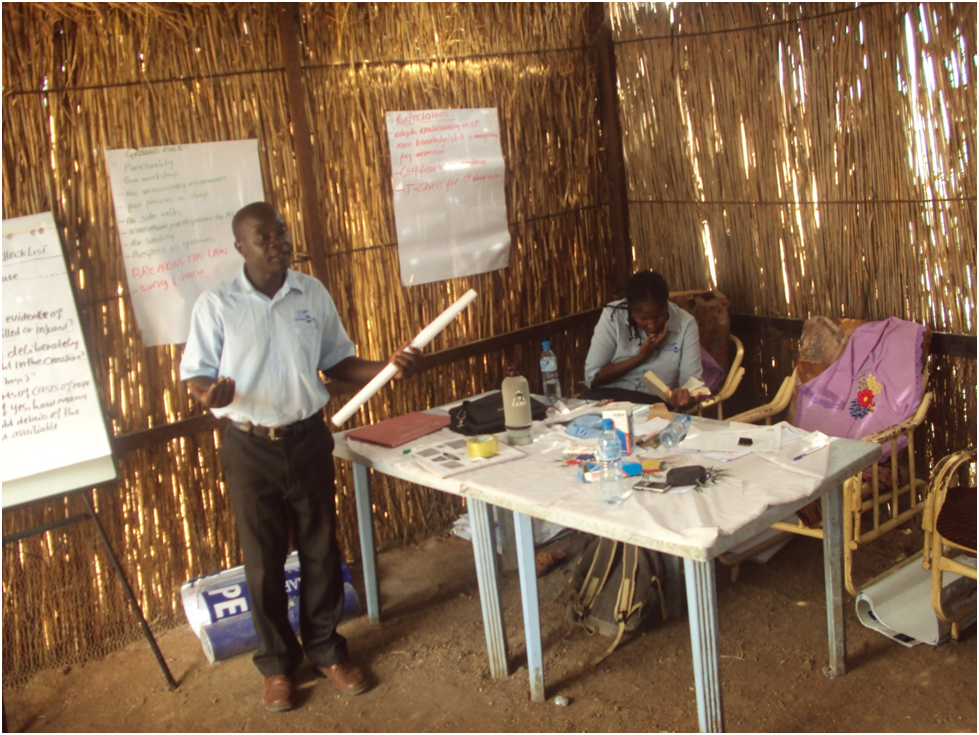 John Boul has been with Nonviolent Peaceforce (NP) in South Sudan since the country program began operating in 2010. He joined NP as a national protection officer on South Sudan's first field team, based in his home area of Mundri in Western Equatoria state. The time John spent as a member of that team laid the foundation for his future role as a team leader for NP. This is John's journey from being a national protection officer to becoming Nonviolent Peaceforce's first South Sudanese team leader.
In 2011, NP posted a job opening for the position of senior national protection officer in a new field site located in Nzara. Nzara is on the opposite side of Western Equatoria state from Mundri, near the borders of the Democratic Republic of the Congo (DRC) and the Central African Republic (CAR). Nzara experienced conflicts related to cross-border activities of the Lord's Resistance Army (LRA) operating in the area. NP "needed a senior person to go set the system," as John described the process of establishing a new team and setting up programming. John applied, was interviewed, and got the position. The Nzara team began its work in April 2011. It was an easy transition for John to go from working in his home community to working outside of it. This was partially due to the activities he had been doing within NP, such as traveling to Juba to receive training in child protection.
In February 2012, John was promoted within the Nzara team to Conflict Early Warning Early Response (CEWER) Coordinator. Before joining NP, John did not have experience in CEWER. It was one of his teammates on the Mundri team, Michael Tanya, who led the CEWER programming for the team. In the process of leading Michael transferred his knowledge to John. As John recalls, "Michael is a Kenyan who had worked with NP in the Philippines. He did CEWER there. He brought enough ideas and was able to teach the whole team." Thanks to Michael, John was able to bring this knowledge with him to the Nzara team.
As CEWER Coordinator in Nzara, John (under the supervision of the team leader) was responsible for implementing all of the team's CEWER programming at the field level. "It was one of the projects I implemented without headache," John explains. "It was all in my hands to make the plan for the whole year."
The program included training for community stakeholders in CEWER, distribution of satellite phones in remote locations, and distribution of bicycles to those in the community responsible for sharing information about security. These communities were then able to reach other areas more efficiently with information about security. As part of this system, a technical team of four community leaders was formed at the county level. This way information received from the payams (regional areas that make up a county) could be filtered through the technical team.
Once the technical team collected information, they decided whether to send it to NP or if different action needed to be taken. Even though the Nzara project has now closed and NP has left the area, John is confident that "the early warning system has not ended." It is always NP's goal for communities to have this kind of ownership over programming. This way the communities continue being better able to protect themselves after NP leaves the area.
Before his promotion, upon his arrival in Nzara, John started taking on more responsibility. Whenever the team leader was away John would serve as acting team leader. "It became like a normal thing to me," John says of that time. John credits his team leader in Nzara, Joyce Langiwe, with preparing him for the leadership role. "The team leader began really building me up," he shares in reflection. Sometimes she would have him work on the tasks of a team leader, such as writing the monthly report. This allowed him to gain experience handling the responsibilities required of a team leader; while the current team leader was still in place to support him. When Joyce left in July 2013, John was made interim team leader. His position was made permanent soon after.
John appreciates the technical expertise and management experience that working with NP afforded him and which helped prepare him for his leadership position. However, John is also aware that he worked hard to prepare himself for leadership as well. As he puts it, "I also picked up courage to do things. I started coming up." John has seen how leadership style and ability can be shaped by a person's family background, their educational opportunities, and the choices a person makes to learn and grow. One of the choices John made for himself was in 2012 to begin working towards a degree in Peace Studies and International Relations through South Sudan Christian University. He hopes to finish next year.
John talks about the confidence he feels in different aspects of his work after four years with NP, such as functioning in an inter-cultural setting, or meeting with high-level leaders. "I don't fear. I know how to play it." John would like to see NP do more capacity building and training in management and leadership for the staff; as he had such a positive experience undergoing such opportunities. He thinks NP should look for "other chances for training staff on management, to become good leaders, strengthening [them] more."
Though the Nzara field site has closed, John's time with NP and the impact he has on the organization continues. Next he will be bringing his expertise in Child Protection in Emergencies programming to NP's Yida team in Unity state. At the recent team leaders meeting in Juba, he shared some of his perspective on good leadership. There he challenged all of the other team leaders to reflect: "Sometimes we may call ourselves leaders. But are you really leading? Or are you ruling?" NP is fortunate that in John Boul, the organization has found a true leader.