By Nonviolent Peaceforce in South Sudan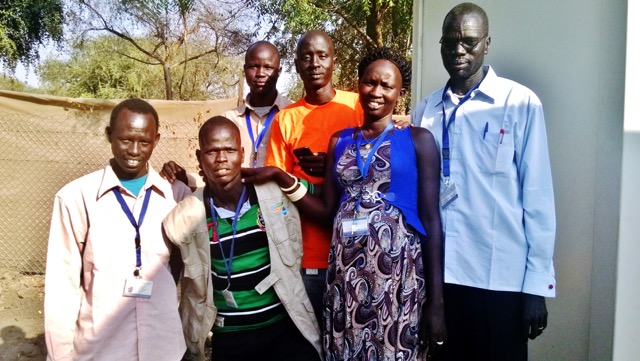 When the civil war broke out in South Sudan, many of our Nonviolent Peaceforce (NP) field teams were directly impacted. Many of our national colleagues fled in the midst of the chaotic violence and spent weeks, if not months, trying to reunite with their families. Some lost their homes and even worse, lost family members. Suddenly, the political instability created terrible divisions that caused deep trauma and broken relationships among many communities.
In some of the areas where NP works, thousands of civilians fled into the United Nation bases seeking protection. Our field teams have found themselves working in areas that are largely divided along ethnic lines, both inside the "protection of civilian" (PoC) sites and outside, in towns where the residents from different ethnic groups were formerly friends and neighbors.
NP teams are comprised of national colleagues from across the ethnic spectrum. However, in some areas the ethnic tensions have escalated so high that national staff members inside the PoCs have been unable to engage with other national staff members outside the PoCs. In many cases, we have hired new colleagues over the course of the 2014, who have never had the opportunity to meet their fellow staff members across the NP teams. This division, while reflective of the insecurity, has been heartbreaking. NP is like a family, and a separated family suffers a heavy burden. In the spirit of peacebuilding, our courageous Bor team has taken a brave step to gather all of its team members under one roof. The team is made up of members who have been working with NP for several years and some who have very recently joined.
On December 22nd, the Bor Team hosted the first meeting of its Dinka national colleagues working outside the PoC and its Nuer national colleagues working inside the PoC. The group met for over 2 hours in a tukul (a cone-shaped mud hut, usually with a straw roof) in the United Nations Mission in South Sudan (UNMISS) humanitarian hub. The NPOs (National Protection Officers) introduced themselves, discussed NP's core principles, shared common values of peace, and brainstormed programming ideas for 2015. By the end of the meeting, the NPOs exchanged contact information and took group photos to document the successful event.
The following day, the National Protection Officers had begun sharing news of the meeting among their families, friends, and faith groups. They soon began planning how they could attract wider communities including churches, women, and youth leaders to expand the circle of people promoting peace in Bor. Ultimately, the team determined that most people are not violent, but that there are only a small number of people who may benefit from violence and cause instability in the community.
The team has made it their priority to identify those people and work to transform them through positive social interaction and training. This training will awaken their spirit of coexistence throughout the coming months. Even though Bor has been plagued by destruction in 2014, the team has an inspiring vision to transform Bor into a place where peace is built from the ground up in 2015. The meeting was a remarkable step which has served to establish a spirit of unity and shared purpose within our NP family.