By Mel Duncan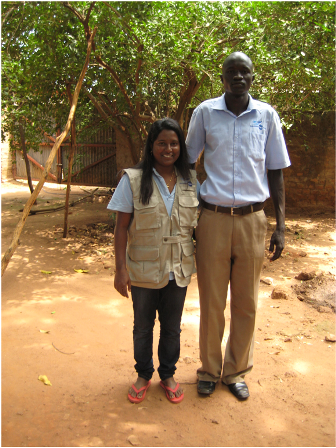 "Look at the small girl who came to solve our problems," recounted a hospital nurse describing why NP is effective at preventing violence in Lakes State in South Sudan. Asha Asokan is an NP civilian protection officer from Kerala, India who measures barely 5 feet. The Dinka men of Lakes State often tower above 6' 5".
While small in stature, Asha is a dynamo packed with enthusiasm and experience. She is a lawyer with a masters' degree in Human Rights and International Humanitarian Law. Before coming to NP, she worked as a contractor for the UN Peacekeeping Mission (UNMIS) in Sudan.
A group of hospital nurses had convened to tell the NP "big man" why NP not only needed to stay but to increase our presence here. They portrayed a scene where youth from different clans had converged at a cattle camp and were about to break into violence. When NP arrived, some were already wounded. NP intervened with Asha in the lead. They shuttled back and forth between the contending clans.
The youth asked NP local Peacekeeper, Abraham Mabor Arok, "Who is this small girl and where does she come from?" He explained that she had come from India. The youth backed off from each other. "According to our culture we don't want to do something bad in front of outsiders," explained one of the other nurses. The youth leaders reasoned, "This problem has become so serious that people from other countries are coming. I will stop now."
They got a promise from all sides that they would not fight and they would wait for the chiefs to come and talk. The next morning the chiefs arrived and mediated a deal. NP monitored the process at the chief's request. A violent conflict was averted.