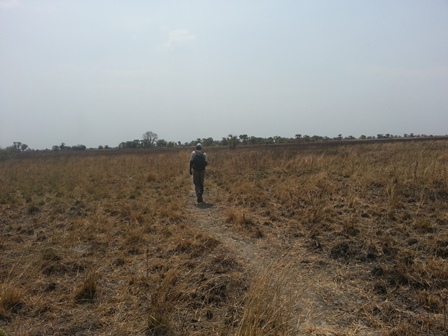 NP in South Sudan is deeply worried about the safety and security of 4 of our colleagues who have been unaccounted for a number of days. Mary, Rebecca, Michael and Duop are national protection officers serving in the Koch team in southern Unity. All 4 are from that area, living with their families when they were hired by NP last December, to join the team. Since that time, they have worked alongside their international counterparts to serve the people of Koch County. When the fighting returned to southern Unity, by complete coincidence all of the international colleagues were away. Mary, Rebecca, Michael and Duop, in regular contact with the Juba office, informed us that they had decided to join the rest of their community and families, to move out into the bush and away from the impending fighting. They were able to keep in phone contact with us for a number of days, updating us on their wellbeing and the unfolding situation. Unfortunately, the battery on the phone they were using was running down and, as they had retreated into the swamp, there was no way to charge it. We are all very concerned for them and are working to find out where they are.
We know that when you read the news about war and disaster, it can be hard to relate to the people behind the statistics. With this in mind, we want to introduce you to our friends and colleagues who are among these "statistics". Mary, Rebecca, Michael and Duop are part of our NP family and we want you to know them as the people they are. The following was written by International Protection Officer, and member of the Koch team, Jonathan Moore about his good friend and colleague Duop.
– South Sudan Country Director Tiffany Easthom
Since December 2014 Duop has been a part of our team in Unity State, South Sudan. He was hired along with three other members of our national staff to act as a National Protection Officer. Over the past six months, Duop and I have become good friends. We have walked hundreds of kilometers together and grown closer with every step. His passion for his work and his community has been an inspiration and has taught me more than I can explain in a few short words. The people in his community call me 'brother of Duop'. I am proud to be called the brother of this man, who has lived a life that few can imagine.
Duop was forcefully recruited into the military at the age of 10. He spent his youth without a family, footing his way across East Africa, with a military force whose language he didn't speak, taking orders and being bullied because he was small.
Somehow, under circumstance that I don't fully understand, he escaped the military and found himself in the United States of America, one of the Lost Boys of Sudan, given a chance to start a new life abroad. I remember one walk in particular where Duop recalled his life in the USA to me. He laughed as he told me that it took him many weeks to figure out how to turn on the lights in his apartment, and how terrified he was when his bedroom suddenly illuminated. The shower had a similar effect on him, as did the oven. But he figured everything out, eventually learning how to drive, cook, and operate machinery at his work. Duop slept only a few hours each day. He worked hard, fueled by his desire to rise out of the painful circumstances of his life. Duop would wake up at 4am each day and work a 12-hour shift for near minimum wage. Then he would go directly to night school where he studied Criminal Justice at a community college. He had seen so many atrocities in his life that he wanted to learn more about how to implement the law and bring peace to his country.
Before Duop could finish school his mother fell sick. Despite the fact that he had been separated from her since the age of 10, he returned to Unity State, to live in an area of extreme poverty and hardship. A few years later, in late 2013, the crisis hit South Sudan. Duop fled to the bush for many months with his mother, wife and children. They waited there, surrounded by war. The day came when Duop could bring his family back to their town. Everything had been burnt to the ground. His family had nothing more than the clothes on their backs and the few items they managed to carry to the bush when they fled. They were all sick, traumatized, and famished. But Duop started rebuilding.
A few months later Duop was hired to join our team. The first assignment that I had with Duop was to go to his town and hold a two-day Early Warning Early Response (EWER) workshop. We hold EWER workshops by gathering community leaders so they that can communicate and create plans for the civilian community to relocate in times of conflict, with the vulnerable people in their families, and with the basic supplies that they need to survive. Oftentimes communities do not have EWER plans in place, because they have become exhausted by the hardships of the war and the daily struggle to feed their families. This was the first workshop that Duop helped to facilitate, but he understood its function and its importance to his community. Since then, when he walks 60km each weekend to spend a little time with his family, Duop takes the opportunity to talk to community members in his town about EWER.
In March 2015, while Duop was visiting his family on the weekend, there was a shooting that killed one man in Duop's town. When Duop returned to our camp he told us what had happened. He told us that many people began to run in all directions, that the children were terrified, and that the killing had brought the rarely talked about fear and trauma of the community to the surface. However, Duop had taken it upon himself to spread the word in his town that the killing was not part of an attack, and that the lone perpetrator had fled the town and was being pursued by the police. He calmed the women and children and put a stop to the rumors that were flying around town. He did his job as a protection officer without communication with our basecamp and without us knowing what had happened. Duop has instincts for the protection of civilians.
In early May, while the International Protection Officers from our field team were in Juba, we began to hear disturbing reports that war was reaching our field site. The pending attack meant that we could not return. I checked my computer and found a message from Duop, but before I could respond he went offline. My Team Leader told me that he had gone to his hometown to check on his family.
There is no way to know what Duop was doing between the three days he left our camp and the moment the attack reached his town. But there is no doubt in my mind that Duop's instincts kicked in. I see him so clearly in this time of war, surrounded by soldiers that are preparing to fight, and I know what happened. He was wearing his Nonviolent Peaceforce uniform, making sure that the community was implementing the main action points that were drafted by the participants of the EWER workshop. He was making sure that single women with many children were being supported by other families, he was making sure that his community did not give up on themselves and that they were prepared for the extreme difficulties of life in the bush. I believe that Duop emptied his town before the violence destroyed it.
No one has heard from Duop since. The reports that we are hearing indicate that civilian men, women and children are being chased into the bush and killed or raped on a large scale. It hurts so much to imagine him, running from swamp to swamp, forest to forest, trying to keep his small children and elderly mother safe. Last year, when he had to flee to the bush, he said that he would sometimes go for a week without eating, allowing his mother and children to eat what little they could forage.
Duop is one of our four national staff members that are currently hiding in the bush, running for their lives. One is pregnant, one has a newborn baby, and another got word to us that his family and cattle had been attacked deep in the swamps, and that he has lost his loved ones.
Our national staff members are humanitarian workers. They are people of peace. But first, they are civilians. They do not carry weapons. Nonviolent Peaceforce is deeply concerned about the lives of our national staff and the civilians that they have fled to the bush with. We strongly urge conflict parties to refrain from attacking civilians that are seeking safety and have nothing to do with the fighting.
Nearly every man in Duop's area has a gun, but a few days after Duop began his work as a humanitarian, he gave his gun away. I once asked him if he would fight in the bush if he were attacked. He responded, "No man, never. I left my gun. If I am in the bush my family needs me. I won't fight."
South Sudan is deep in turmoil. The South Sudanese citizens that want peace, and that refuse to take up arms amidst the violence are the tools that can fix this broken nation. Duop has instincts for peace. Nonviolent Peaceforce needs Duop. I need Duop. But most of all, South Sudan needs Duop.
Author: Jonathan Moore, International Protection Officer in Koch.