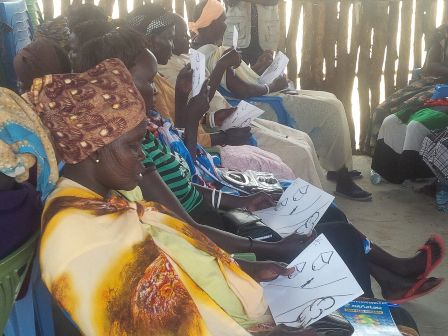 Over the past several months, the Protection of Civilians area in Bor has experienced rampant conflict. This has resulted from problems of adultery along with the production, sale, and consumption of locally brewed alcohol. Women are among those most affected by these protection challenges. These "adultery cases" are often a form of survival sex.
In these cases, the women whose husbands are not living in the protection area may foster relationships with other men in the community to obtain emotional and financial support. Selling alcohol is a relatively reliable means to generate income, as well as a negative mechanism for coping with trauma where few alternatives exist. Therefore, women both contribute to the problems and are subsequently the greatest victims, suffering social ostracization, domestic violence, and other forms of gender-based violence.
When the Women's Protection Team (WPT) in the Bor Protection of Civilians area was established in February, the women decided to focus their efforts on these two protection concerns. In May, the Bor Team conducted its monthly check-in meeting with the group. The team asked about the current situation with respect to these two issues and learned that adultery cases had diminished in recent months. The Women's Protection Team claimed the result was due to their work monitoring and additionally supporting at- risk women to find positive alternatives.
Although the prevalence of alcohol continues to be a major challenge, the women shared a number of stories about their attempts to address it. One woman bravely shared her experience as a recovering alcoholic. She described how she did not dress in proper clothes and was unable to cook suitable meals for her children. Supported by other women, she recognized her own shortcomings and decided that now was the time to change.
Another member spoke about the time she found two women drunk, fighting in the market. Separating them, she encouraged each to go home and make peace. However, the story didn't end there. She continued to check in on the women for several days to provide support and ensure they were not returning to their destructive behaviors.
These stories made it clear that women providing ongoing mentorship to other women could serve as a powerful tool for tackling issues of alcohol in the Protection of Civilians area. NP suggested to the team that each of the members should try to adopt this strategy- by finding another woman to support by providing ongoing, informal management throughout the month. The women agreed and left the meeting with hopes of returning to the next check-in with new stories of change and support to share. This process of sharing stories, discussing mutual challenges, and brainstorming solutions has the potential to foster a spirit of solidarity and learning within the WPT.